Holding the final version of your photobook is a powerful yet tender feeling. A lot goes into creating a volume — from curating a collection of photos, establishing a theme, choosing your layouts page by page, and selecting the font that fits just right. In the end, our team carefully crafts the custom nature of each volume to be sure that every little detail is honored.
One of the most touching personalized elements of a book is its dedication on the inner part of a dust jacket. Every hardcover photobook we make is carefully wrapped in a full dust jacket with inner flaps that can be customized with personal sentiments.
Just like a title, dedications, forewords, and sentiments are wonderful ways to introduce the contents of the inner pages but can oftentimes be tricky to word just right. We recommend writing this piece as one of the final steps of your creative process. At this point you'll have had more time to think and reflect on the purpose of your photobook.
Learn more about how you can provide context, display gratitude, and show meaning when someone picks up your next volume with our tips below.
Introducing Someone or Making an Announcement
Fewer things in life are as exciting (and oftentimes nerve racking) as big family updates like new additions and big moves. Adding context to a photobook's dedication is important so readers for years to come will instantly appreciate the gap of time between now and what was written then.
A few ways to establish context are by layering in a name, date, and place. Here are a couple of examples of how to draft an announcement or introduction to the start of an album:
Introducing Your Newborn to the World
Add in the unique details about your bundle of joy that make them special. This can range from birth weight or even the weather that day.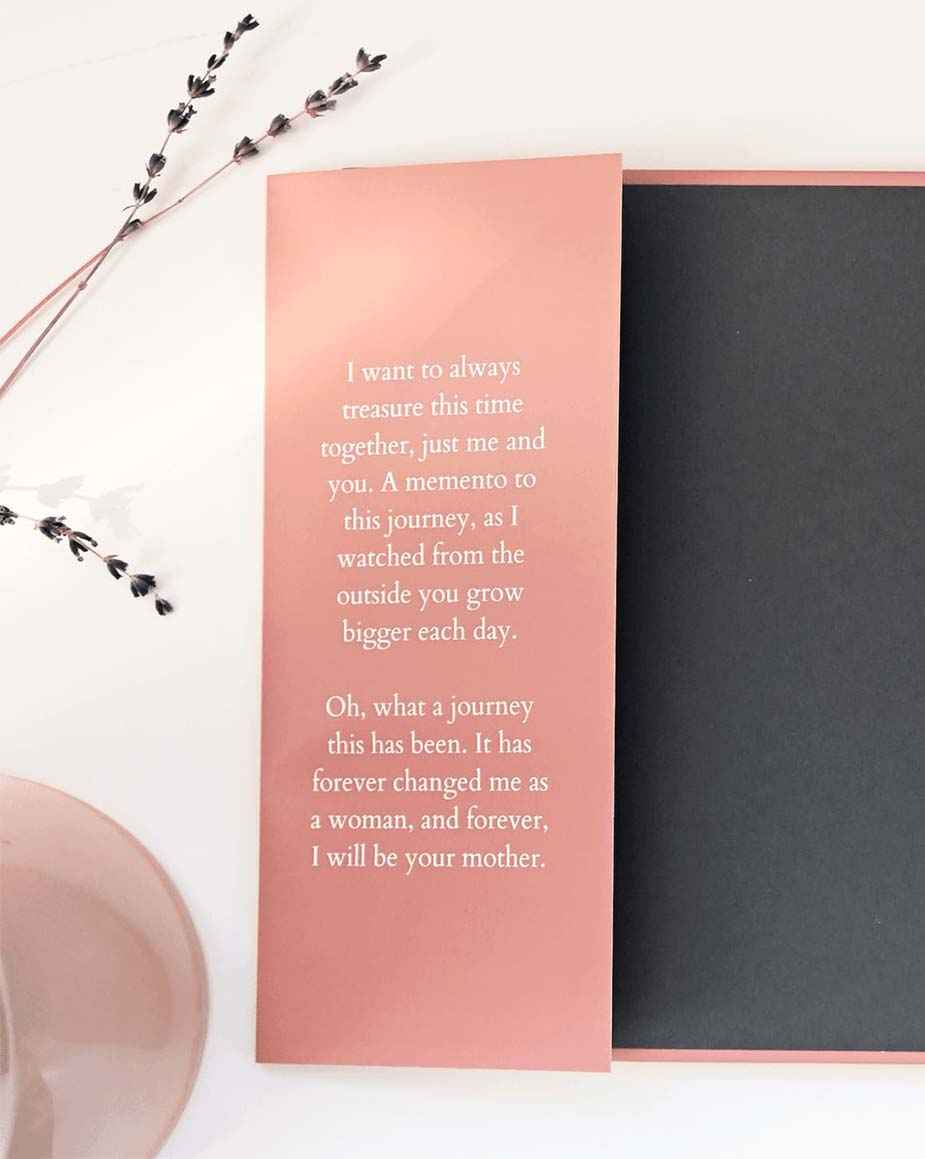 "Introducing Nell Charlotte. Born on a sun-filled Tuesday, April 21, 2020 at 8 lbs. 6 oz., 21 inches long of pure joy."
For a fun twist, you can also address the message to your child. When they're old enough to read they'll appreciate the guidance you've provided over the years even more.
Establishing Roots in a New Place
Moving is a complicated process. But beyond the planning, packing, and unpacking is a whole new chapter waiting for you. We think that's a pretty remarkable thing.
Again, context is impactful here. Be sure to add in unique touches like your surname, the year, and location of your new home to the inner dust jacket of your photobook.
"Our first year of forever. The everyday celebrations of life inside the Diaz home. Established 2019 in Ellicott City, Maryland."
Writing an Ode to Wanderlust
Members of our photo community are expert travelers and even better storytellers. Travel photobooks transport their readers to places near and far. While context is equally important here, adding the "why" factor to your journey speaks volumes.
When you're creating a travelogue think about why you took the trip and how that intention shaped the narrative of your travel choices. Here are a few common trip types you can commemorate:
Celebrating a Honeymoon or Babymoon
Babymoons are a relatively new concept in which expectant mothers spend some time relaxing in their final months of pregnancy. Both honeymoon and babymoon traditions mark a brief pause between chapters of life. One between engagement and forever. The other, life just as two before three (or more).
"This book is dedicated to our first days as husband and wife. Our love knows no limits, and our adventures no boundaries. This wasn't the honeymoon we imagined, but the one I wouldn't trade for the world. All my love, Carly"
Experiencing New Places
Just like you can fall in love with people, you can fall in love with places. One of the most appealing parts of traveling is experiencing a place you've never set foot in before. Making genuine connections with the locals and exploring terrains, cities, waters, and even sleepy towns are all moments worth celebrating.
"Step by step, our journey into the Grand Canyon. In forever gratitude to our guides for bringing us from one rim to the next. Spring days and nights under the stars in May 2020."
If you're not up to feeling poetic, you can also simply timestamp it with the month, year, and location. For example "Grand Canyon. May 2020" can be just as impactful for travel bugs with a large collection of photobooks.
Displaying Gratitude to a Person or Community
Personalized photobooks are like no other keepsake as every page, photo choice, and line of text is chosen with intention. While it can be difficult to express gratitude with words, you'll find it comes easier after sorting through photos.
We love simple statements and big gestures equally whether you're thanking a particular person or highlighting an entire community. Inclusions like the below are great for birthdays, holidays, and big life milestones.
"Mom, thank you for being my constant, guiding light. You are a woman both strong and soft when I need you. For that, I am forever grateful. Happy Mother's Day."
Remember to address the person you are dedicating the book to and add a form of "thank you". If you can, include an accompanying photo to support your message of thanks.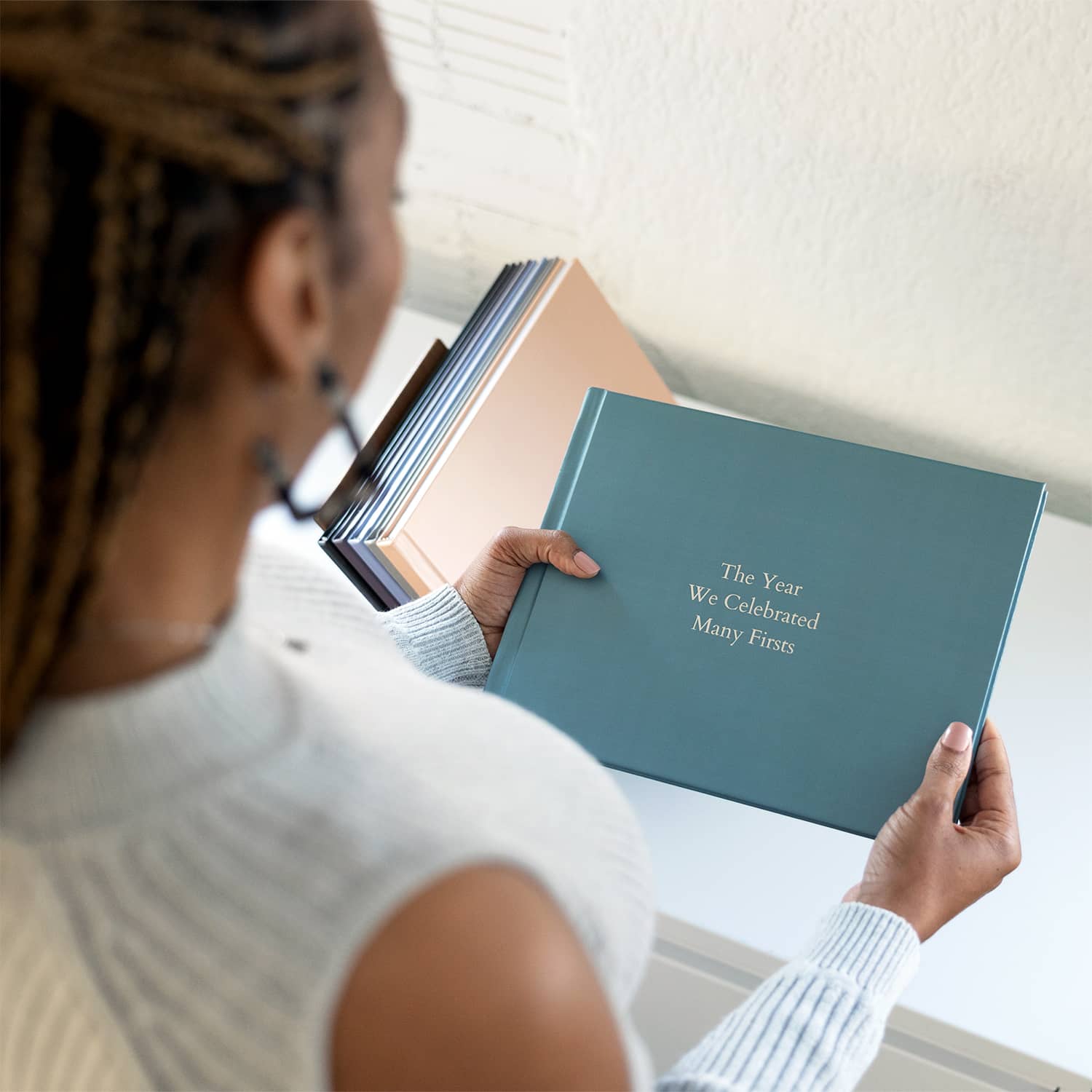 Adding a Sentence to Your Love Story
Love stories take on many forms — early years, golden years, and everything in between. No two love stories are the same which makes yours pretty special. No matter the stage you're in, try out some of the advice below drafting the first few lines of your romantic photobook:
Celebrating Engagements and Weddings
Getting married is a huge moment in life and you'll want to make sure that your book is just as wonderful as the big day. Speak from the heart and be sure to include something significant, like the date of your engagement or wedding.
"Here's to our forever. 11.22.19. The Tuckers."
If you struggle to find the right words, add the lyrics from the song you first danced to as a way to evoke the senses. Taking lines from your wedding vows is equally romantic and will really make this keepsake one-of-a-kind.
Recognizing Your Anniversary
Cue up Neil Young's Harvest Moon as you're creating this type of photobook. A longtime love is noteworthy and something to be proud of. Try your best to capture what your relationship means to you today.
"The story of us is my favorite one of all — from then to now with every moment in between. P.S. I love you, always."
And, our top piece of advice, always include "I love you."
Honoring Your Family History
Family history books are frequently time intensive projects with incredible results. With the amount of research and curating it can take months to complete the final project. If you're the family historian, you likely cherish the tiny details of generations past. Incorporate or hint at some of those details you've uncovered in the foreword of your book.
"The Life of Anne Marie Conway. A WWII army nurse by way of Galway, Ireland. 1923-1998"
These subtle details will certainly pique interest while showing appreciation for members of the family, both past and present.
Reflecting on the Past
Finally, the art of book making is really all about reflection. There's no denying that as you sift through your collection of photographs. Whether you're commenting on your favorite chapter or reviewing the previous year as a tradition, add your thoughts to the start of the photobook.
"Conversations wrapped in sea breeze. Our time spent living simply on the coast. June to August 2020."
This type of sentiment is really in your hands. As your emotions stir up thinking on the past, try to place them into words as best you can. Then add a timestamp for good measure.
Creating your first project?