Jan 14th 2019
The debate can continue over which smartphones are superior, but when it comes to camera functionality, the iPhone wins every time. Of course, this isn't to say that you can't improve upon greatness.
There are a variety of hardware add-ons you can purchase to make your photo-taking experience even better. Here are the best iPhone camera accessories in 2019 that will help you accomplish that goal: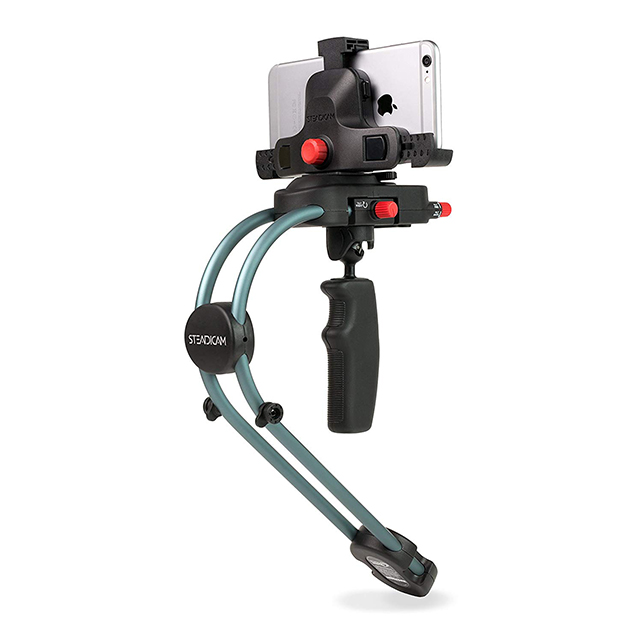 1. Steadicam Smoothee
Steadicam is well-known for its camera-stabilization technology, and the Smoothee takes the brand's quality and puts it in a handheld version. The stabilizer works with brands like GoPro, but the new Universal Smartphone Mount now means that your iPhone - regardless of model - will fit snugly into the accessory.
Its universal smartphone adaptability is only the tip of the iceberg when it comes to this gadget's benefits. You're also able to mount your phone on most tripods and monopods. This means you can record perfect video of your everyday surroundings, snap a photo without having to worry about blur, or even dip your toes into the waters of filmmaking.
Believe it or not, the technology behind this device is the same used in those $60,000 Hollywood rigs. Whether you're literally on the run or just sitting by the lake taking a few snaps, the bottom grip eliminates hand shake that you typically experience with handheld devices.
And at a fraction of the cost of its Hollywood counterpart, it's no doubt one of the best iPhone camera accessories available.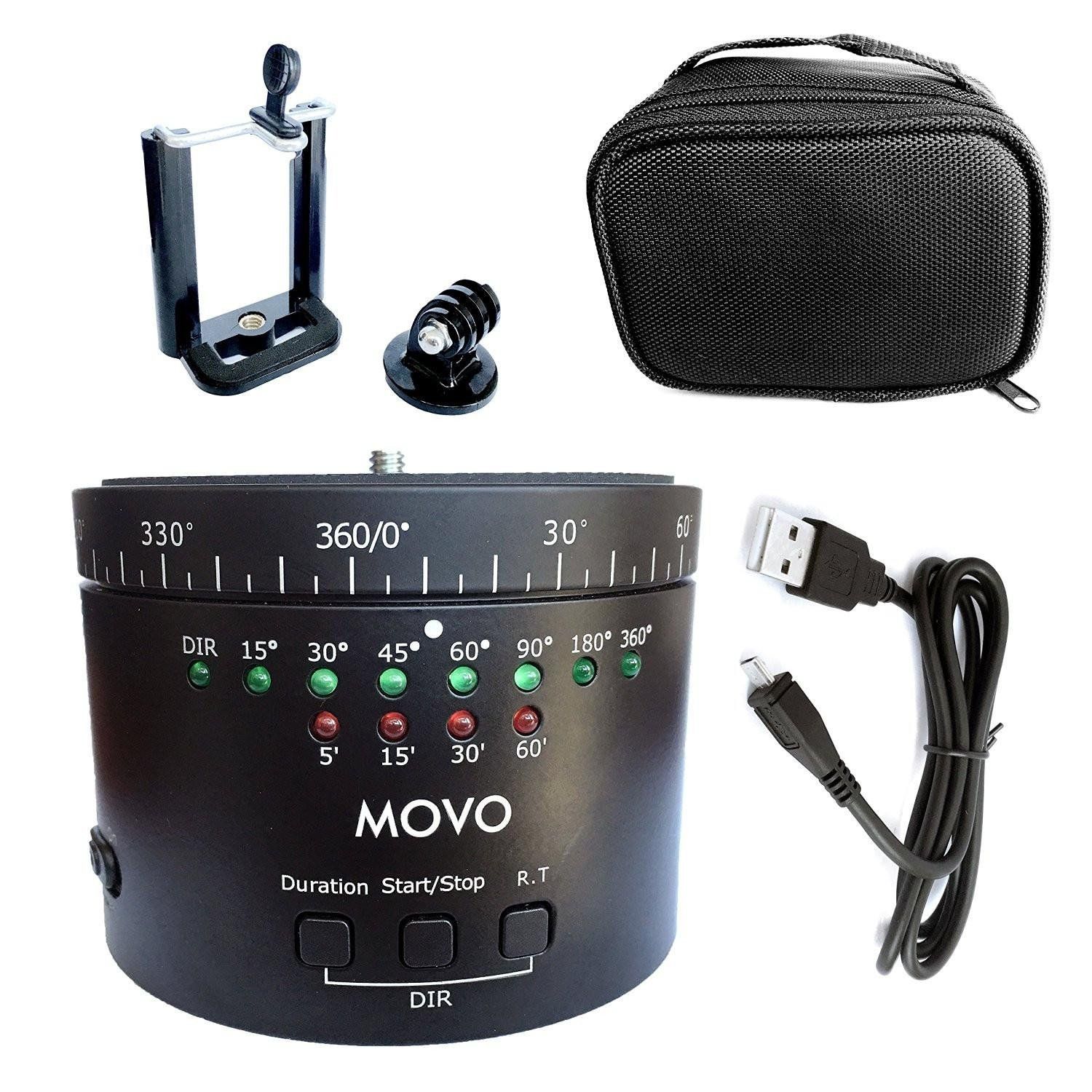 2. MOVO Photo MTP-11
If you take one look at the MOVO MTP-11, you may be left wondering about its functionality. After all, it just looks like a cylindrical base.
As it turns out, the simplest things in life can often provide the greatest results. This panoramic tripod head has a variety of onboard controls that allow you to create professional time lapses without a professional budget.
Like many of the other accessories on this list, the MTP-11 also works with regular cameras. It's really impressive feature, however, is that it adapts to any smartphone whose width ranges from 2.8 to 3.5 inches.
Yes - your iPhone will work perfectly for this. You simply attach your device, set the motion parameters, and decide how long you'd like the time lapse to continue.
It's worth noting that MOVO offers other options in the MTP line of products - many of which are far more economical - but these don't even come close to the features provided by MTP-11. That's why it ranks as one of the best iPhone camera accessories in 2019 while the others don't.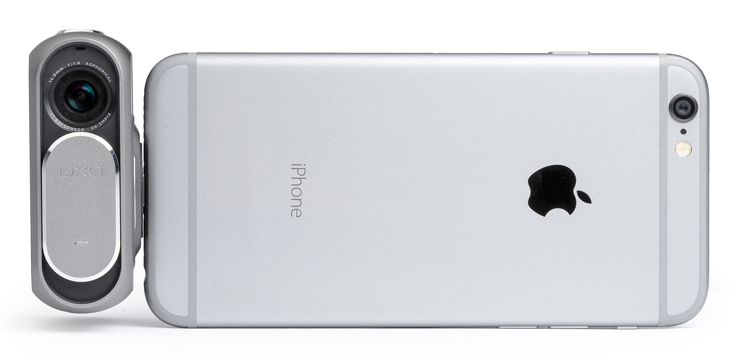 3. DxO One
Available for $129.95 (Compact for $699.99)
The iPhone produces crisp images and amazing video. This is hard to deny since the popular films Unsane and Tangerine were both filmed on these devices.
Unfortunately, they still fall short in quality when compared to many professional cameras. The iPhone 7 image sensor is a mere one-third of an inch, so this is to be expected. Fortunately, the DxO One is a great way to overcome this minor limitation.
The DxO One looks like a miniature camera on its own. In reality, you hook it directly to your iPhone via the Lightning connector. It has a resolution of 20.2 MP and a shutter speed that goes up to 1/20,000 sec.
Add in the option of 30-second exposures and the ability to record at 30 frames per second (1080p) or 120 frames per second (720p), and you've got an accessory that turns your iPhone into a professional camera.
This tiny device also swivels up to 60°, so you can easily experiment with your photog creativity. Your iPhone screen serves as the viewfinder, and videos along with images are saved on the MicroSD card.
4. Insta360 ONE
Many of the models in this family could be considered for a top 10 list of best iPhone camera accessories, but if only one could be chosen, it would be the Insta360 ONE. Instead of pointing and clicking at the one aspect of a site that most appeals to you, this little device allows you to shoot in every direction at once. It does this with 24 MP 360° photos and 4K 360° videos.
The 360° feature is no doubt the thing that gets most people's attention, but the other offerings on this device cannot be overlooked. In addition to connecting to your iPhone, which allows real-time previews, the ONE also has an invisible selfie stick function. This means you can get photos of yourself or panoramic views that look like a drone snapped them.
Users of this nifty device also love the fact that it offers stabilization, so they don't have to worry about buying an extra accessory to avoid shaky images and videos. Add in the fact that you can take photos even without your iPhone - along with controlling the device via Bluetooth - and the ONE never fails to impress.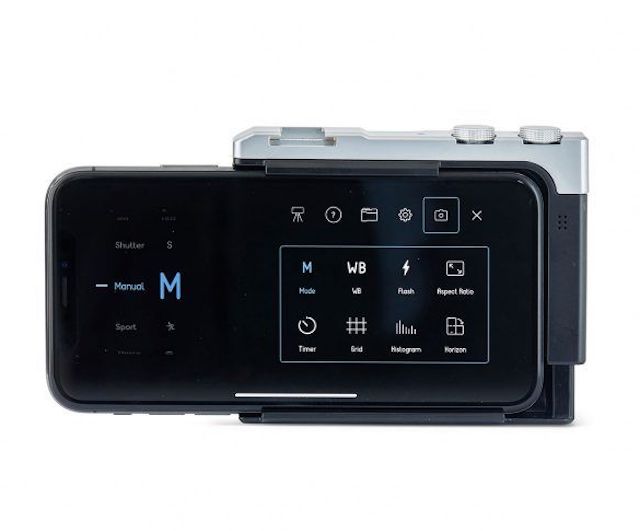 5. Miggo Pictar Plus
Available for $109.99
One of the biggest issues with iPhone cameras - an issue that most smartphones share - is the virtual shutter button. While it's not terribly hard to control, it does lack some of the most important benefits provided by a physical shutter.
It's not as if you can rest your finger on the virtual button while on the move, and if you happen to be wearing gloves, you better hope the volume rocker can get the job done.
The Miggo Pictar Plus takes the iPhone's shutter limitation and throws it out the window. You simply insert your device right into the accessory, and you've suddenly got the feel of a real-life miniature camera. On top of a functioning shutter button, you also have dials that can zoom in and control your exposure.
An additional dial allows you to personalize its specific function. Do you want to control the flash function via dial? How about the ISO?
Whatever's important to you, you can make it happen.
6. Olloclip Core
Intro lens kits available from $34.99
Lifewire ranked the Olloclip Core lens set as not only one of the best iPhone camera accessories you could invest in, but it also called it the best camera kit - period. This device keeps up with many of the newest models (as of January 2019, it's compatible with the 7, 7 Plus, 8, and 8 Plus), and it serves as a three-lens set that can take your photog game to the next level.
The kit includes a super-wide lens that provides a more than 120° field of view, a fisheye lens and a 15x magnification macro lens that can be placed on your iPhone's front or rear camera. While many apps claim to mimic these lens types, none of them can provide the quality that experienced or budding photographers demand.
You'll also find that the Olloclip Core kit works with all iPhone apps. Additionally, the amazing photos you take with these lenses can then easily be exported with Mimeo Photos to make a professional photobook or other projects.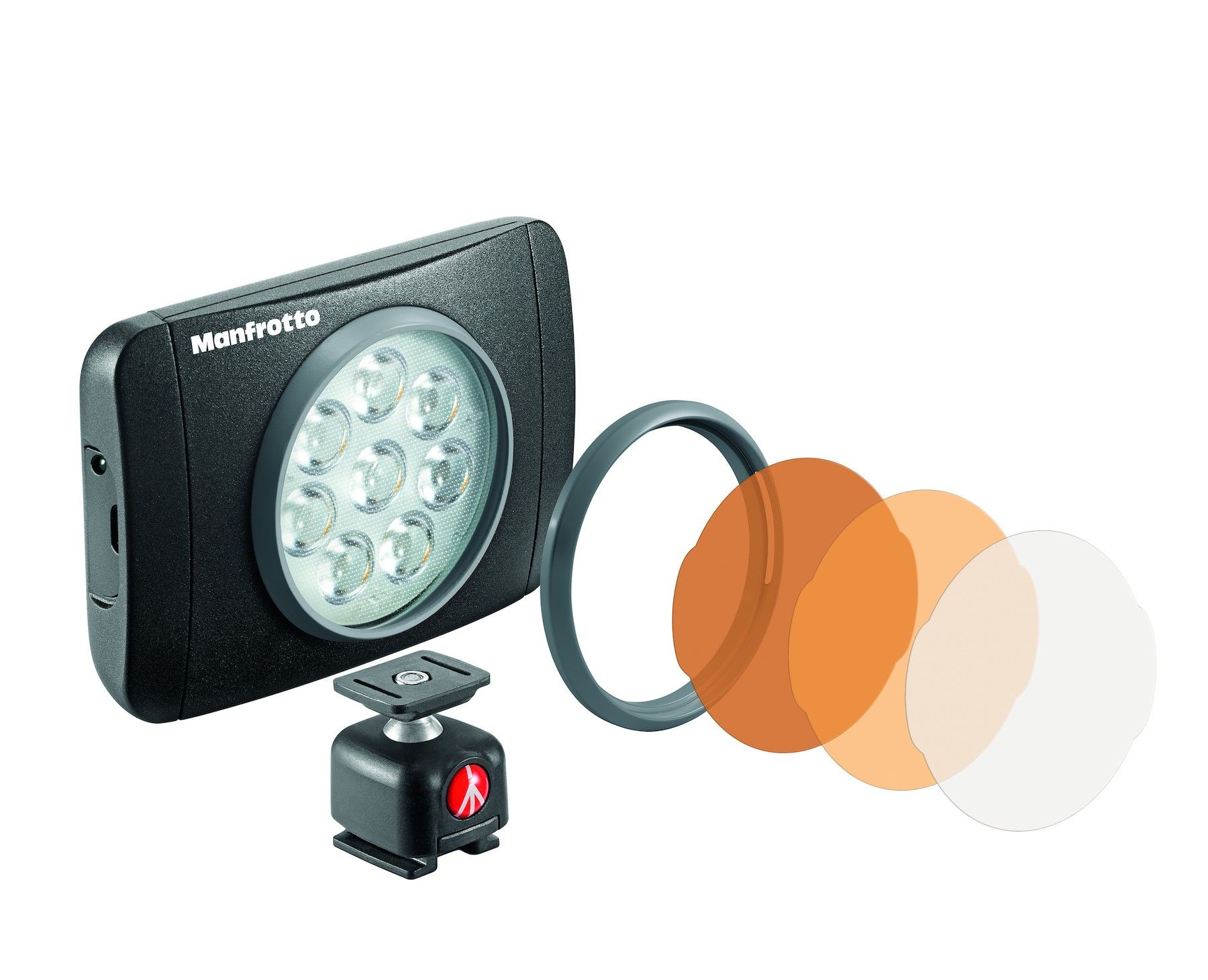 7. Manfrotto Lumimuse LED Light
Anyone who has stared into their phone's light no doubt regretted the decision. You would think this bright sliver of an atomic blast would prove adequate for your iPhone camera needs.
To be fair, the smartphone's flash is more than enough for most activities. If you're really looking to take things up a notch, though, the Lumimuse LED Light is essential.
With options of three, six, or eight LED lights on the device, it offers more variations than most of the other best iPhone camera accessories in 2019. The fact is that there are times when you'll need more light in a photo or scene. The Lumimuse light is about the size of a credit card and can give you just that.
It's worth noting that this isn't a standalone iPhone accessory. While the light can be mounted to tripods, it cannot be directly attached to your smartphone.
Fortunately, Manfrotto also sells a versatile phone clamp that allows you to mount the Lumimuse, microphones, and a variety of other photography and filming gadgets.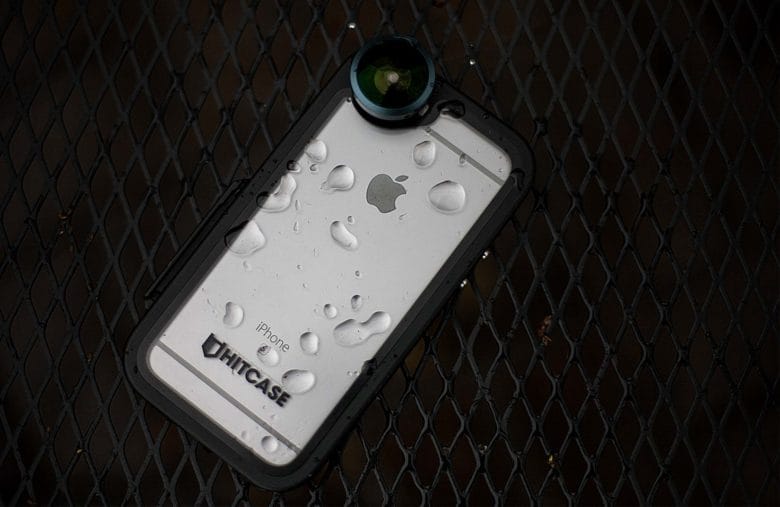 8. Hitcase Pro 2.0
Hitcase offers some of the best iPhone camera accessories you'll come across. The best part is the sheer variety of what they offer. For adventurers who simply can't justify shelling out the cash for a GoPro, the Hitcase Pro 2.0 is a viable and impressive alternative.
In essence, it takes your favorite iPhone and turns it into one of the most rugged action cameras on the market.
Do you enjoy watersports? This accessory is waterproof. Might you end up going down a rugged mountain on your favorite bike? The system is both mountable and shockproof.
In fact, it uses the same mounting system utilized by GoPro. This means you'll have no issue finding mounting plates and additional accessories to prep your iPhone for whatever extreme activity you're planning.
You'll also find that the Hitcase Pro 2.0 has common features that simply make your life easier. A few examples include:
An easily removable shock sea
Full responsiveness
Easy port access
Toss in the wide selection of TrueLUX lenses, and this setup is one for the ages.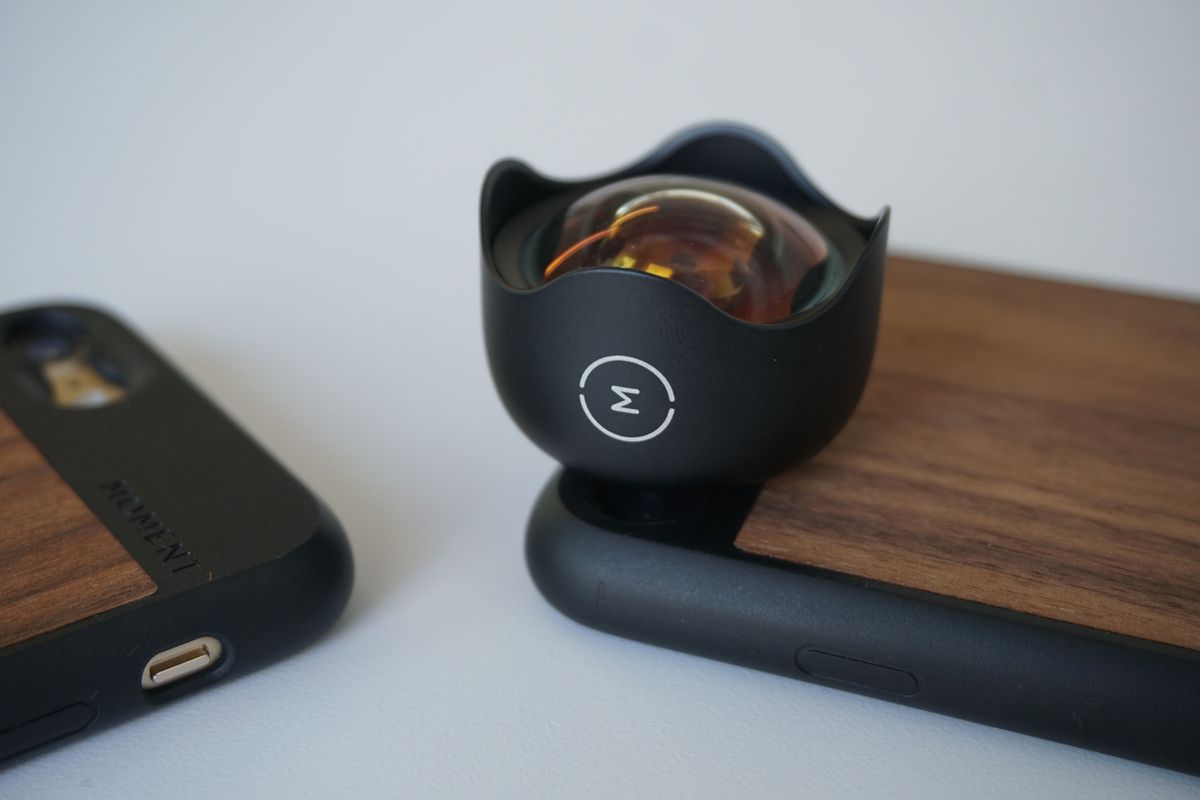 9. Moment Lenses
There are countless ways to improve your iPhone camera experience. Some of the accessories mentioned here provide features that offer everything from turning your iPhone into a professional camera to making it rugged enough for extreme sports. When it comes to simplicity, though, there are inexpensive lens attachments that perform wonders.
If you've spent any time looking for the best iPhone camera accessories, you know that there are countless options available. While you should definitely do your research, you'll likely decide that Moment Lenses are one of the best choices. There are options for wide-angle, telephoto, and fisheye perspectives.
If you're into videography, the anamorphic lens provides a professional-grade cinematic experience. Regardless of your intended use, though, you'll get a product that's constructed with a metal frame containing high-quality glass.
Any lack in performance can easily be made up for with the right photo management software, but if we're being completely honest, there's not much lacking.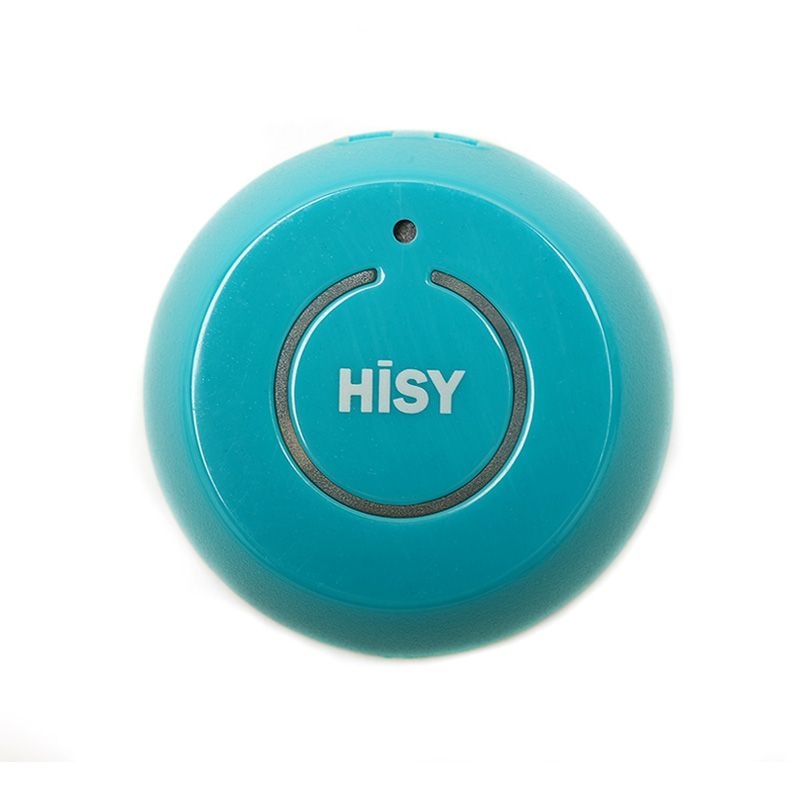 10. HISY Bluetooth Shutter Remote
Available for $24.99
When it comes to the best iPhone camera accessories of 2019, this list has thus far included mostly complex add-ons that give your smartphone the ability to take superior photos.
Of course, not everyone aspires to be the next Lois Greenfield. If you just want easier functionality with your iPhone camera, the HISY shutter remote is perfect.
This pocket-sized gadget is little more than a button you carry around with you. By connecting it to your smartphone's Bluetooth, though, that button serves as a shutter for taking photos.
Is it time for a family picture that you really want to be part of? Are you tired of your selfies always having an arm protruding? The HISY is a simple yet effective way to solve your problems.
The iPhone is consistently improving, but it will likely never reach a point where accessories such as these can't enhance its performance. Taking a photo is an opportunity to give a fleeting point in time some semblance of permanence, so you want the quality to reflect the moment.
Fortunately, whether you're a budding photographer or just like your Instagram to look "on point," the best iPhone camera accessories of 2019 can help in your endeavor.
Creating your first project?