Nov 12th 2018
Buying yourself a nice camera can be a treat, but it can also be a big expense. If you want to get yourself or a loved one a camera for the holidays, but you want to get the best deal possible, consider purchasing one on Black Friday.
There are lots of places that offer great deals on cameras on Black Friday, so you can start capturing great photos without having to endure any unnecessary financial stress.
Here is some guidance for taking advantage of Black Friday camera deals, as well as some tips for making sure that you get the best deals available.
Choose What Kind of Camera You Want
The first step to being prepared to find the best Black Friday camera deal for you is deciding what kind of camera you want. Here are some options you should consider:
Compact Camera: Compact cameras are small and easy to tote around with you during your day-to-day life and on travels. They have built-in lenses and flashes, so you don't get much versatility, but they are easy to use for amateur photographers.
DSLR: The DSLR is a more serious camera than the compact camera. It allows you to swap out the lens.
Mirrorless Camera: A mirrorless camera, like its name suggests, does not have a mirror inside of it. You can change out the lens on a mirrorless camera, and unlike a DSLR, it does not have an optical viewfinder. Mirrorless cameras are smaller than most DSLRs.
Decide what's important to you in a camera, then choose a camera type to meet your needs. Consider how you'll be using it, where you'll be using it, and what type of photographs you're intending to take.
Once you decide what kind of camera you want, you can narrow down your search by the time Black Friday rolls around.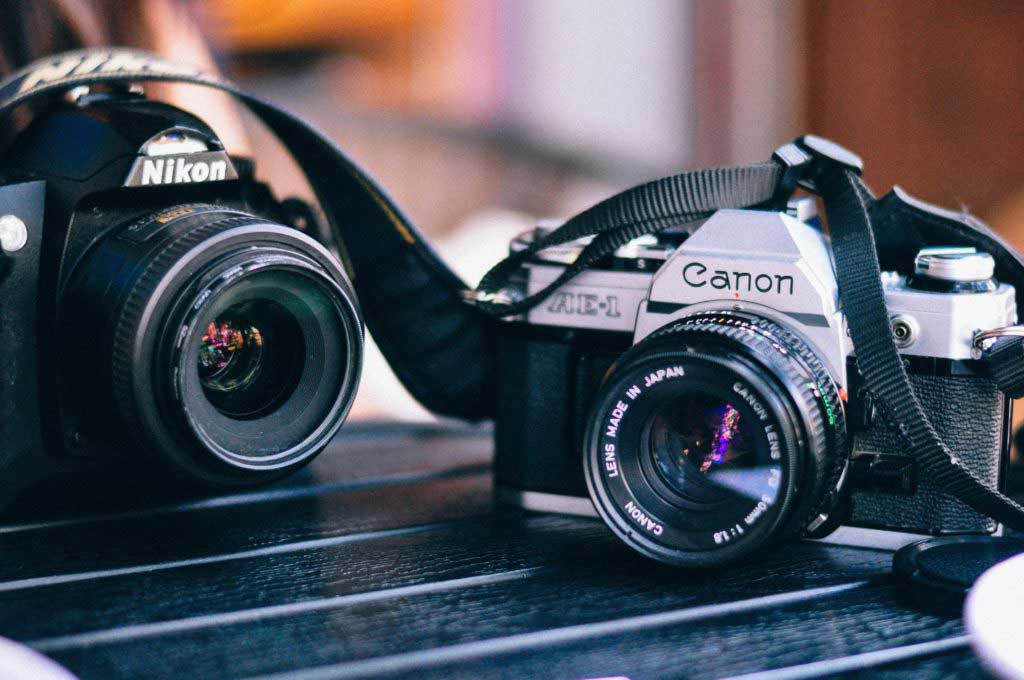 Consider Different Camera Brands
There are several popular brands of cameras that you'll be able to choose from on Black Friday. Many of these popular brands will be deeply discounted on Black Friday.Take a look at these different brands to help you decide what you're going to shop for on the discount shopping day:
Don't Forget Accessories
With the amount you save buying the camera on Black Friday, you'll also be able to buy fun accessories to use with the camera, like:
Lenses
Tripods or monopods
Flashes
Bags or cases
So, prepare a list of camera accessories you want to shop for while they're discounted, as well.
Consider Buying an Older Camera
Older camera models, especially ones that have been out for several years, tend to be cheaper on Black Friday than newer cameras. Consider getting something that's not the latest, most recently released model if you want to get the best discount.
Choose a Brand That's Not the Most Popular
At the end of the day, Canon and Nikon are the most popular camera brands out there--particularly if you're shopping for a DSLR. Despite those two brands' popularity, many camera brands make excellent cameras.
So, consider extending beyond Canon and Nikon and choosing a less popular brand to get a great discount. Companies know that people will buy pricier Canons and Nikons, but since they have a harder time selling other brands, they may discount them further on Black Friday.
There's Always Cyber Monday
You may want to shop for a camera in person on Black Friday. However, you may be able to find even better deals if you wait until Cyber Monday. Cyber Monday is the online shopping discount day, and if you shop that day, you may be able to spend extensive time comparing and finding the best available discounts.
Going to physical stores to look for cameras on Black Friday gives you a limited amount of inventory to look through. If you shop for a camera on Cyber Monday online, you'll have a much wider selection to consider. Here are some sites you should pay attention to on Cyber Monday for great camera deals:
Keep Hold of Your Receipt
Whatever camera or accessory you purchase, don't forget to save the receipt.
If you're buying someone a camera as a gift on Black Friday, make sure you save the receipt. Photographers can be picky about the equipment they use, and if they end up wanting to pick out a different camera, saving the receipt will allow them to return the camera to the store easily.
Final Thoughts: Best of Luck
Black Friday is an excellent day to find deals on things that are typically expensive, including cameras. If you're on the hunt for a new camera and you want to get it for the most affordable price possible, make sure that you start early to figure out what kind of camera you want.
Consider the brand you're interested in, what you'll use it for, and what accessories you hope to use with it. By doing the legwork before the day actually rolls around, you'll be ready to go shopping early and pounce on the best deal when you see it.
Creating your first project?