The days seem to trudge on while the year passes quickly, and before you know it, it's time to start taking holiday photos again! There are dozens of cultural celebrations in the final months of the year, and regardless of which ones you observe, you're probably thinking it's time to take your picture-snapping skills to the next level.
Our guide on amateur photography tips will certainly get rookies headed in the right direction, but this article is devoted to tips specific to holiday photo greatness.Whether you're making a Christmas card to send out to friends, creating a photobook cover of the children sitting around the menorah, or simply want a few Facebook "likes" after celebrating Festivus, these tips will get it done.
1. Take Full Control of Your Lighting
When photographers aren't on the job, many of them simply set their camera to automatic mode. This results in average quality images, and it's not like your friends are going to complain about the quality of a picture that's heading straight to Facebook. When it comes to holiday photos, though, this simply isn't enough. You want perfection, and this means you need to control the lighting.
Instead of turning off your flash to avoid its automatic use, simply adjust your ISO setting. Many cameras do great even with settings up to 3200. This will allow you to utilize natural light when possible while still taking advantage of the flash when necessary. Keep in mind that higher ISO settings can make your images look grainy, so try out a few shots before heading to your holiday event.
You may also want to consider using your flash even on sunny days. Counting on the sun to always light your photos could result in squinted eyes in every image, and this can be compounded by snow glare. Don't be afraid to have friends face away from the sunlight and use a little flash.
2. Opt for Candid HolidayPhotos, Not Posed
Once you tell everyone to pose for a picture, a little bit of the magic disappears. Some people get nervous while others forget how to make a smile look natural. This is why your aim should be to get mostly candid holiday photos rather than posed.
After all, does the perfect New Year's Day picture entail adoring kisses at midnight or everyone just rigidly arranged in front of the ball?
While you should definitely enjoy the celebration around you, fade into the back for a bit and snag some special moments. Try your best to get discreet photos of everyone laughing, playing, opening gifts or simply enjoying where they are. A faster lens will help reduce blur by letting in more light when you're snapping action shots.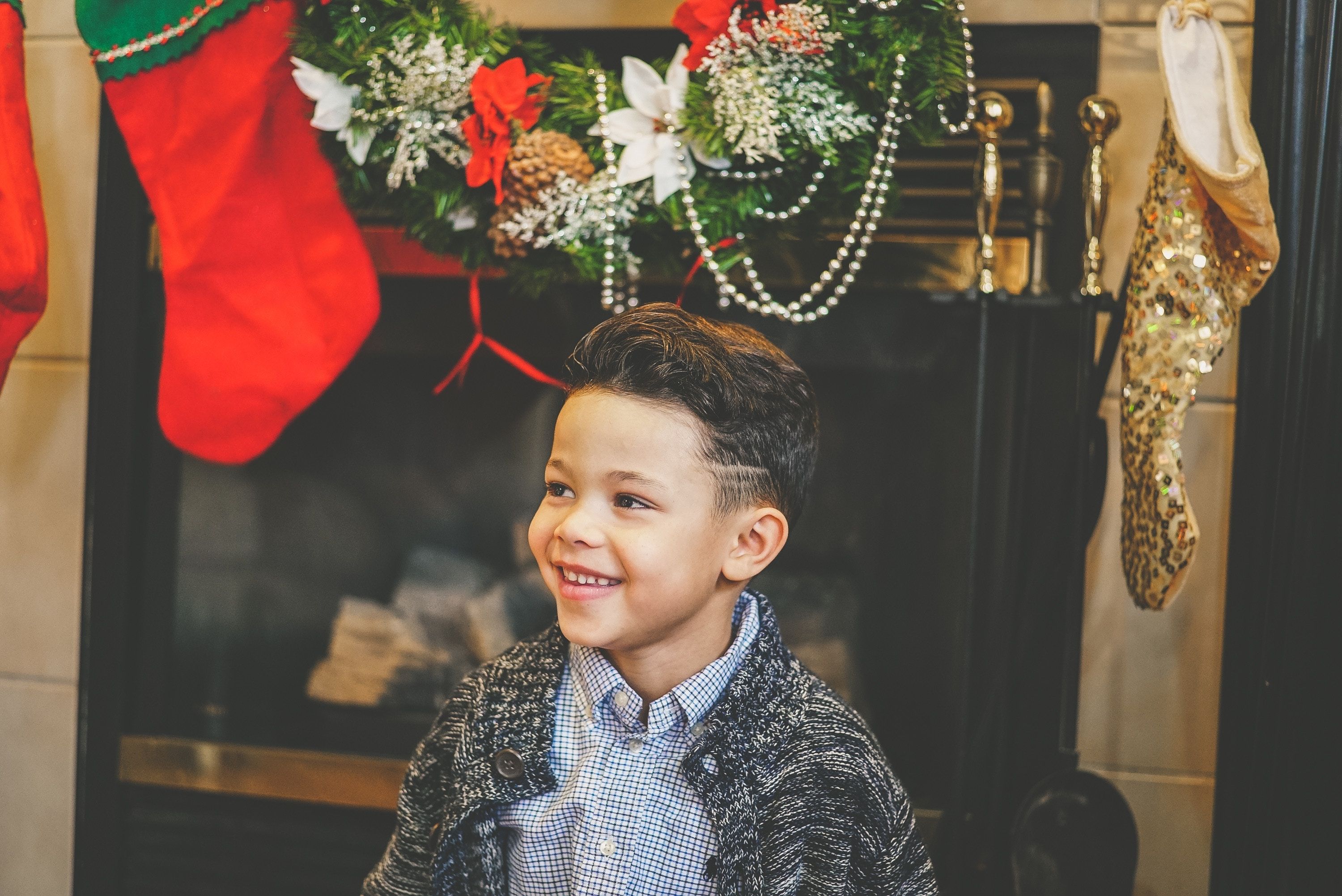 3. Don't Be Afraid Of Close-ups
When taking holiday photos, you want to capture the personality of those around you. This can sometimes be difficult with so much going on in the background, so you should never be afraid to get personal with a close-up. This is why zoom lenses are one of the three lenses every photographer should own.
In addition to getting the right zoom amount, go ahead and switch over to portrait mode. These two tips will help you to better capture skin tones, provide more emphasis on your subject and reduce the background "noise" by creating a bit of blurring in the back.
Also, don't think that close-ups won't be your most popular holiday photos. Over 9 million Instagram posts are tagged #CloseUp after all!
4. The Truth Lies in the Details
Most holiday photos end up posted on social media, but there are a special few that will go even further. Maybe you're trying to figure out the best holiday photo card idea, or perhaps you're simply choosing which images will occupy a full page of your album. Either way, the perfect choices will be images where the details really stand out.
Does a particular photo capture the beauty of the baubles on the tree? What about the reflection of your cousin's fiancée in her champagne glass? Even the tiny bubbles coming up onto the shore of your beach holiday vacation will stand out. These tiny details not only help people feel like they were there – especially those who were – but it also reminds them that the magic was real.
5. Aim for Shareability
Capturing the perfect holiday photo is an artistic endeavor, but your work doesn't necessarily stop there. Unless you're working a paid gig, these images are about sharing your personal holiday cheer. As it turns out, there's no better way to accomplish this than by increasing their social media shareability.
Fortunately, you've already got statistics working in your favor. Research shows that Facebook engagement goes through the roof during holidays. This is especially the case with "likes,"but those with fewer than 5,000 followers (i.e. almost all of us) also saw a 53percent increase in comments. Of course, you need to do a bit of work to take advantage of this.
To start, utilize your phone to crop copies of your images into squares. The most shared pictures online are square, and that's what social media users are often most comfortable with. When actually shooting photos with your phone, set it to square mode.
You'll also want to underexpose rather than overexpose when using your phone. This makes images easier to adjust to perfection
The Giving Season Deserves a Bonus Tip
You definitely want to leave your celebrations with a ton of photos to choose from. And since you're learning how to take awesome holiday photos, the next tip may seem counterintuitive:
Know when to put the camera down!
It's great to have physical and digital representations of great memories, but it shouldn't be at the detriment of actually being involved in the memories. While it's true that 100 photos of the kids opening presents is great, wouldn't 50 be just as awesome while also allowing you to get from behind the lens?
It's possible to get memorable photos without missing memorable moments.Make sure you perfect this art.
Holiday Photos Preserve Marvelousness
For many people, the holiday season brings with it joy, nostalgia, family and friends. Some of our happiest moments take place during this time, so why not make sure they're memorialized in the best way possible?
Mimeo Photos can help you do just that by turning these images into photobooks, greeting cards and more! Follow these holiday photo tips and you'll have a large selection of great photos to print as permanent keepsakes.
‍
‍
Creating your first project?