Dec 19th 2018
Celebrating life events with photo cards is a fantastic pastime that will never go out of style. From wedding announcements to anniversaries to a loved one's graduation, photo cards are a great way to commemorate any occasion.
When it comes to personalizing your photo card, custom messages and unique card layouts are the name of the game. What you write in your personal message depends on you and the occasion you're commemorating -- but it never hurts to break the mold and throw in a little humor!
Mimeo Photos has all the classic Apple photo card layouts and themes you've come to enjoy, including:
On the Dot
Photo Grid
Picture Card
Hopscotch
Both of Apple's classic folded and flat photo cards are available with Mimeo Photos.
Baby Announcements
A new addition to your family is a momentous occasion, and preserving that memory with a photo card is a no-brainer. Birth announcements are incredibly varied and completely personal -- a traditional card with a picture of the newborn is a classic, but feel free to experiment.
Has your newborn arrived in the winter? How about taking a picture of your new baby in a Santa hat, or something that plays to the season?
For birth announcements, the landscape flat photo cards is a particular favorite.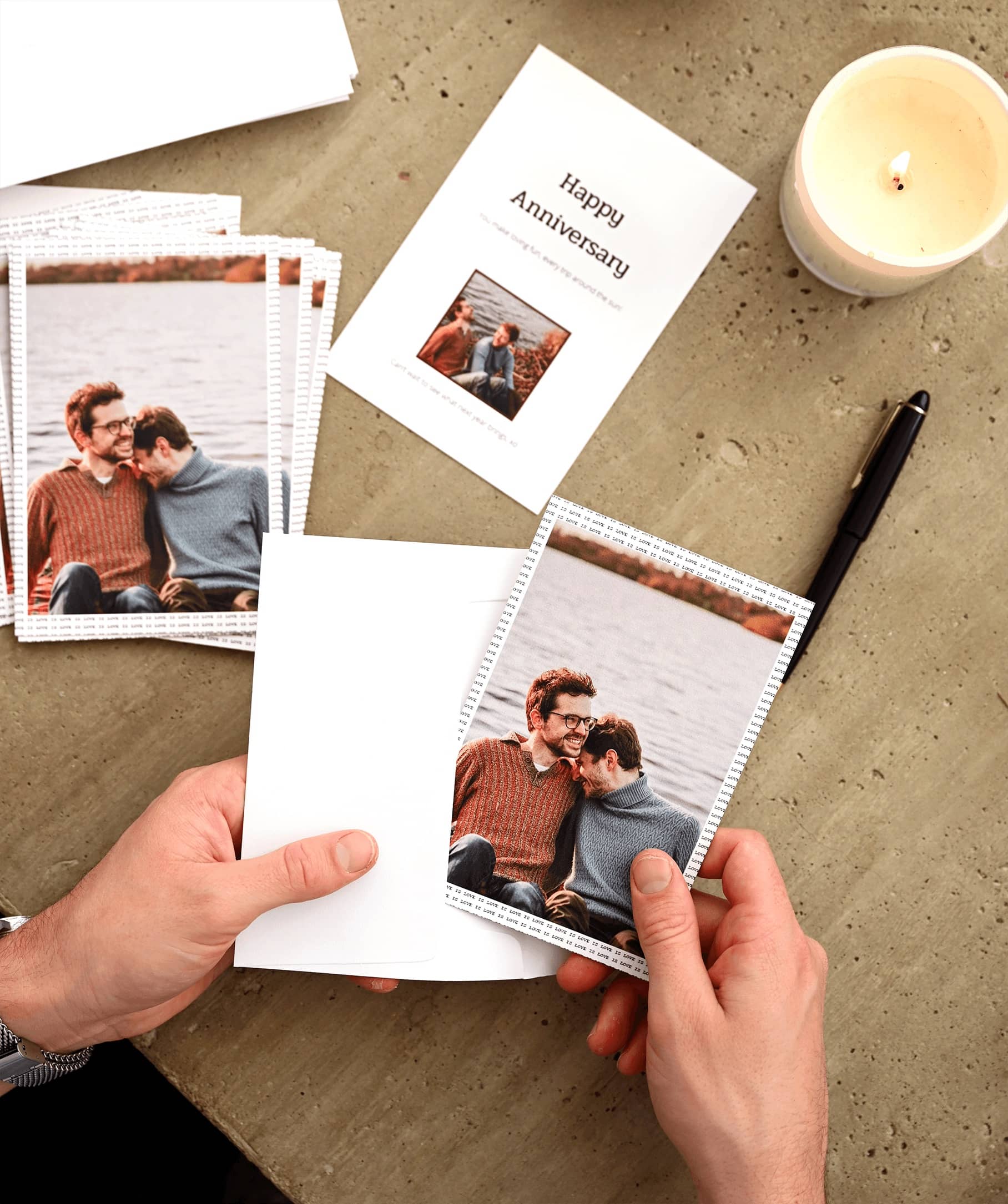 Golden Anniversary
Fifty years of marriage is a beautiful accomplishment. A heartfelt photo card is one of those ways to preserve and share that memory with your loved ones.
Not sure what to write, or how to structure the card? Why not focus on the passage of time and some of the major events along the way?
A photo grid is always an excellent idea when you're looking to have a mish-mash of photos from different times. Nothing says "Golden Anniversary" more than a photo series that goes all the way back to the original wedding. Other major life events (think children, new home, that one really special vacation that stands out) are fantastic additions as well.
Consider black-and-white photo designs. Monochrome is an extremely powerful filter and works incredibly well with more "vintagey" designs.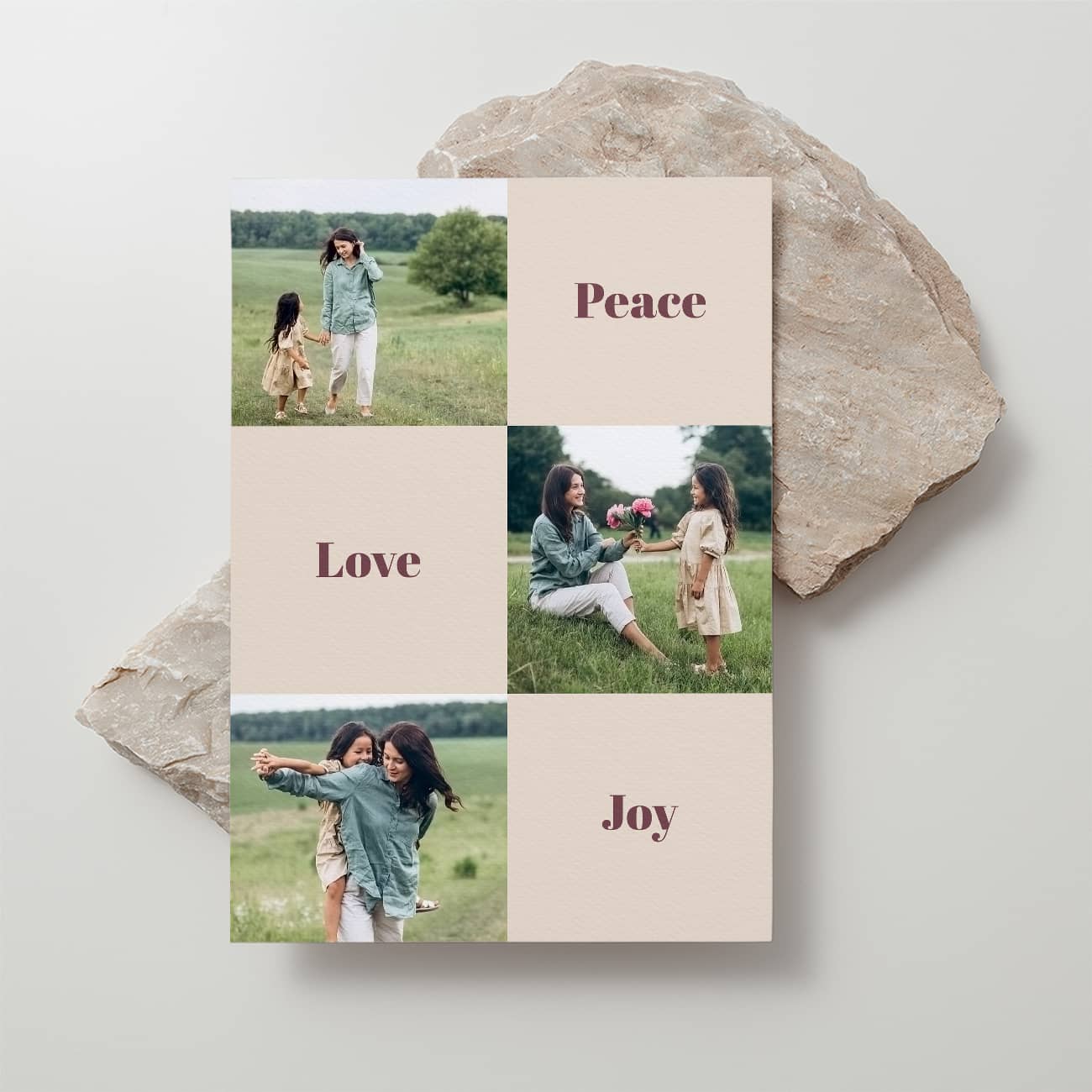 Holiday Cards
Holiday cards can range from traditional folded designs to something a little more out of left-field. The content is up to you -- but it's hard to go wrong with the classic family portrait, the gingerbread cookie family, or embarrassing outfit ensemble.
In terms of card format, a folded design is standard. The ability to include a customized inscription on the inside of the card is priceless, and everyone loves a personal touch during the holidays.
On the other hand, a flat, double-sided card with a picture of the family on the front and a personalized "Season's' Greetings!" on the back is hard to pass up.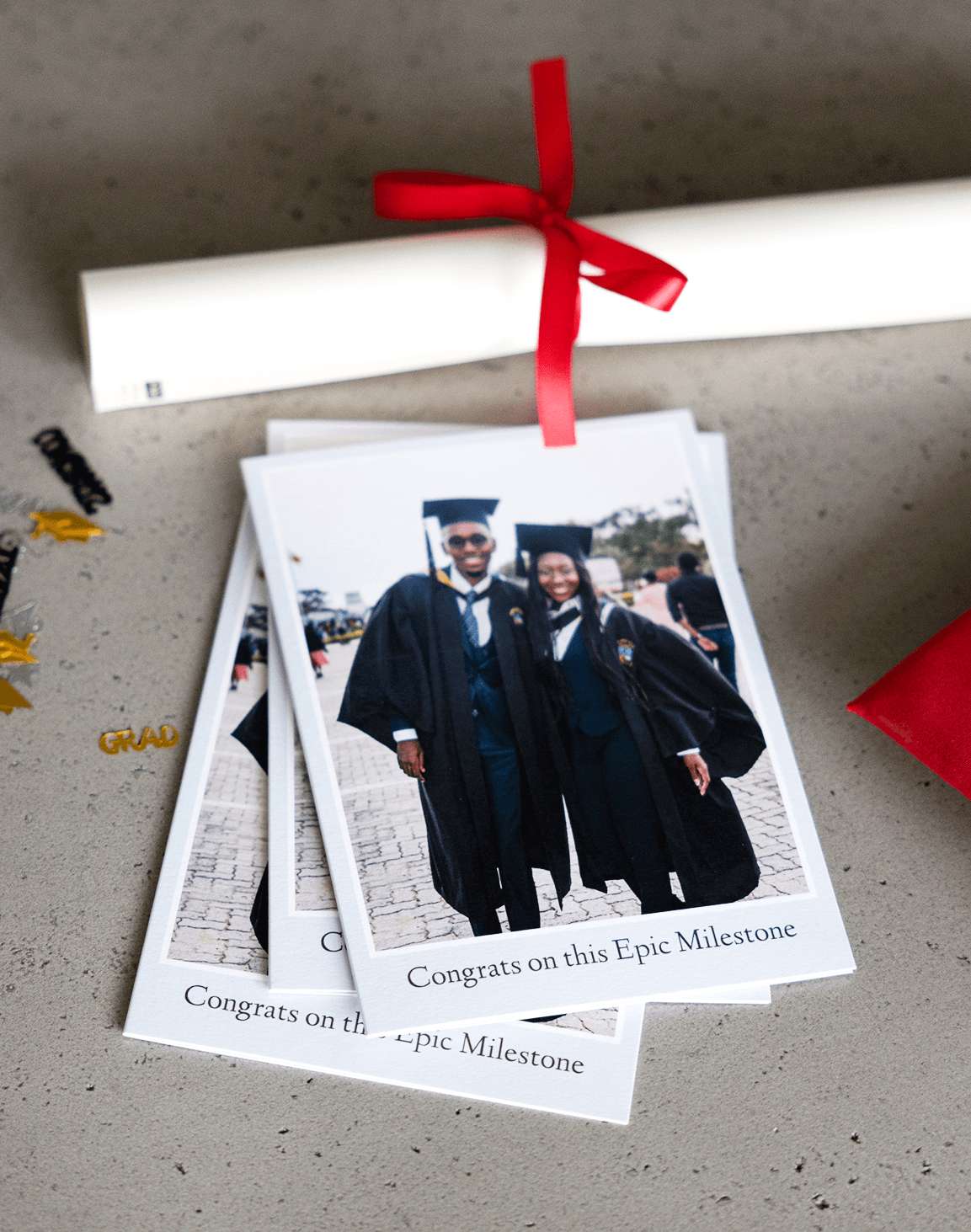 Graduation Party Invites
Nothing says "accomplishment" more than graduation! A joyous time for you and your loved ones, graduation means mission accomplished. Moving on to bigger and better things calls for a celebration.
Graduation party invites should be sent out at least three weeks before the date, to give the guests enough time to RSVP. Keep in mind graduations are always around the same time, so you want your friends and family to know about your graduation party first!
A Life in Pictures
Photo cards are one of those special ways to cement a moment in time. Mark every milestone and celebrate any occasion with Mimeo Photos. Personalize a card the way you want, and get started on making memories!
Creating your first project?