Jul 6th 2020
Memories are intrinsically tied to our food. There is an intimate connection we have with the recipes we prepare and the foods that fill our days. Our meals reflect our state of mind and how we are living at that time. We absorb, adapt, and improve the recipes that we have learned throughout our lives and once we have perfected them we aspire to share this connection with others.
So, to all the home cooks and DIY chefs, by utilizing Mimeo Photos you can show the world your handcrafted set of delicious recipes, share your memories, and create a one of a kind cookbook. Read on to learn about cookbook essentials and how Mimeo Photos can help you organize and showcase your recipes.
Define Your Concept
Before getting right into the Mimeo Photos app to create your culinary masterpiece, decide on a concept for your cookbook.
Your cookbook could consist of all vegetarian meals, your breakfast favorites, or traditional holiday dishes. Whichever direction you choose, defining the concept of your cookbook will make other design and organization decisions easier.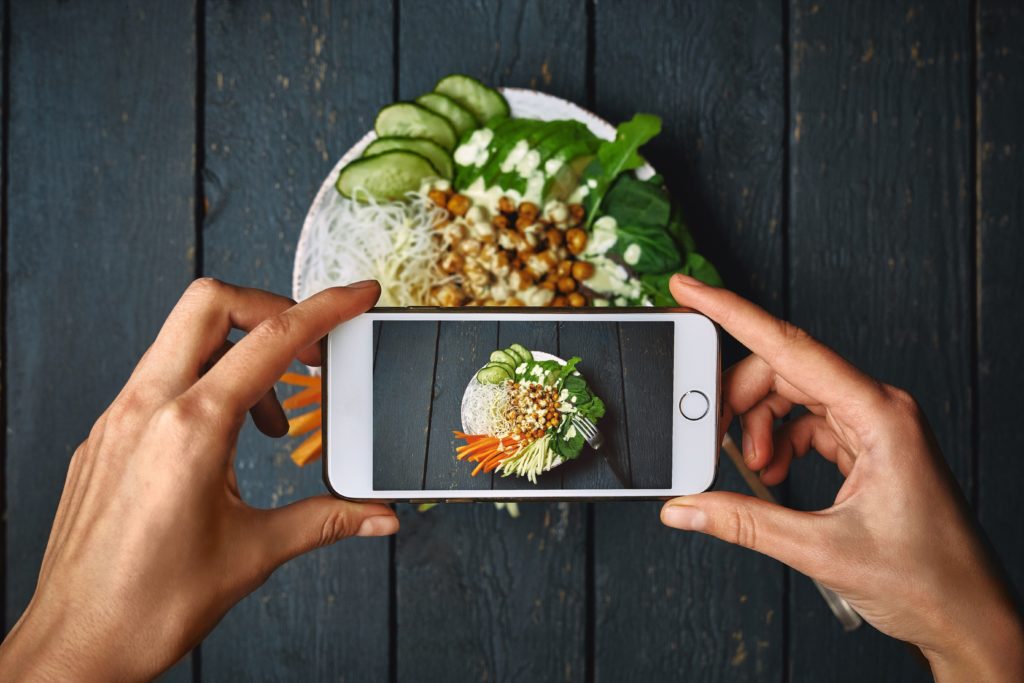 Improving Your Food Photography
One of the most exciting and intriguing parts of a cookbook is the imagery. It conveys to the reader the end result of their cooking, if done right. Including alluring photos of your food is essential to making sure a recipe actually gets cooked. Brush up your food photography skills so that you can capture the deliciousness of your food within an image.
Keep in mind that you don't have to have a professional camera or tripod to take appetizing shots of your food. Use these best practices when shooting on your iPhone:
Find your best angle for your subject (dishes, raw produce, drinks, and desserts are all very different)
Opt for a neutral, non-distracting background
Balance space and decoration around your dish, don't overload the frame
Adjust the camera exposure by tapping to set the focus and then sliding up and down the screen with your finger
Enhance your image with preset editing tools or with a photo editing app
DIY Cookbook Layouts & Design
The design and layout of your cookbook is heavily dependent on how many photos and recipes you plan to include. You might consider a larger, smaller, square, or landscape book option based on your collection of recipes. A square book will be easy to highlight your portraits or narrow shots, for example. Mimeo Photos has a variety of sizing and orientations for your cookbook so select one that works best for the content you have.
Once you've selected the physical attributes of your cookbook, you can move to the editor and brainstorm how to organize your information.
When creating your theme, some design ideas to consider are:
A monochrome color palette
Backgrounds that contrast the colors in the food
Adding a human touch with the use of hands or cooking shots
Using text to add context with your memories of when a dish was served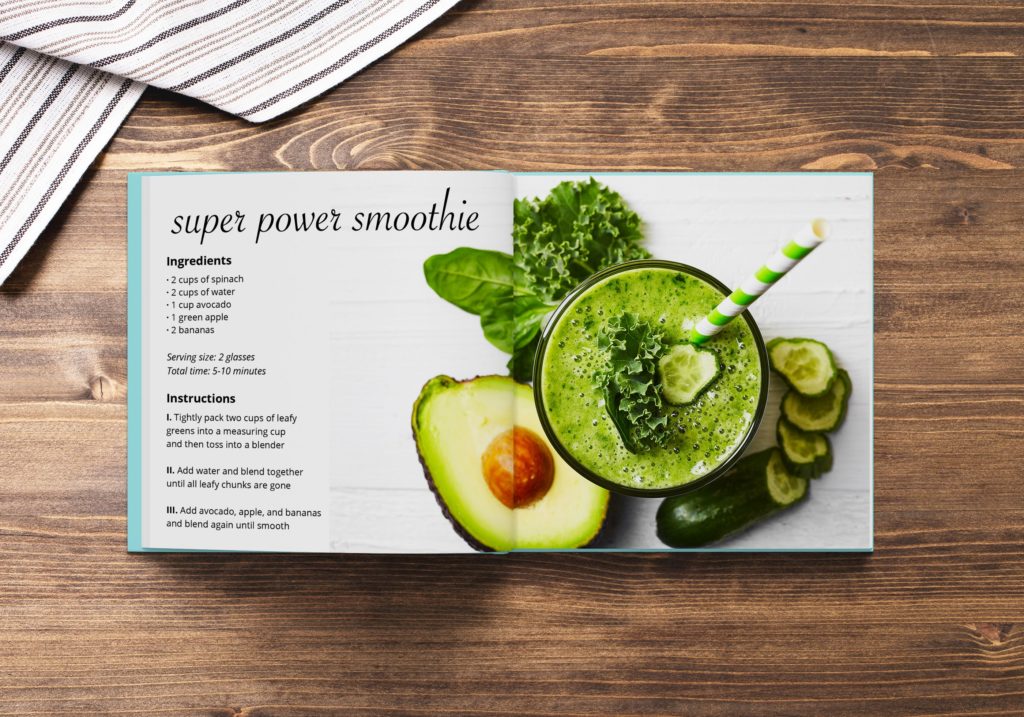 However, it's important to avoid cluttering your pages with an overwhelming amount of text or images. A cookbook needs to be clear and made to be easily followed by the reader. So, strike a balance between decorative design elements and functional instructions. Balance is key.
If your recipe is too long or you have many images you'd like to feature for a certain dish, consider breaking it up into a few pages. Be sure to take advantage of Mimeo Photos layout tools to keep your cookbook organized.
Cookbook Structure
As you draft and experiment with the design of your cookbook, there are certain structure elements to consider. Cookbooks generally follow the layout of:
Title Page
Table of contents
Author's note
Recipe pages divided into sections
Glossary or index
When designing the actual recipe pages, it's best to follow the standard for recipe layouts to ensure they are readable and easy to follow. This includes:
Name of the recipe
Introduction
Serving size
Ingredients
Prep time
Cook time
Necessary equipment
Step by step instructions
Use your best judgment when deciding how to organize your recipes. Will you feature them on a single page or an entire spread? Will you separate them by meal type, seasonal dishes, dietary requirements, or something else?
There are many different ways to approach designing a do it yourself cookbook. If you develop a concept, take great photographs of your dishes, include key structure elements, and balance your design between function and style your cookbook will have a proper foundation. Give your recipes to the world and encourage memories to be made with them by designing your cookbook through Mimeo Photos.
Creating your first project?