Whether you're hosting the annual holiday dinner for extended family or inviting friends over for an intimate end-of-the-year potluck, add a personal touch to your tablescape with custom photo centerpieces.
Make your loved ones feel special by featuring their best and brightest moments with one of these thoughtful, interactive DIY centerpieces.
But before you begin, take all of your favorite moments and find the perfect format. Order photo prints using the Mimeo Photos app in 21 sizes from wallet to large format.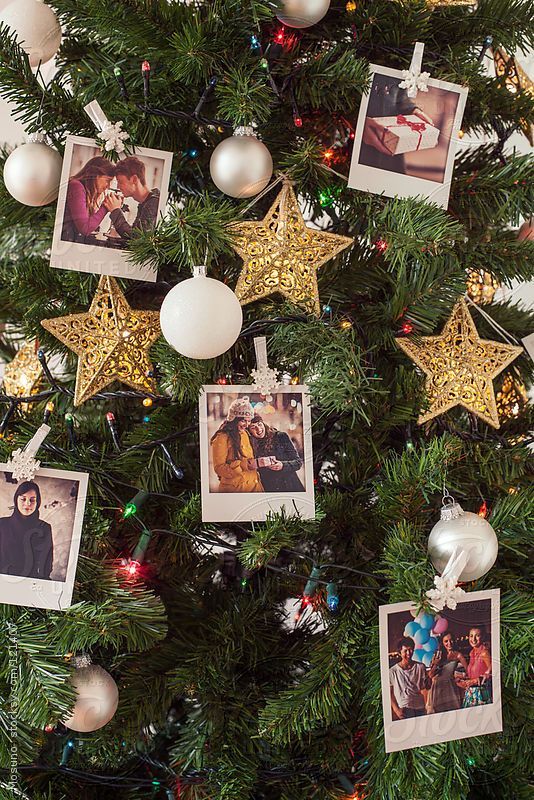 1. Family Tree Centerpiece
Items you'll need:
Wallet-sized prints
Clips or clothespins
Small holiday tree
Decorate your holiday dinner table and see how your family has branched out over the years with a creative photo family tree centerpiece. Choose a mix of vintage photographs and recent snaps to celebrate your family's vibrant history. Or get the whole family involved in this photo project by having each member pose in matching sweaters in front of a backdrop that goes with your planned holiday color scheme.
Have wallet-sized prints made of all the photos you want to use, for consistency and to preserve original vintage prints that may be fragile due to age.
A miniature tabletop version of your Christmas tree with your family photos will add the maximum wow factor to your holiday tablescape. If you prefer a rustic, minimalist look, gather up a bunch of twigs and sticks with interesting shapes and tiny branches and arrange them in a galvanized pot or bucket filled with green floral foam. Use clips or clothespins to attach photos to the branches, then decorate with small ornaments and ribbon.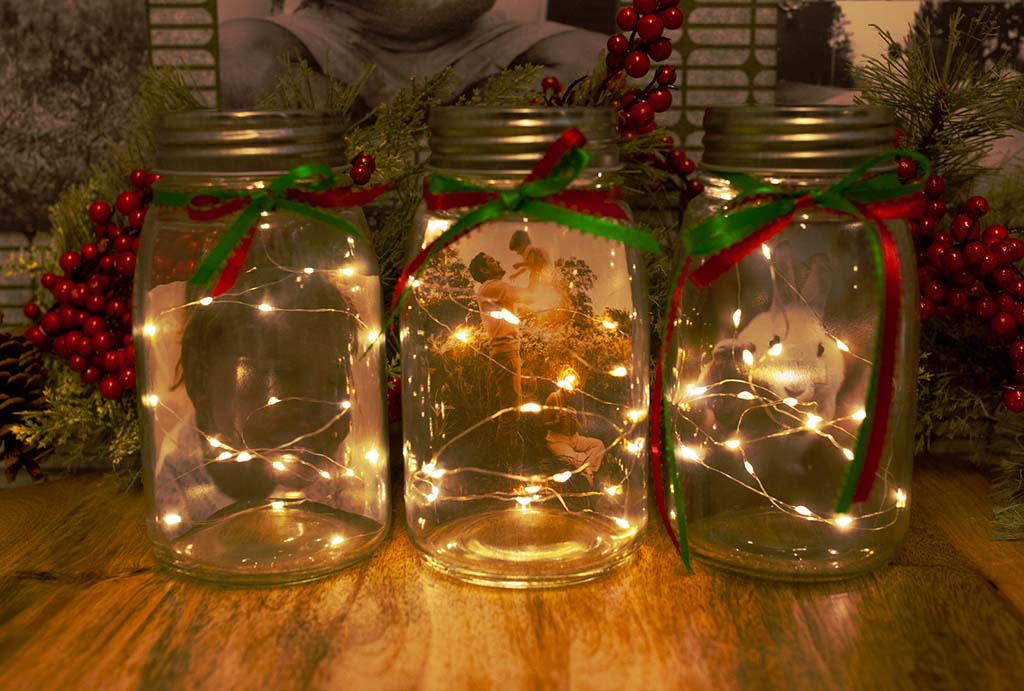 2. Mason Jar Centerpiece
Items you'll need:
Two 4x6 prints, or one 5x10 panoramic print
Mason jar
Ribbon
Battery-operated tea light candle
For a casual, non-traditional yet festive table display, look no further than your pantry cupboards. Mason jar photo centerpieces are easy to make and a fun way to add a personal touch to a holiday gathering with close friends.
Transform any glass jar into an expected tribute to your favorite moments with friends over the year. Select the best group selfies from your phone's camera roll to print, adding any filters or edits to your digital images before printing.
Insert two 4x6 prints in landscape orientation or one 5x10 panoramic print and cover the jar neck with ribbon and seasonal accents. Use battery-operated tea light candles inside the jars to add a warm glow to your tablescape.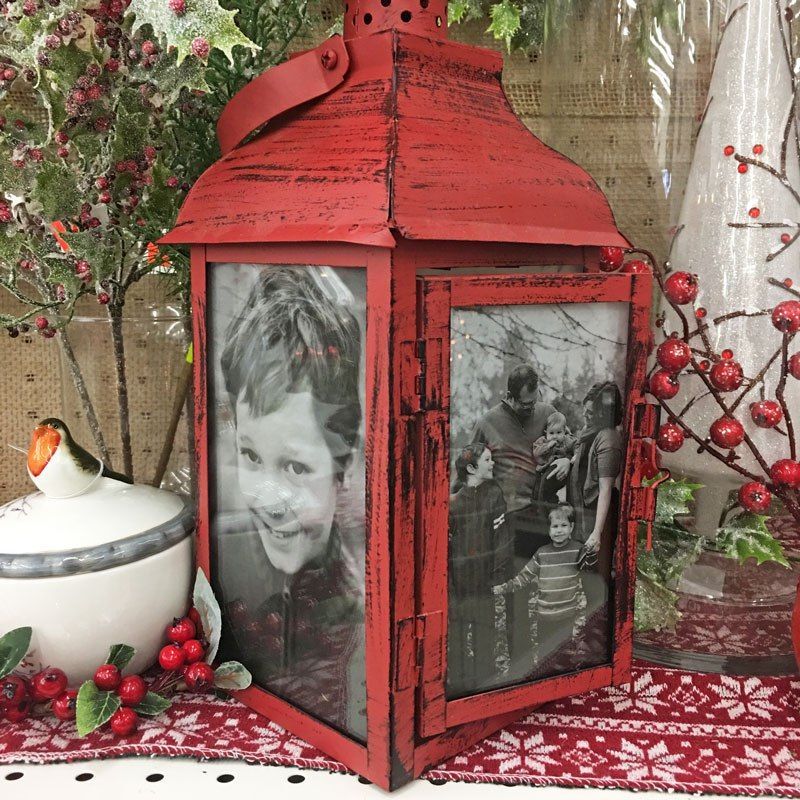 3. Iron Lantern Centerpiece
Items you'll need:
Oversized lantern
Double-sided tape
Tea lights
A decorative lantern is a stylish way to showcase holiday family portraits and light up your holiday table. Go big with a stunning oversized iron lantern, with glass panels on all four sides to maximize your photo display. Using double-sided tape, affix your photos to the outside of the lantern. Try to center your photos in each glass panel for a clean, elegant look.
If the lantern is well-ventilated, you can use real candles inside without damaging your photos. Alternatively, you can fill the lantern with white LED string lights, pinecones, or colored ball ornaments.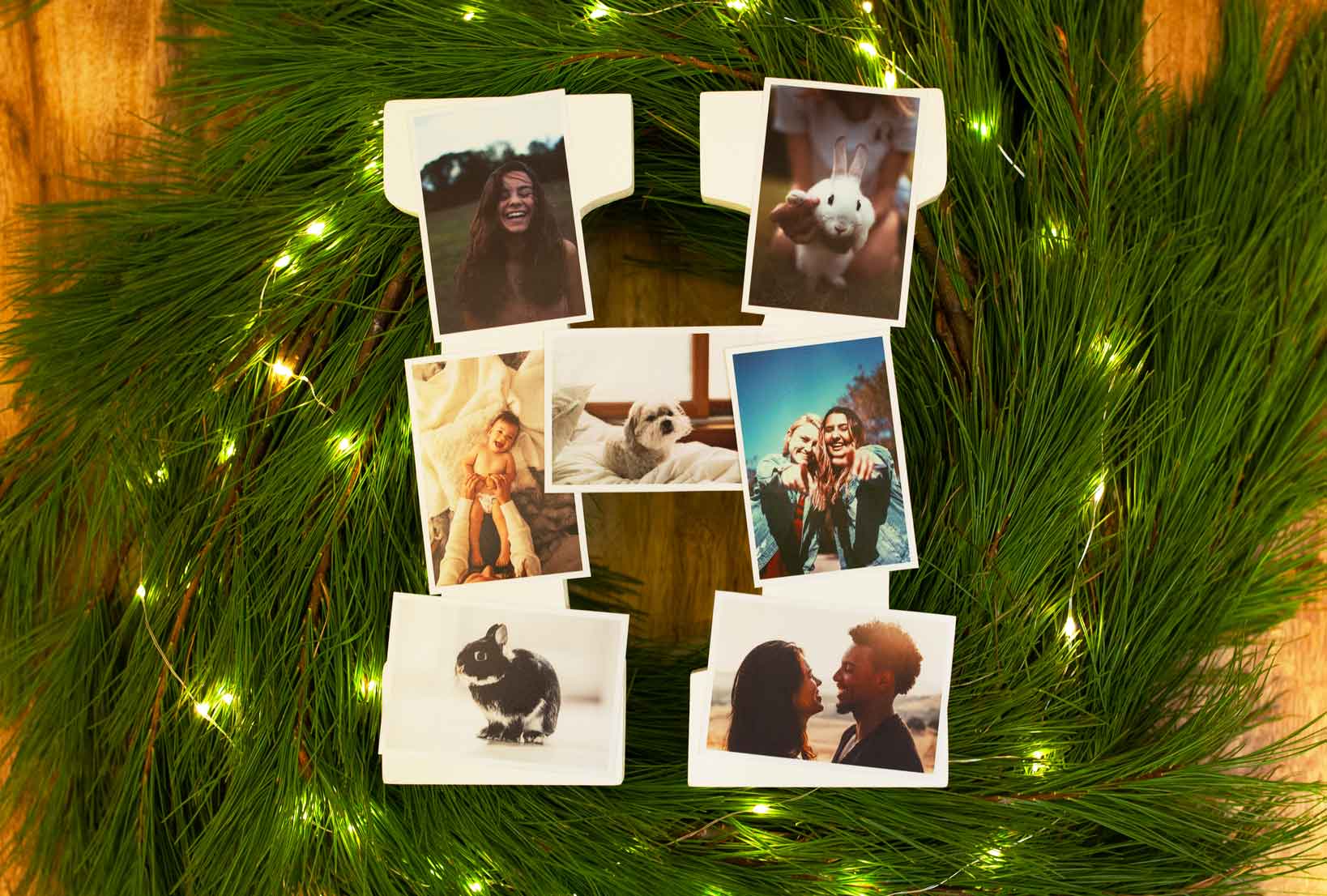 4. Marquee Letter Photo Collage
Items you'll need:
Wallet-sized prints
Wooden letters
Paint
Decoupage glue
Liven up your buffet table and celebrate your most memorable moments of the year with a 3D photo collage using marquee-style letters. Create a collage for each member of your family using their initial and photos from their highlight reel. Wooden 3D letters and numbers can be found at most craft supply stores. Wallet-sized 2x3 inch prints are the perfect size for fitting in as many special memories as possible on each letter.
This crafty photo project could be a fun holiday activity to share with kids or your party co-hosts. Set out the paint, glitter, and decoupage glue, turn on a holiday playlist and you've got two parties in one!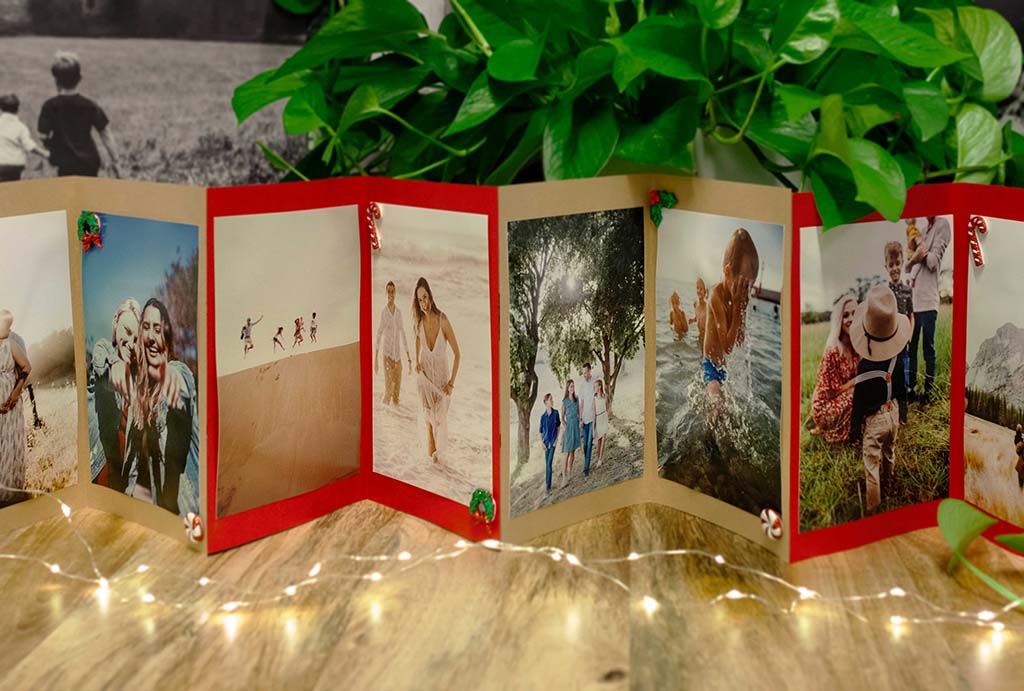 5. Accordion Card Centerpiece
Items you'll need:
4x6 or 5x7 prints
Cardstock
Glue
Frame borders or ribbon
Transform any dinner table into a pop-up photo album with a customizable accordion photo centerpiece using your favorite photos and cardstock. This simple DIY project can be made to fit any length of dining table or countertop and is portable, so you can bring it as a sentimental gift for the relative hosting this year's dinner or for a personal touch during a holiday meal while traveling.
To create the accordion folder, trim and fold plain cardstock and glue to join the pieces until you get your desired length. Use photo corners on each panel to hold your 4x6 or 5x7 photos in place, or affix the photos directly to the cardstock and embellish with frame borders or ribbon.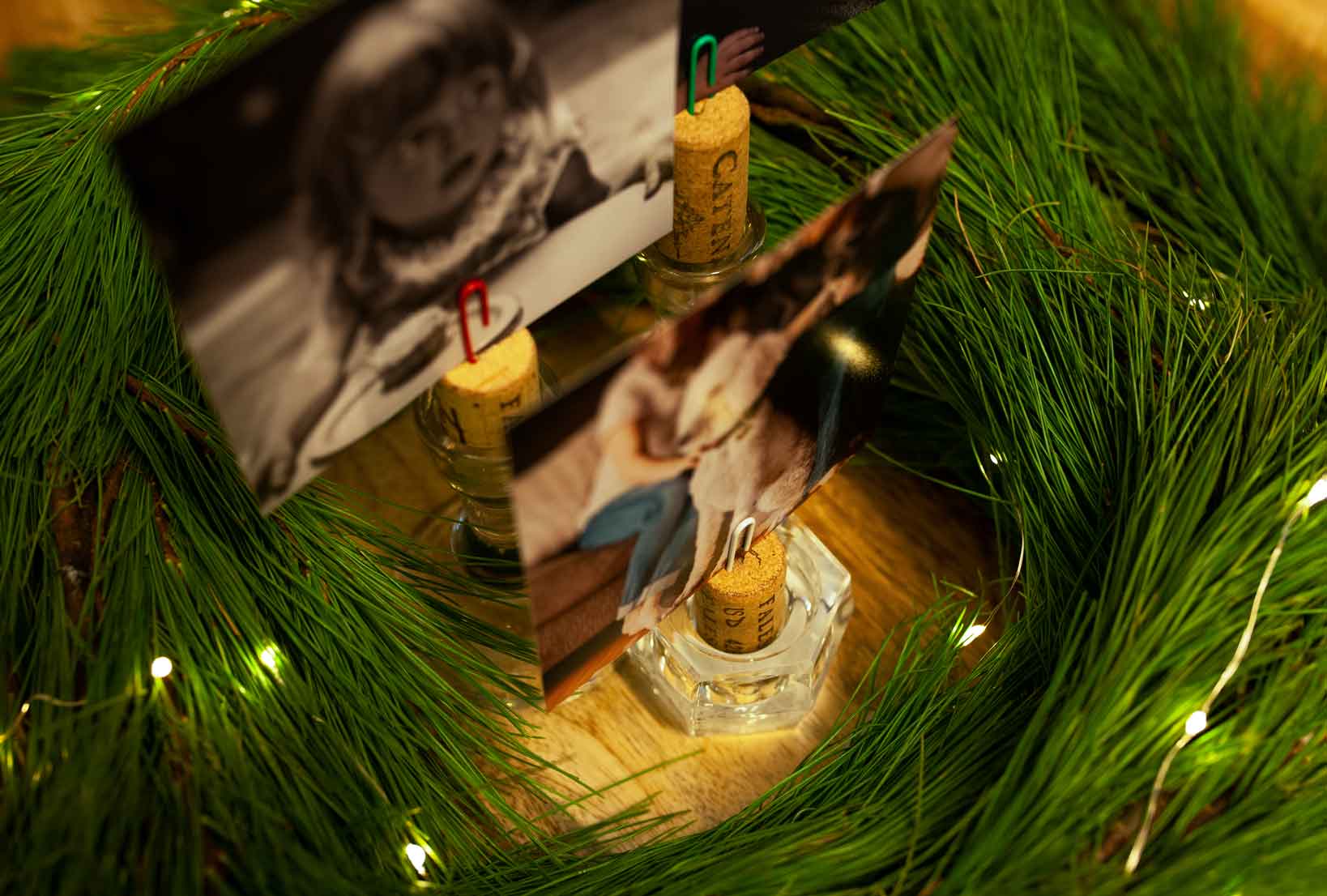 6. Candlestick Photo Holders
Items you'll need:
4x6 prints
Candlesticks
Cork
Paperclips
Candlesticks are an easy yet elegant way to display photos and dress up small dining tables with holiday flair. Showcase your family's antique candlesticks or check the thrift store for vintage holders with interesting shapes or designs.
To turn your candlesticks into photo holders, push a cork into the candlestick in place of an actual candle, then insert a paperclip into a cork, cutting a small slit in the cork with a craft knife, if necessary. Standard paperclips can easily hold 4x6 postcard prints. Add a frame or border to photos using festive scrapbook paper to tie in with the rest of your decor.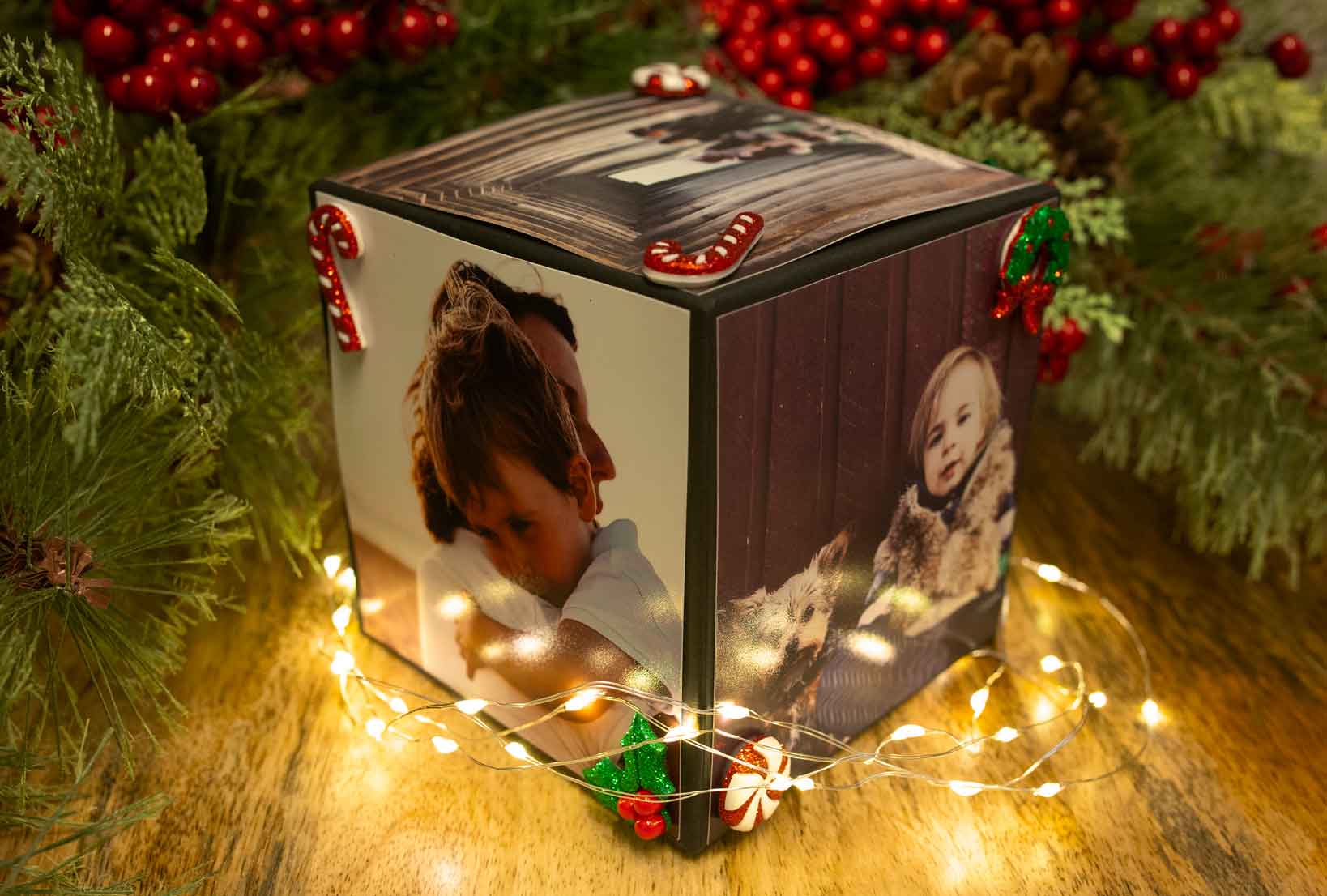 7. Photo Cube Centerpiece
Items you'll need:
4x4 prints
4-inch wood blocks
Glue
Frame borders or ribbon
Take your favorite Instagram photos from last year's ugly sweater party and turn them into entertaining photo cubes for this year's holiday potluck dinner. Print 4x4-inch square images and pick up some 4-inch wood blocks from your local craft supply or hardware store to create this easy hands-on display.
Affix your photos to all six sides of the blocks using decoupage glue or double-sided tape. More cubes equal more fun — create multiple cubes for stacking or scattering across your table. Your guests will love picking up the blocks to admire your photography and craft skills.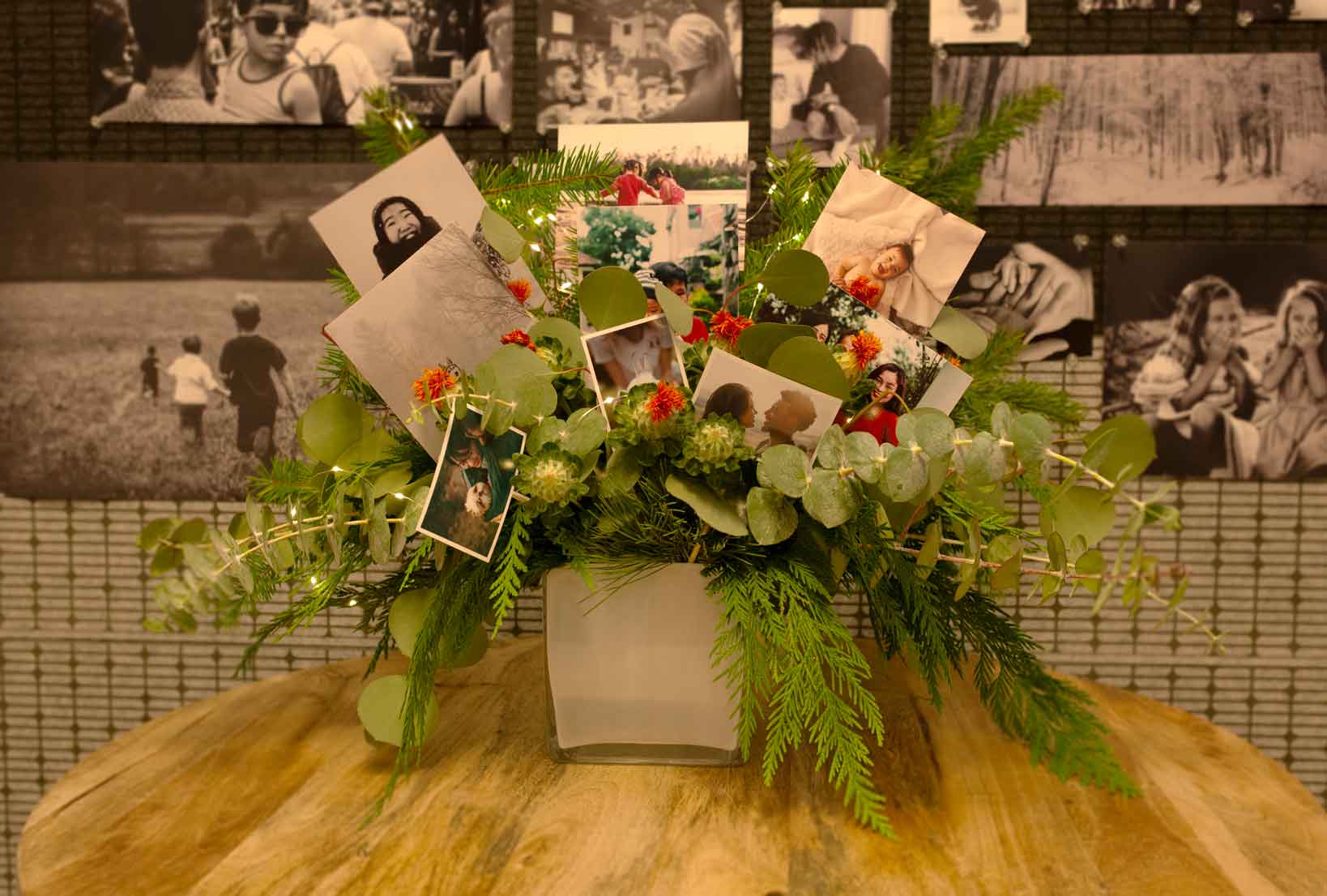 8. Photo Bouquet Centerpiece
Items you'll need:
Flower bouquet
Floral picks
Vase or pot
Personalize your centerpiece bouquets by adding special photos of your guests. For a floral display, choose seasonal flowers or non-traditional greenery that complement your decor and won't overwhelm the photographs. Use floral picks to hold the photos and insert the picks throughout the bouquet.
For a photo-only bouquet, you can attach photos to floral picks, wooden dowels, or bamboo skewers and stick them into a vase or pot filled with green floral foam. Stagger the rods at varying heights and use photos with different dimensions for greater visual interest, then add floral accents or decorative elements that work with your theme.
Incorporating table centerpieces using photos of your guests into your party decor is a nice touch to make them feel included in your celebration. While you're celebrating at this event, don't forget to capture more memories for the next special occasion and share with us using #MimeoMoments!
Creating your first project?