Graduation announcement cards mark a major milestone in a young adult's life, but coming up with a unique message is tough. These are keepsakes that will end up in scrapbooks and memento boxes for decades to come, so it's important that you make a graduation announcement special.
If you're searching for ideas to make a memorable graduation announcement, these trends, themes, and tips can help.
Remember the Basics
Announcements typically have minimal text, but follow a certain structure. At a minimum, a graduation announcement should include:
Student's name
School name
Year of the graduating class year
College they plan to attend
Ceremony location or viewing link for virtual graduations
If the student is graduating with honors, a special certification, or another above-and-beyond accomplishment, be sure to include that, too. For college graduates, including the study focus and major is typical (e.g. B.A. Creative Writing). A graduation announcement card is a perfect time to brag about their hard work, so don't be shy!
If your graduate is throwing a graduation celebration, be it in-person or virtual, make sure you include the date and time of the celebration along with RSVP information. You should give a short link, phone number, and/or email where recipients can reach you to let you know if they plan to attend the celebration.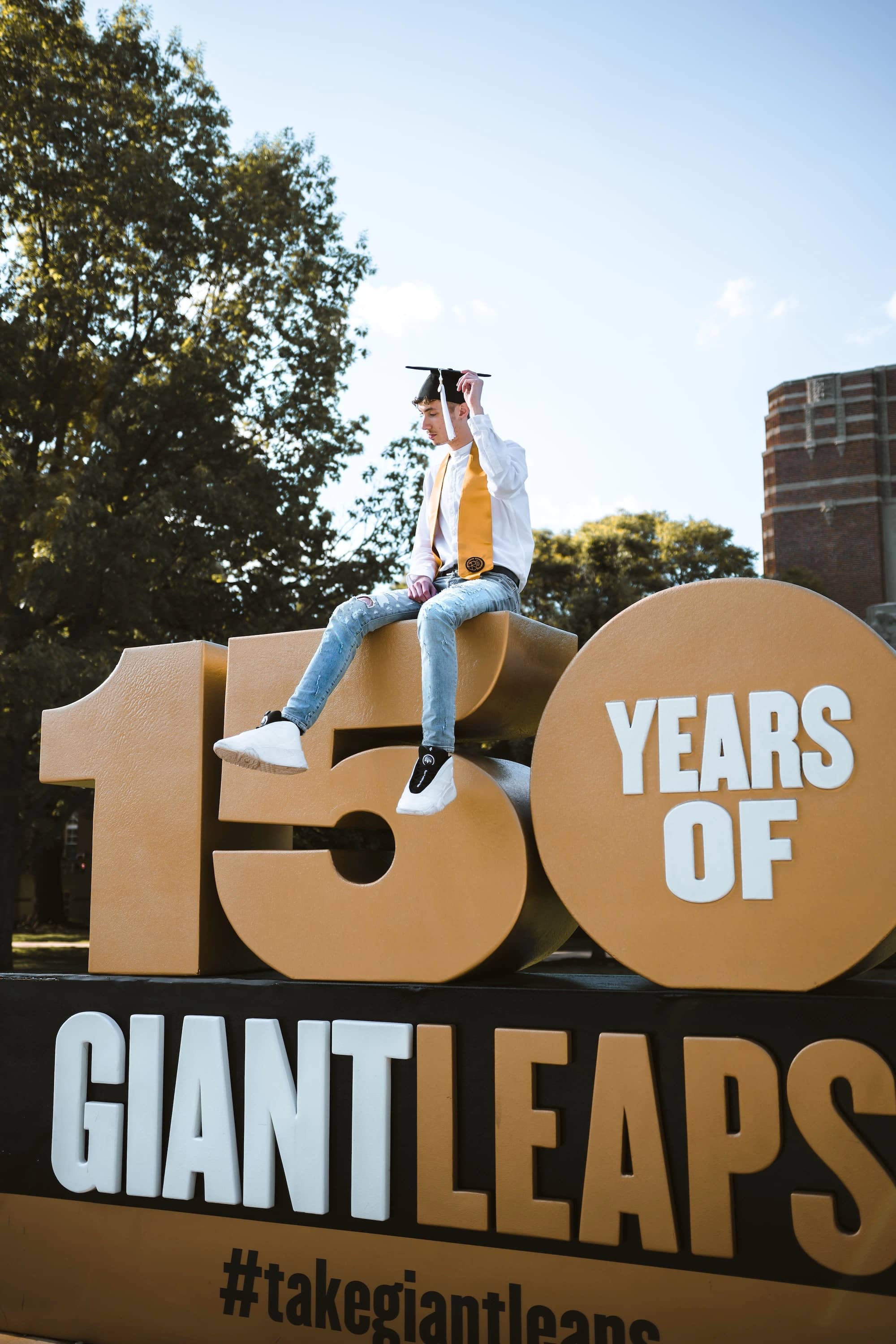 Get Creative with the Graduation Announcement's Design Elements
Get as playful or as buttoned-up as you wish when it comes to the announcement. An overarching theme that represents the graduate's tastes, interests, and the moment in time will come together between the messaging and the photo. For 2021 graduation announcement cards, consider incorporating a couple of the overriding trends below.
Combine Finishes and Textures
The thickness, finish, and texture of the materials that make up your graduation announcement card can really add that extra special touch. Think carefully about the weight of the paper, for example, and consider what's in style. Both matte and glossy card finishes make for a classy and elegant look and feel for the grad's achievement.
Show Personality with Custom Colors
It's not just the card's layout — the colors you choose can completely alter the perception of your graduation announcement cards. If you're going for something upscale, modern, and sophisticated, maybe you'll opt for a monochromatic design. If you want something trendy, golds and brassy tones remain very much in style.
For a classic twist, select the school's colors to display school pride.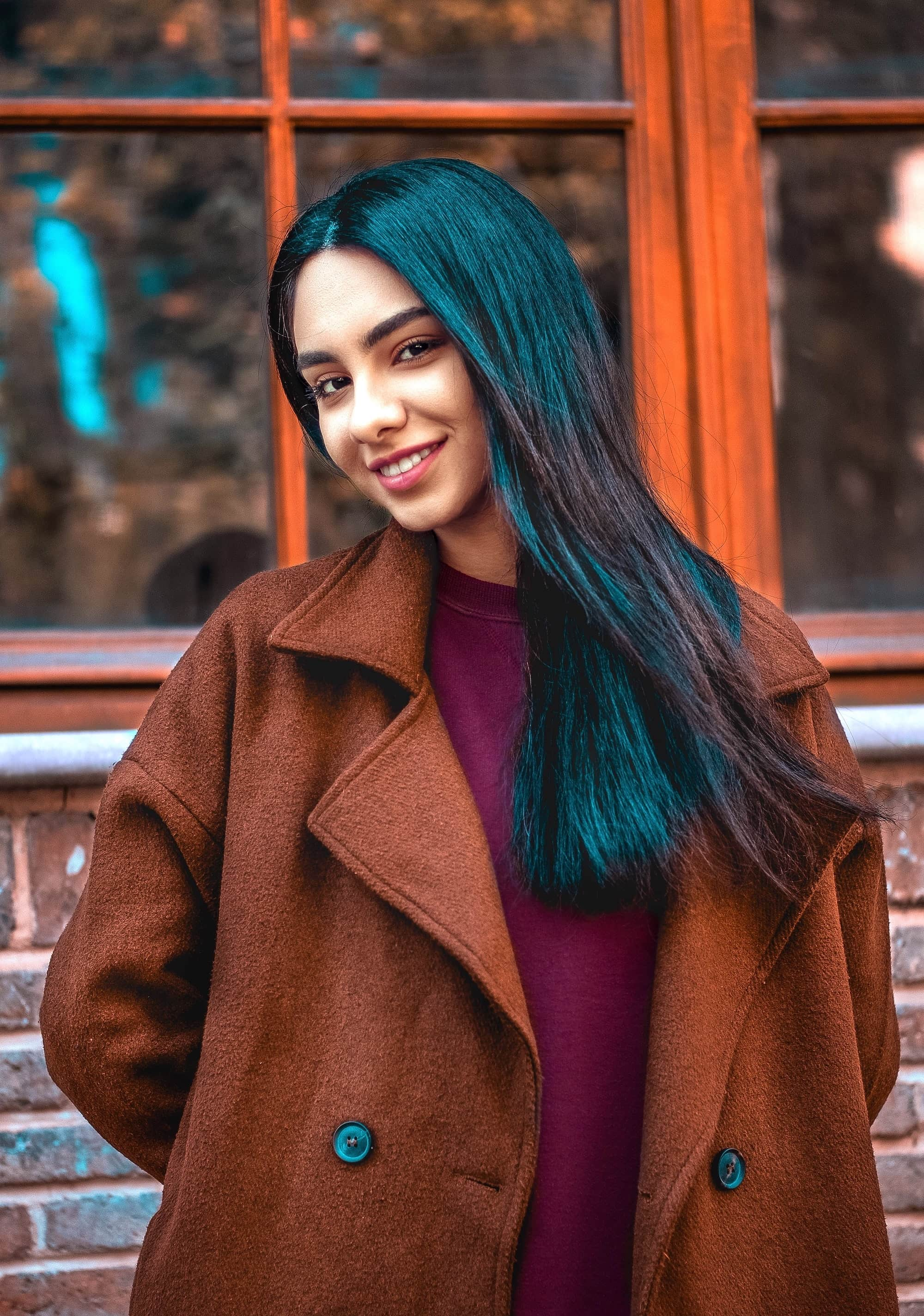 Include The Grad's Favorite Photo
No graduation announcement is complete without a smiling photo of the new graduate. Snap a portrait at home or in a meaningful place within your district, city, or campus. The announcement doesn't have to include a photo of the grad in their cap and gown, but it is a go-to choice.
If you're at a loss for poses, consider the classic throwing of the cap, or jumping for joy. Otherwise, a few stills are always an elegant choice to greet those on your mailing list. Read our full list of graduation photo tips to guarantee you get the shot.
Come Up With Clever Copy
The layout of a graduation announcement isn't everything. The copy you choose to add is really what sets the tone for the card, and it's up to you whether you want to be quirky and fun, future-focused, or dedicate the words to expressions of gratitude. If you're stumped, here are some ideas of what to write under the heading or inside the card to make it memorable.
The amount of copy you need to come up with for your graduation card will vary depending on the design, but almost every card will require a heading.
"She believed she could, so she did." - R.S. Grey
Classic Heading Ideas
Some of the most classic, straightforward, and simple headings include:
John Doe, Class of 2021
Announcing 2021 Graduate John Doe
Join Us To Celebrate John's Graduation
School Spirit Heading Ideas
School spirit ideas can play on words using the school's mascot, like:
Leading the pack to broader horizons
Soaring to the start of the next journey
Graduating with the power of grizzlies
The assertive, the agile, the anacondas
Once a cobra, always a cobra
Creative and Fun Heading Ideas
Add a little pep and individual personality to the graduation announcement with wording like:
No Class More Resilient Than 2021
School's Out Forever
Look who's got a fancy new diploma
This Guy is Graduating
Cap. Gown. Let's hit the town!
Goodbye Lunch Line. Hello Free Time.
Famous Quote Ideas
Popular quotes that are fitting for a momentous achievement with a few that include:
"She believed she could, so she did." - R.S. Grey
"What lies behind us and what lies before us are tiny matters compared to what lies within us." - Ralph Waldo Emerson
"It takes courage to grow up and become who you really are." - E. E. Cummings
Words from the Graduate
If your design allows, including some thoughtful words from the graduate themselves always makes for a card that's a bit more special. It's up to the graduate if they want to reflect and reminisce on the last four years, thank those who have helped them along the way, or look ahead to their future plans. They may go on to talk about their college or career plans or the change they hope to make in the long run. What matters is that it comes from the heart.
Every graduate has a lot to say and turning your graduation announcement cards into a special "thank you" or note of reflection can change a standard keepsake item into something worthy of display. Ask your graduate to sit down and write out a short message that can be featured on the front, back, or inside of the announcement card.
Make Their Graduation Unforgettable
With a bit of time and effort, you can come up with a unique graduation announcement card that will be remembered long after the day is over. Whether you're hosting a big bash or just looking to spread the exciting news with friends and family, these cards are worthwhile keepsakes that deserve a great design. If you can get your graduate to add some meaningful copy, it will make it all the more special.
Creating your first project?