Holiday photo cards are a fun and cheerful tradition for most families. They're both exciting to send and receive. This year, we thought we'd round up some practical but creative photo card ideas for you. Using what's already on your camera roll, editing techniques, and personalized text you'll be able to create this year's seasonal greeting in minutes.
Embrace the Imperfection
You don't need a professional photographer for your holiday card. Photos taken from your phone will work just fine and will make your greeting even more genuine. If your children aren't looking directly at the camera, so be it. A simple snapshot of your crew happy together is enough to share with your friends and family.
Let other elements of your card dress it up. Solid or patterned backgrounds that complement your family portrait and a warm message to match are all you'll need.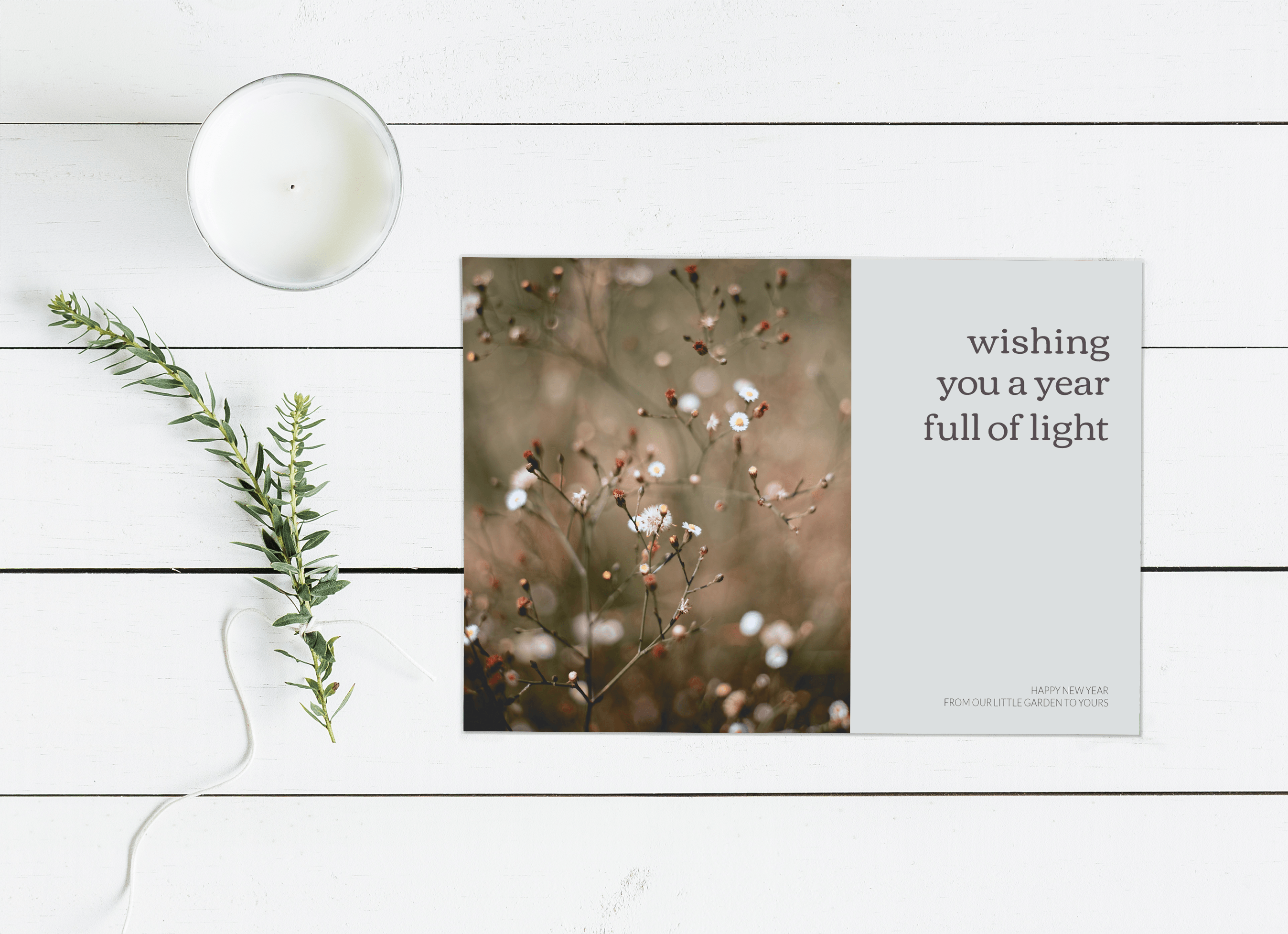 Share Your Surroundings
Photo cards don't have to include faces. Home exteriors, close ups of your garden, and colorful horizons will certainly make your card stand out in the mailbox. Collect some images of what makes your everyday wonderful and add them to the front of your photo card.
You can use multiple images in a single layout or simply one image edge to edge. Dividing your layout in half for a single image will reserve space for some powerful text. "Well wishes from our home to yours" is a great greeting to accompany a picture of your house.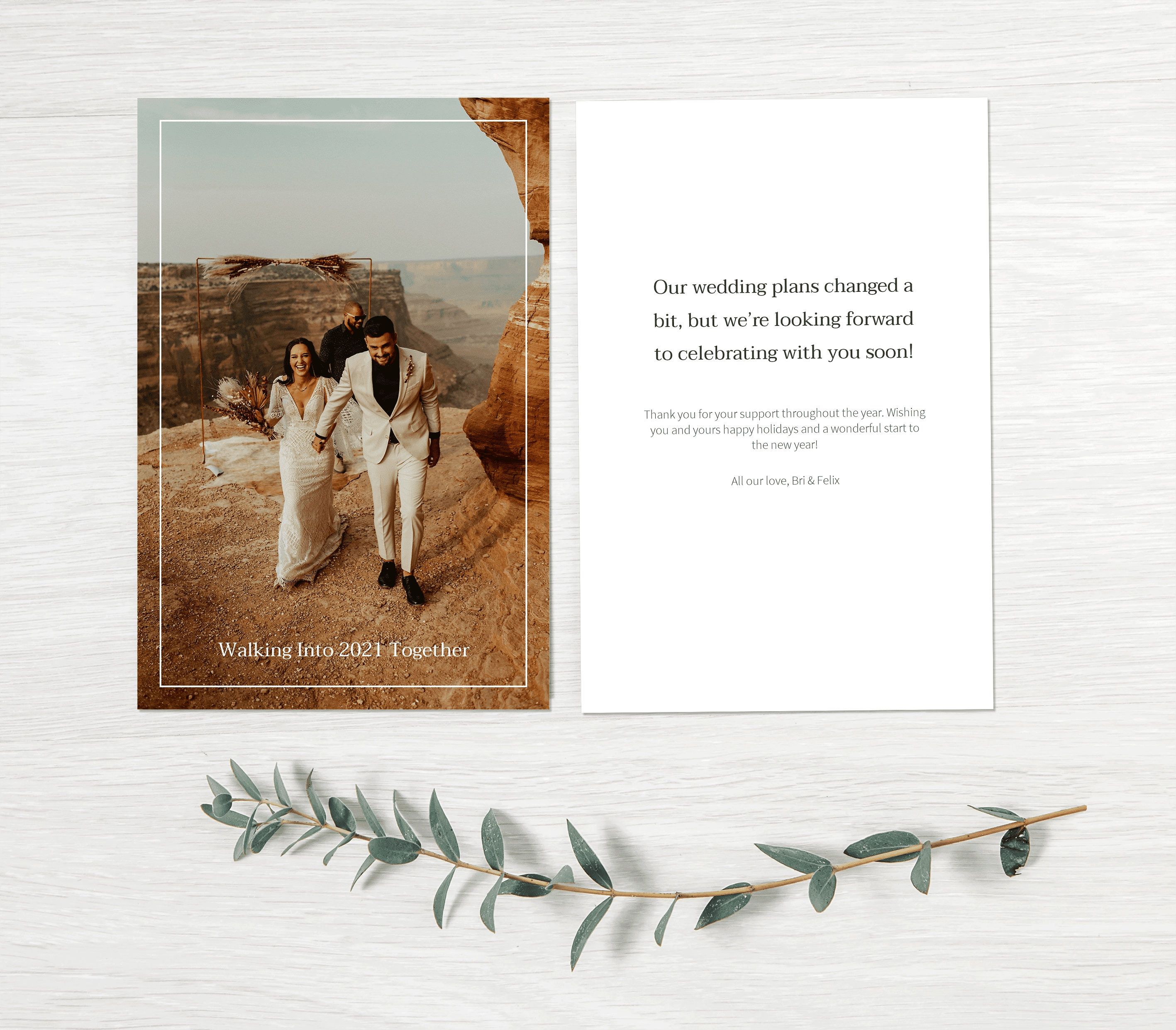 Send Your Year's Highlight
What was the biggest highlight of your 2020? While it was a difficult and unprecedented year, try to focus on the best moments. For example, this was the year of postponed weddings. If you still held your original date for a more intimate ceremony, celebrate the beautiful moments from that day. Plus, a photo reminder like this will give your guests something to look forward to in the coming months.
We love emphasizing the idea of unity, strength, and optimism with a saying like "Walking Into 2021 Together" on the front of a card.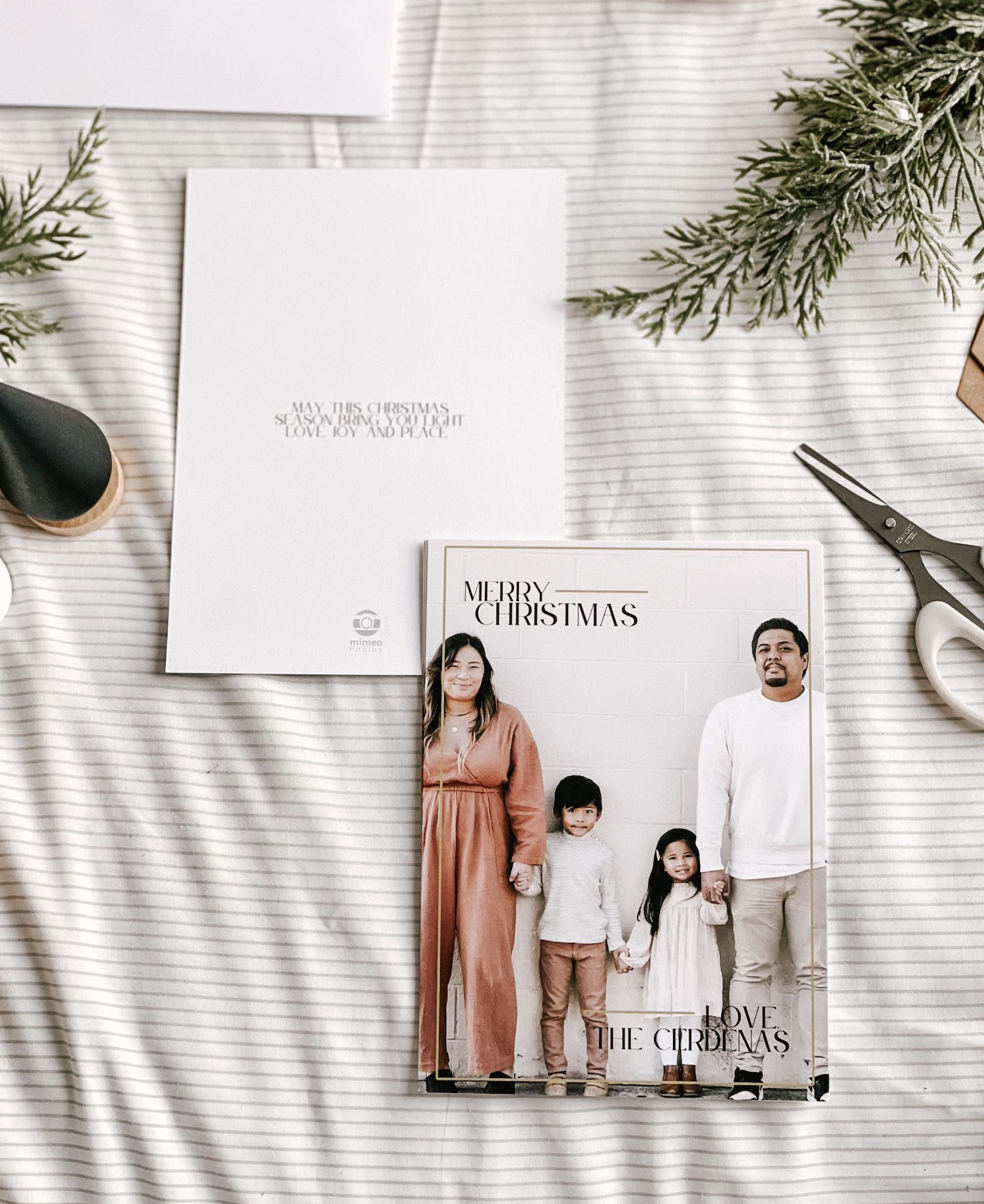 Embrace Light
Holiday cards are traditionally saturated with themes of winter and its holidays — think snowflakes and combinations or red, green, and blue. You can still appreciate and pay homage to tradition with a new twist. Your images with a lot of white space and light are perfect for celebrating all things merry and bright.
Sandy dune backdrops, dense cloud cover, and white textured walls are all excellent, light-filled backdrops. Compose your card so the ratio of text to white space is minimal for a more illuminated effect.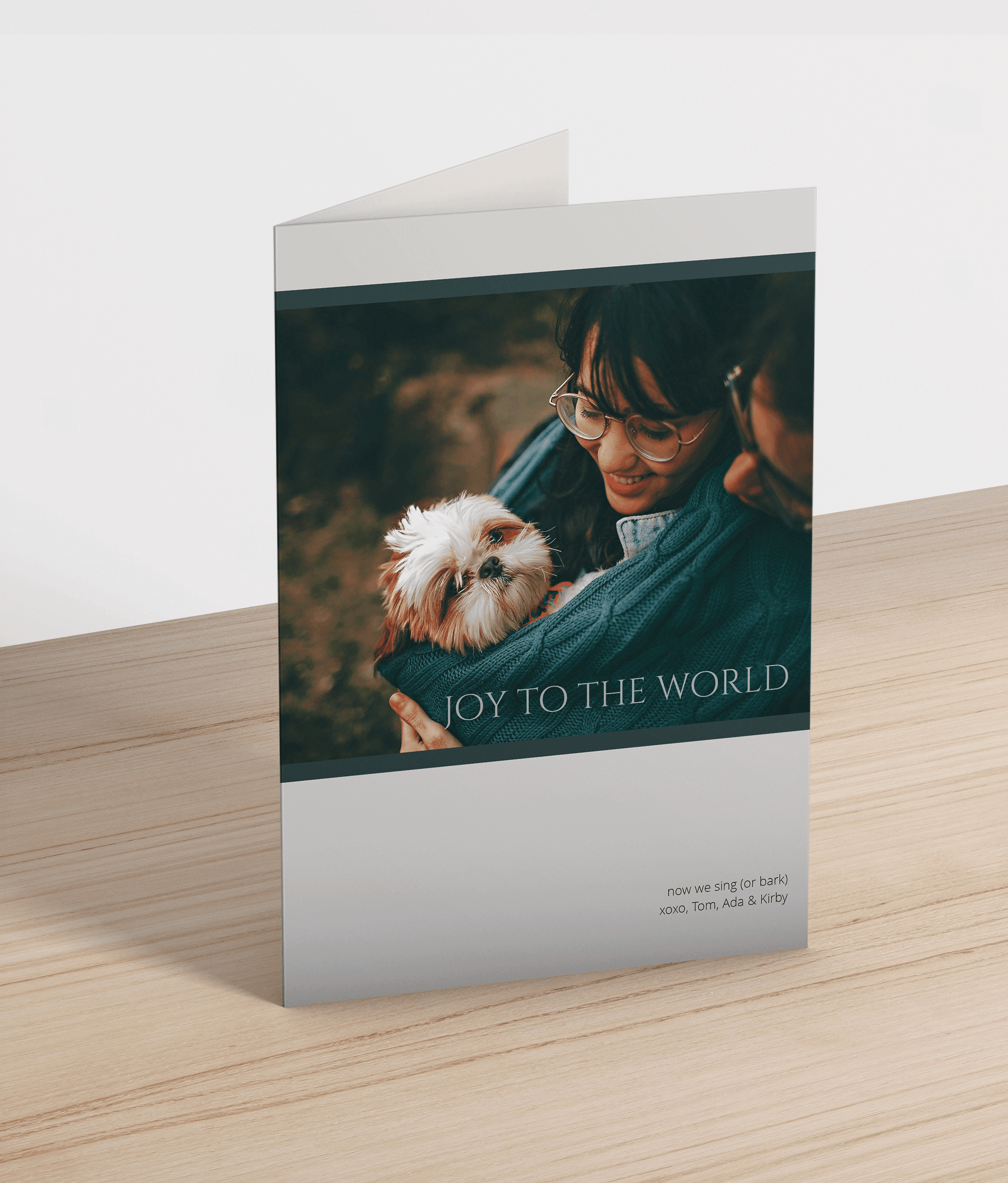 Make a Twist on a Classic
Text on a holiday card is something that should not be ignored. While its placement, size, typeface, and color all matters, the messaging itself is just as impactful. "Happy Holidays" and "Season's Greetings" are all wonderful go-tos but have opportunities to be more playful.
Add custom text to your card that makes your own spin on the season's well wishes. For example, personalize the lyrics of a classic Christmas carol with your own lyrics. Like shown here, the ballad of "Joy to the World" can have its own twist of who is singing, barking, or even crying depending on who is in the picture.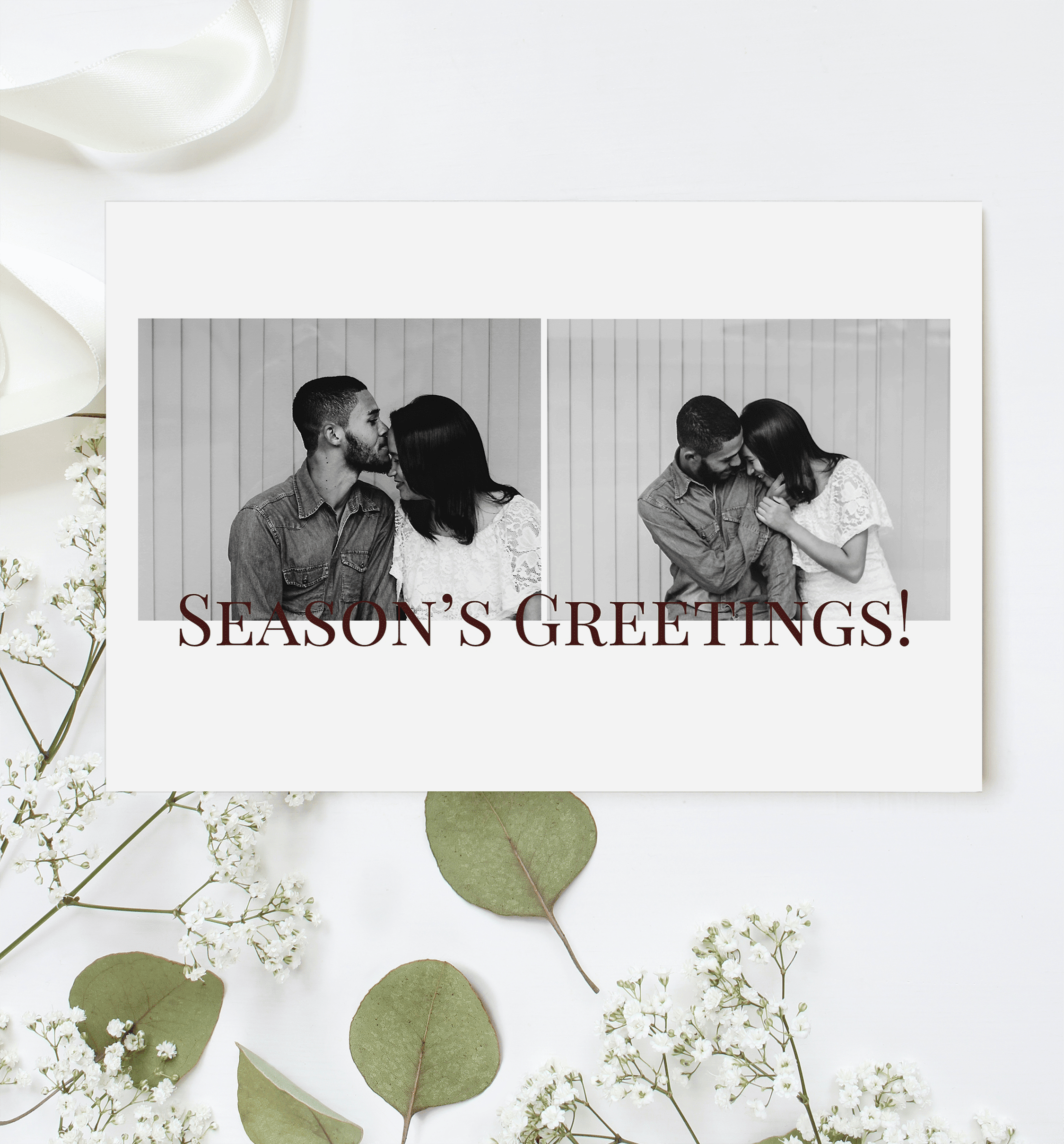 Layer Text with Photo Filters
If you're an Instagram enthusiast or a VSCO expert, your holiday photo cards serve as the perfect blank canvas for your editing capabilities. Our team members are big fans of color but love some elegant black and white photography. If you use our app for Mac, just double click on an image in your project to edit it using Apple Photos. Otherwise, use your favorite editing software to apply any filters or edits beforehand.
Black and white imagery is perceived as something very sophisticated and classy. Add an extra "cool" factor to your holiday card with text that complements your imagery. Try layering it over your photo, using deep colors, and experimenting with serif and sans serif fonts.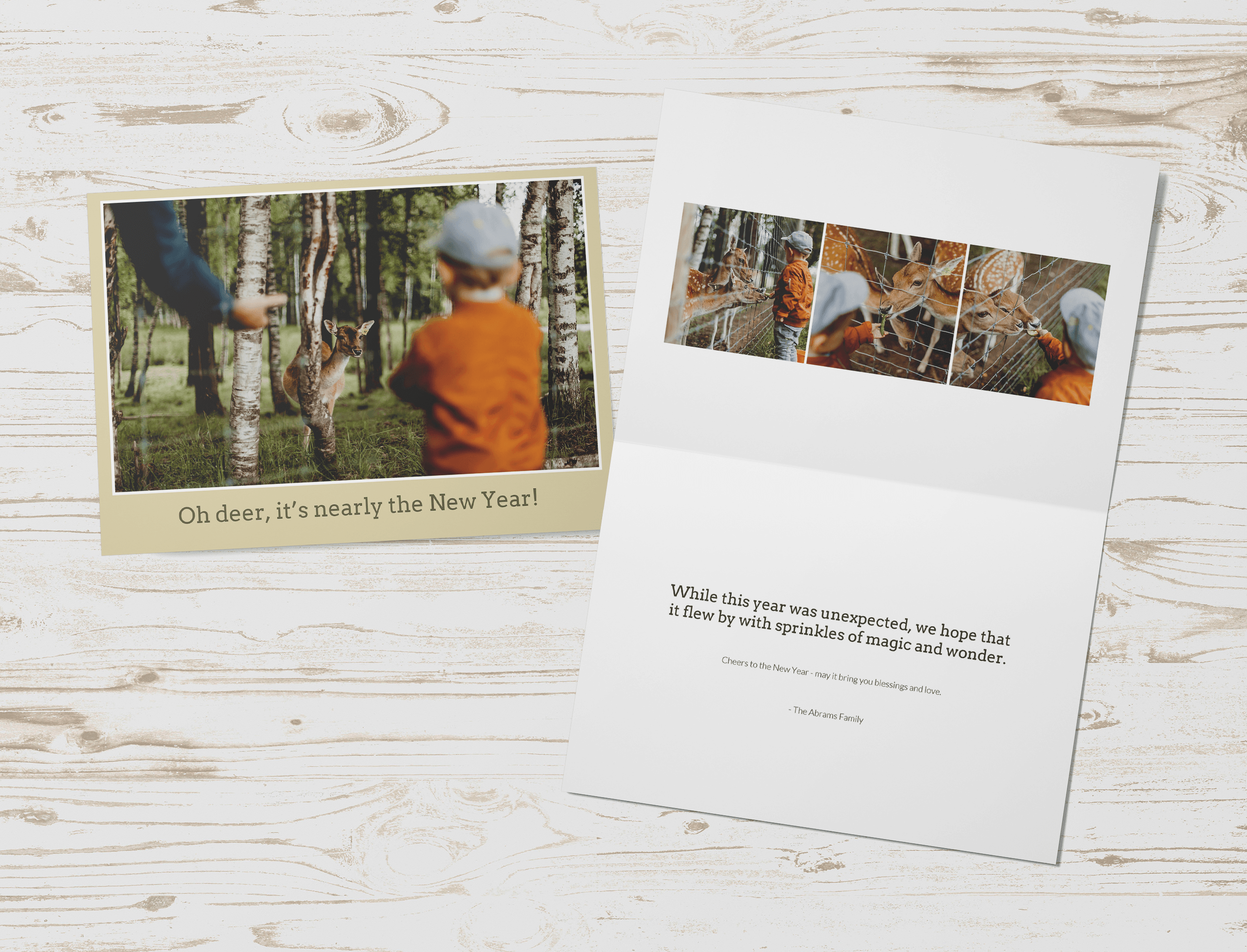 If You Can't Resist a Pun… Don't
Lastly, have fun. If you see an opportunity to include a punchy joke or pun in your greeting then use it. Closing out one chapter and entering the next can be overwhelming, so don't hesitate to spread some cheer. Let your candid photos help you tell your story.
Creating your first project?