Mimeo Photos is always looking for new ways to make creating and printing photo products easier for our customers. That's why we launched our newest feature, called Address Book, to ensure every one of your recipients receives their gifts — without any shipping hassles for you to deal with.
All registered Mimeo Photos users can now add and save up to 250 delivery addresses to their account. These can be used to auto populate the shipping details on your future orders. You can even save an address to use again during the checkout process.
With one of our goals being minimizing extra effort for our customers, this newest feature will reduce steps, clicks, and hurdles throughout the entire checkout process. It is available on macOS, iOS, and on the website.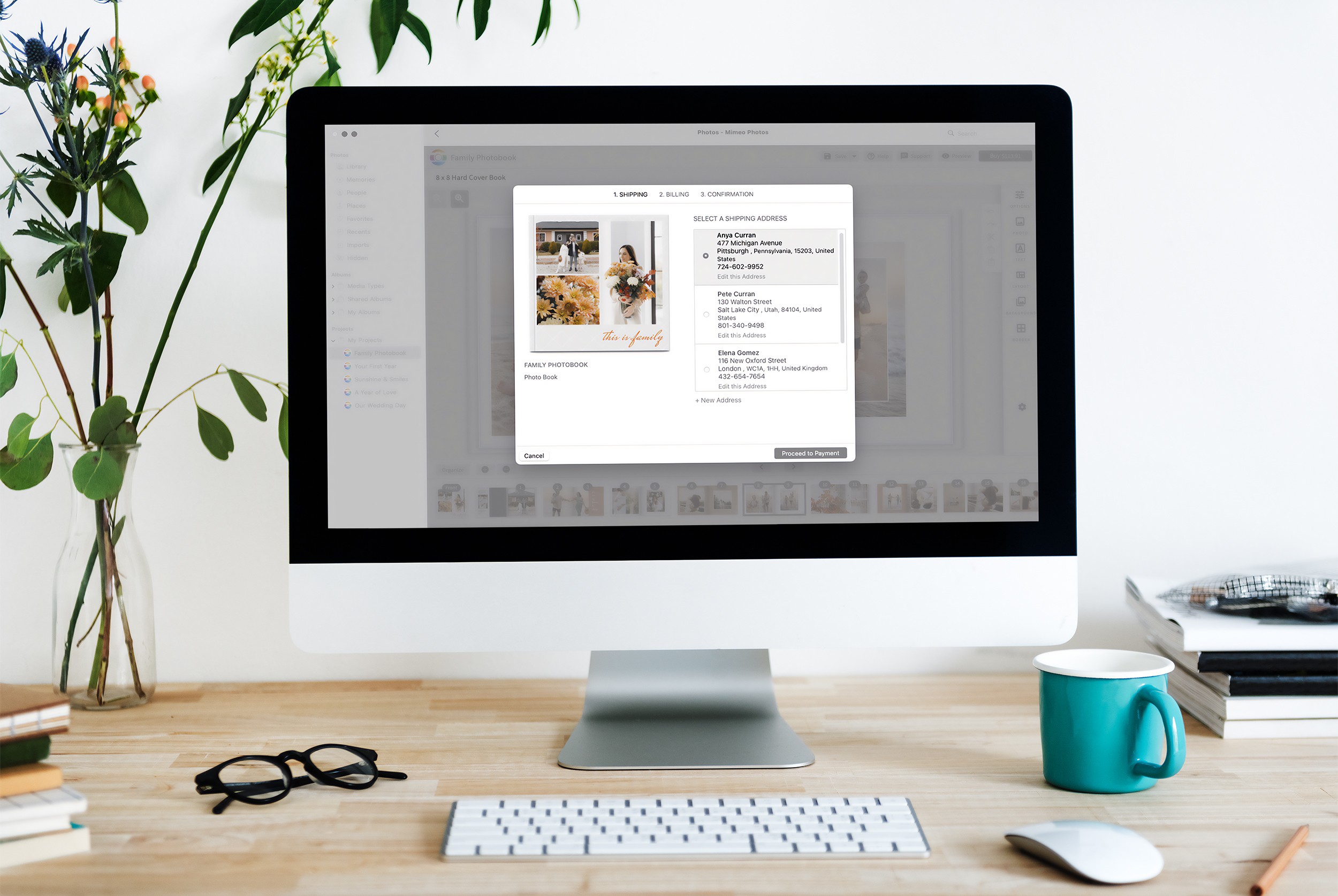 Functions of Address Book
Using the Address Book in Mimeo Photos makes it easy to:
Add new addresses
Edit existing addresses
Delete addresses
All of your saved addresses can be managed from your Account Settings page, but you can also add and edit addresses in your Address Book during the checkout process.
Benefits of Using Address Book
There are a number of benefits to saving your contacts in our Address Book, including:
Convenience
By storing previously used addresses, Address Book can save customers time and effort during checkout. Customers can simply select the saved address instead of manually entering it every time they make a purchase.
Accuracy
Address Book can reduce the risk of errors in the shipping address. Customers may mistype or forget important details like zip codes or apartment numbers, but utilizing an address book can ensure that the correct information is used every time.
Flexibility
Customers can store multiple shipping addresses, such as a home, work, or gift address within their Address Book. This can make it easier for customers to send items to different locations without having to remember or look up the address each time.
Other Benefits to Being a Registered Mimeo Photos User
When you create an account on mimeophotos.com, you'll get access to a whole slew of features designed to make your life easier when printing photo products.
In addition to Address Book, you'll also be able to save your designs to come back to for future products in My Projects, and check out other products you've previously been interested in.
Ready to start sending photo gifts to 250 of your closest friends? Your Address Book is waiting!
Creating your first project?