Nov 15th 2018
Once that turkey is out of the oven, people will be clamoring to take amazing food photographs of their Thanksgiving meal to share on Instagram. Here's how to do it right:
Use the Right Lighting and Filter
When photographing food, you'll want to take the photo with as much natural light as possible. Place your food near a clear window or better yet one covered with a gauzy curtain to diffuse the light.
When editing, use a filter that is more saturated in color to make the food appetizing instead of washed out. But be wary -- stay away from high-contrast filters like X-Pro II and resist playing with the saturation and warmth too much. You could make your photo look like it is right out of a vintage cookbook.
When in doubt, don't filter. You want to keep your food as natural and as appetizing as possible. Good lighting is more important.
Think Square
The fundamental photography rule of thirds doesn't necessarily apply when taking a great Instagram photo.
Since Instagram photos are square and smaller, it's important to capture as much or your subject or the food as possible in the small frame. Zoom in and eliminate all of the unnecessary information.
Take a Variety of Photos
Most of us are not professional food photographers so trying lots of different compositions is key. Try different angles when capturing your food. Take photographs from a bird's eye view or bend down and take several shots at eye-level at a 30-degree angle from the table.
Be sure to take several close-ups of the food to fill the Instagram frame.
Many photos on Instagram are taken with an actual SLR camera instead of a phone. Feel free to bust out the real camera for some great photographs.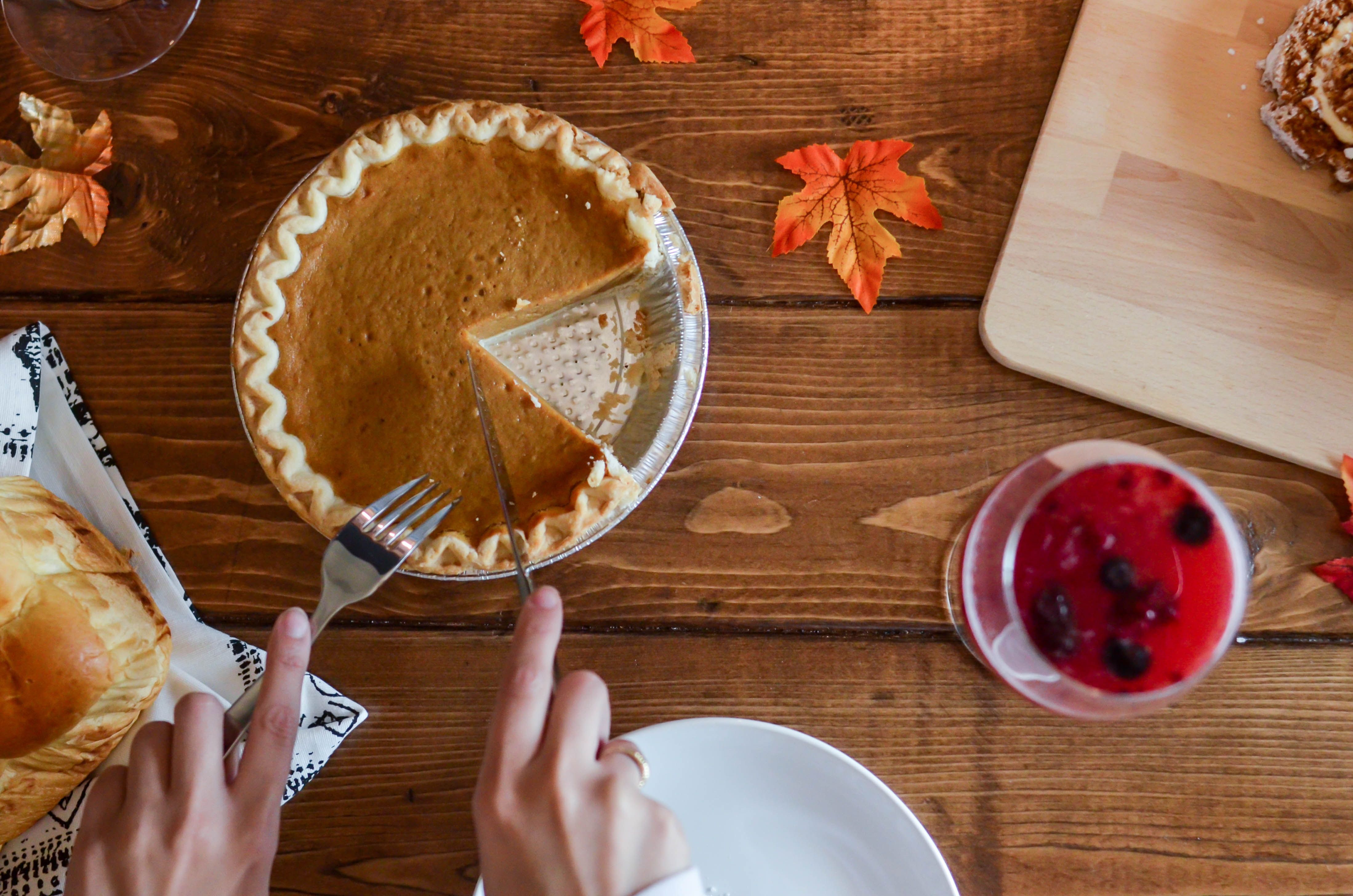 Style, Style, Style
A bit of styling goes a long way. Play with creative stories. Take a bite of the pie and leave the fork resting on the plate. Wait for the ice cream on the cobbler to get a nice melting drip.
Think about your composition and what you want it to say. Is your gathering casual? Leave a crumpled napkin by the place. Is this meal fancy? Be sure to try to capture some candlelight photos and a few shots of your fabulous food on the expensive china.
Style a small vignette and take a photograph of the table setting to capture any of the pretty fall decorations.
Don't Forget the People
Most importantly, capture the moments of your Thanksgiving meal. The food is an important part of the Thanksgiving meal, but being thankful for the people around the table is what the holiday is really all about. Make sure to photograph both food and people and your Thanksgiving meal Instagram post will be a success.
Create intimate photographs of the family and friends around your table. Candid shots when no one is paying attention to the camera capture the real spirit in the room. People are their natural selves and you don't end up with forced, posed smiles.
Capture candid shots of your great aunt laughing. Record your nephew's reaction to the slice of pumpkin pie covered in whipped cream that was just placed before him.
Tell Your Story
Order your photos in a photo-journalistic way that tells a story. You might want to start with the preparation of the meal or the place cards on the empty table. Layer in close-ups and happy moments around the table as people enjoy their food. To finish show a dessert plate or family sipping wine or coffee. Think of how to tell the story of your Thanksgiving meal through photographs.
Creating your first project?