National Wildlife Day is celebrated on September 4 as a moment to appreciate the wilderness, along with the freedom and joy that come with it. Arguably, National Wildlife Day has never been more important as the pressure we are putting on our ecosystem has never been more relevant than it is today.
Acknowledging the day means that everyone can take the time to honor nature and help to protect local species. It could be as simple as participating in a community beach cleanup or picking up trash at your local park. There are also other ways you can celebrate. For example, you could donate to your favorite wildlife charity or take a moment to breathe in some fresh forest air on a woody hike.
Practice Wildlife Photography
Another great way is to go out and take a few snaps of wildlife in your local area. Capturing wildlife is tricky as you have to make sure you're quiet and don't scare off your subject. This means having to photograph them from afar with a high-quality lens or getting clever with ways to camouflage yourself.
Learning about animal behavior and studying the animals you want to capture is also important. Where do the animals appear, live or forage for food? Knowing this can help you pick the best spot to find them.
Choosing the right lens also makes all the difference. Often wildlife photographers will use wide-angle lenses to capture large open spaces. This kind of lens is perfect for taking in the view on a hike or for taking a photo of wildlife without disturbing them.
Another option is using wildlife to practice capturing movement with the burst function on your camera. Whether it's birds in flight, a deer meeting eyes with you, or even some trees billowing in the wind, nature provides endless opportunities for capturing movement.
Wildlife Photographers to Follow on Instagram
There are some amazing wildlife photographers out there to follow for inspiration for your own shots. To celebrate National Wildlife Day, we've rounded up a few of our favorite wildlife photographers on Instagram for you to check out. We recommend following different wildlife photographers to gain tips on how to capture photos of wildlife and to get inspired for your own photographs.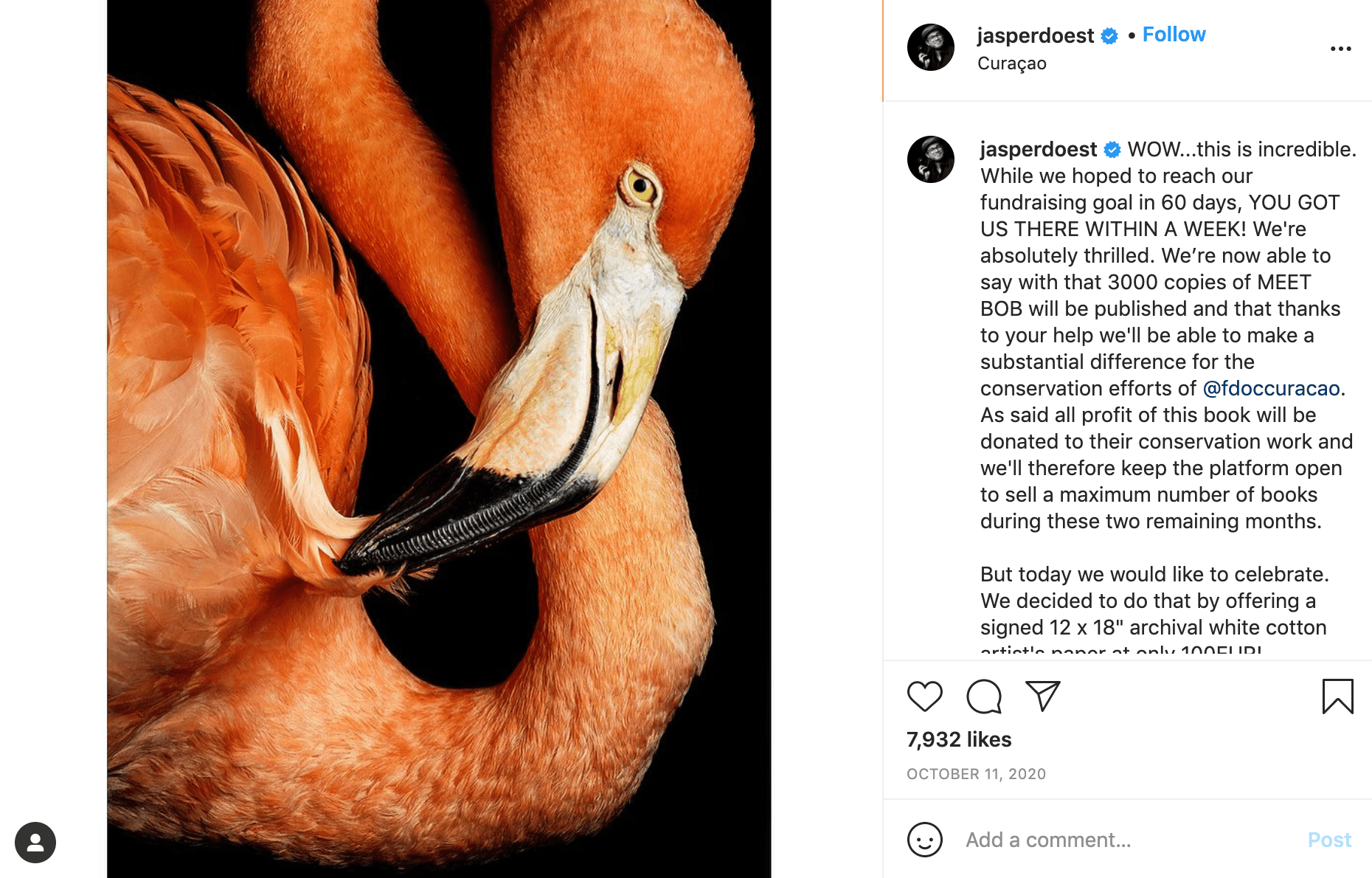 1. World Press Photo Nominee - Jasper Doest
Jasper Doest, @jasperdoest, is a Dutch photographer who is fascinated by how humans and nature interact. With a blend of city-based and more natural shots, Jasper's photography is at times heart-warming and at others, shocking. Many of his shots look at the intersection of humans and animals and perhaps bring into focus how we should do better as stewards of the environment.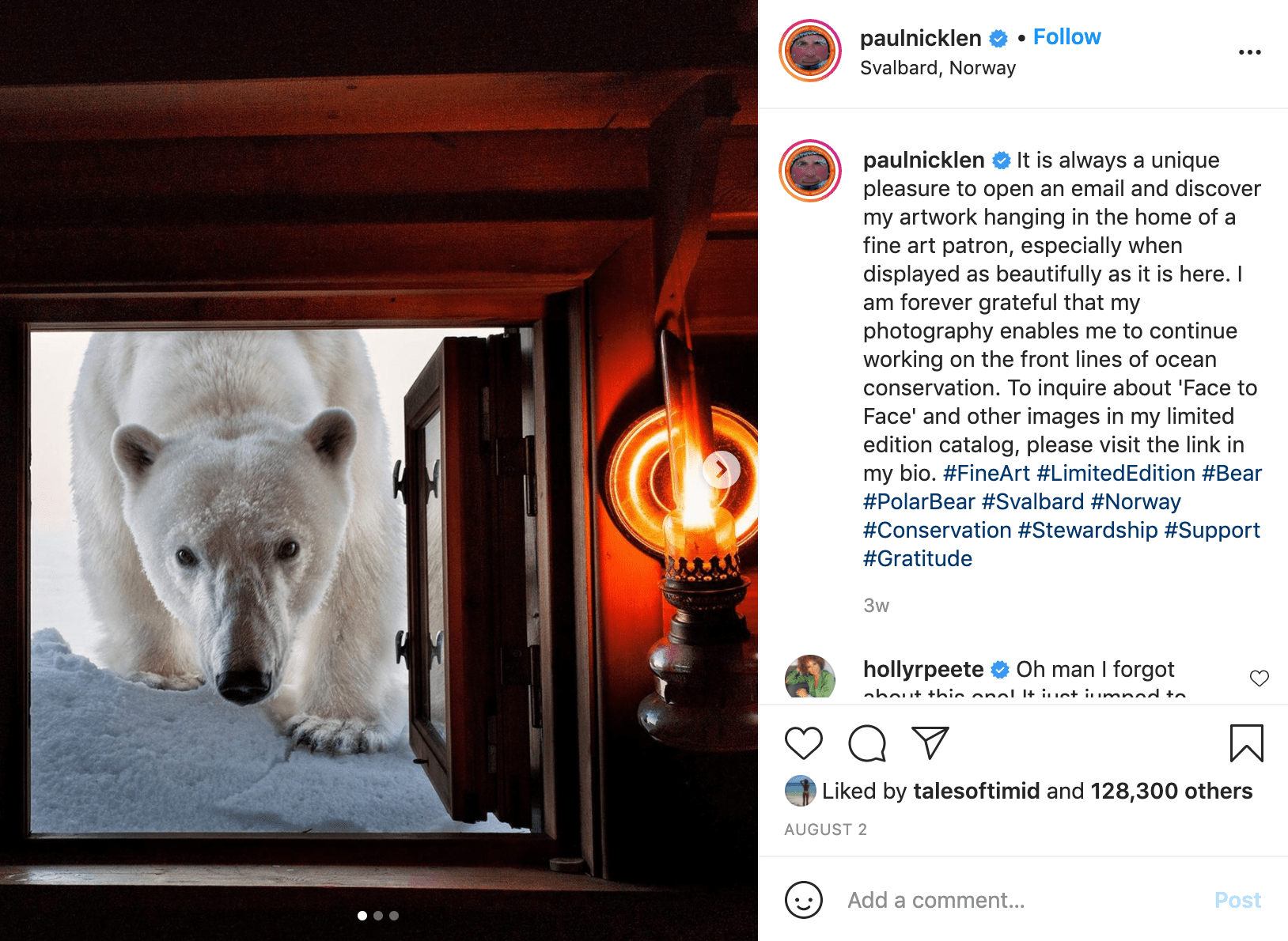 2. Sea Legacy Founder & Nat Geo Contributor - Paul Nicklen
Paul Nicklen is a marine biologist, and this really comes through in his photographs which are often featured in magazines like National Geographic. His photos, posted via @paulnicklen, perfectly capture both the beauty and the plight which faces our planet. His Instagram is the perfect place to go if you want to be awe-inspired at pictures of Orcas, penguins, or polar bears.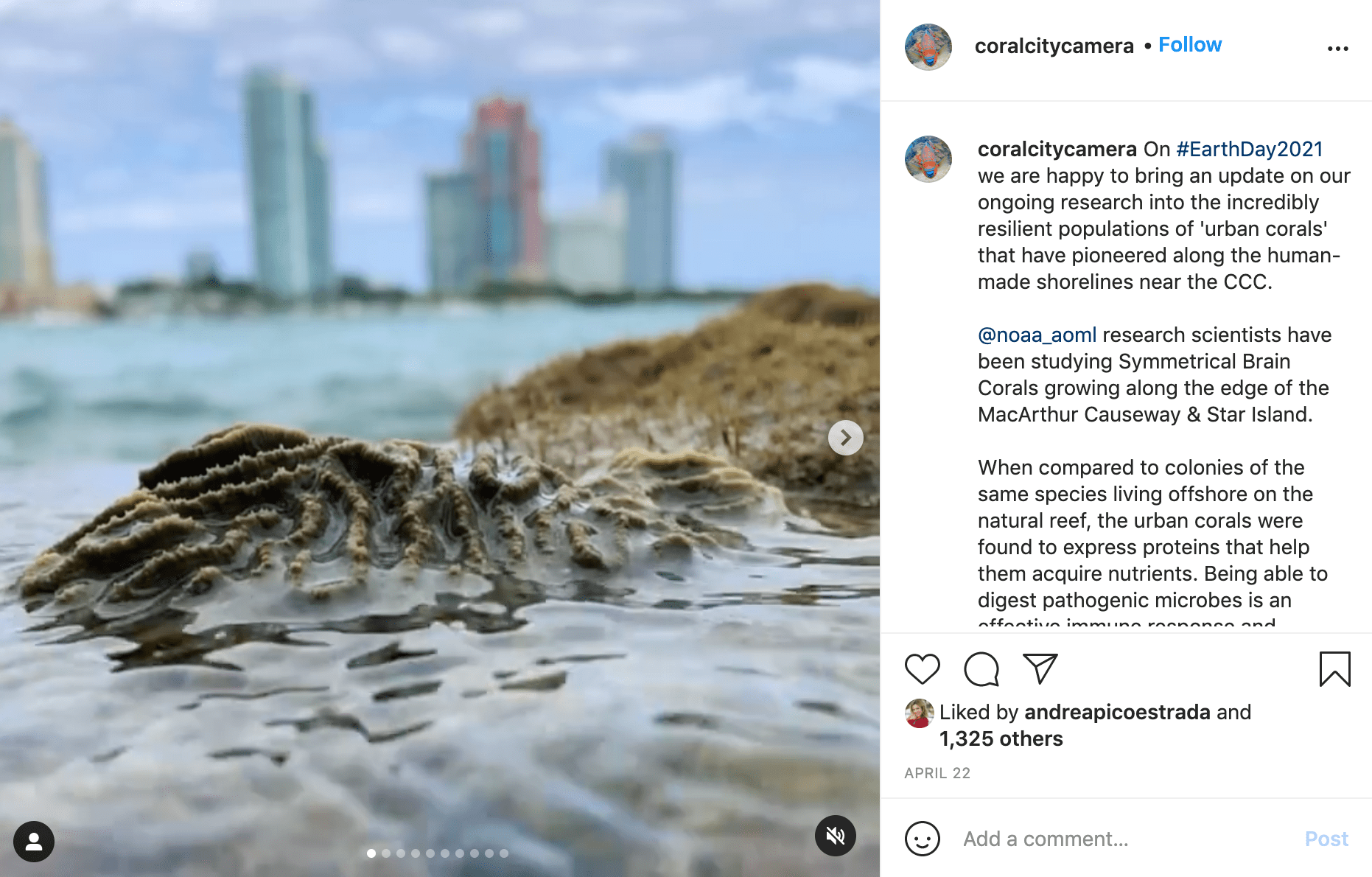 3. Wildlife Below the Surface - Coral City Camera
Not quite a photographer, but Coral City Camera is the best place to go if you want to see what goes on in a coral reef. @coralcitycamera is an underwater camera streaming live from an urban coral reef in Miami. The breadth of wildlife that lives so close to a major urban city is astounding. You can see everything from sharks, to manatees, to rays and pufferfish on the camera, all surrounded by a huge array of colorful fish and coral.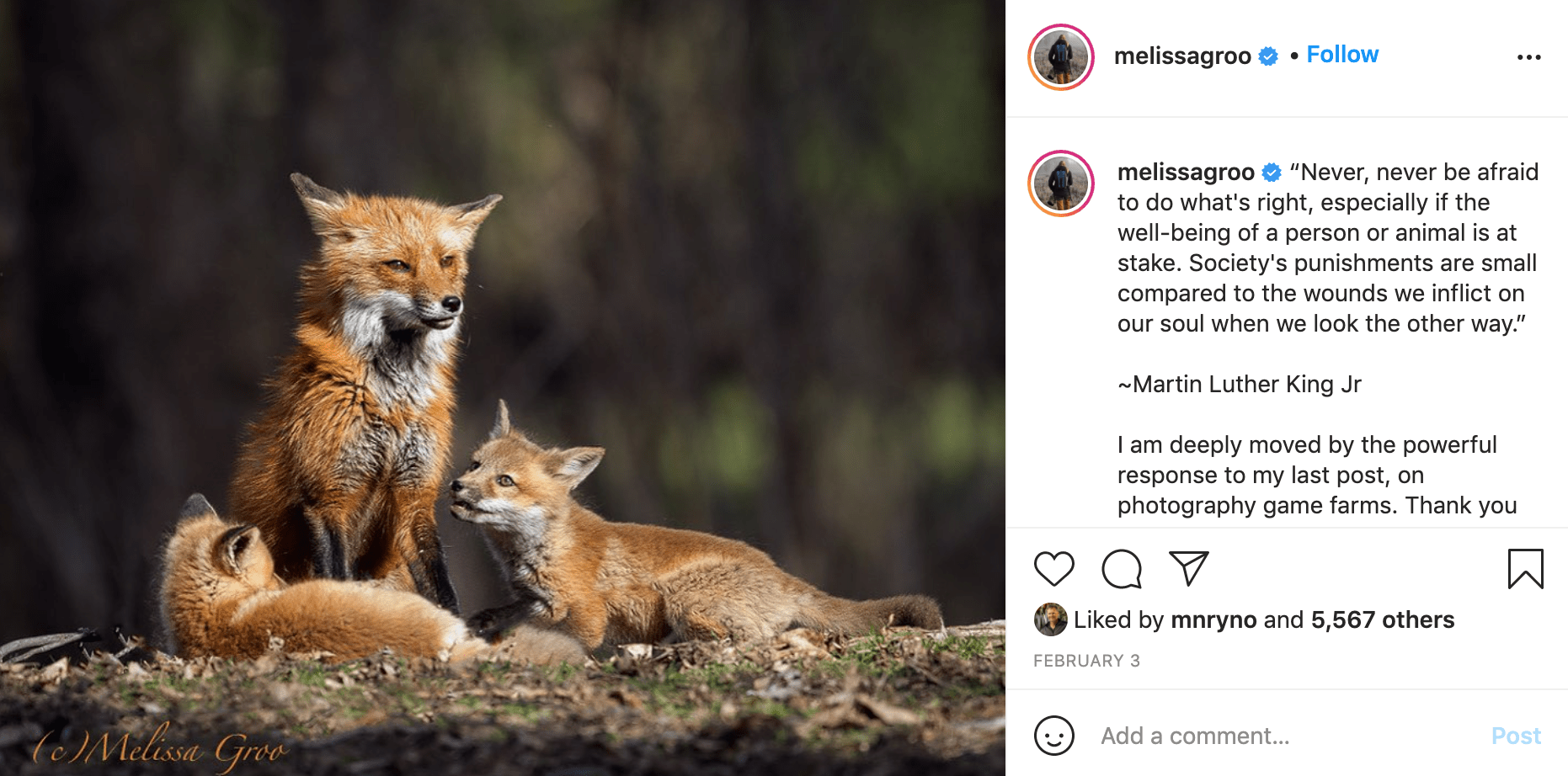 4. Wildlife Conservation Photographer - Melissa Groo
Known for her bird photography, Melissa Groo is amazing at capturing the movement of birds in flight as well as a vast array of other wildlife. She describes herself as a conservation photographer and her photos not only show the beauty of wildlife but also their worth. Follow @melissagroo to not only be inspired to take photos of animals but also to protect our world.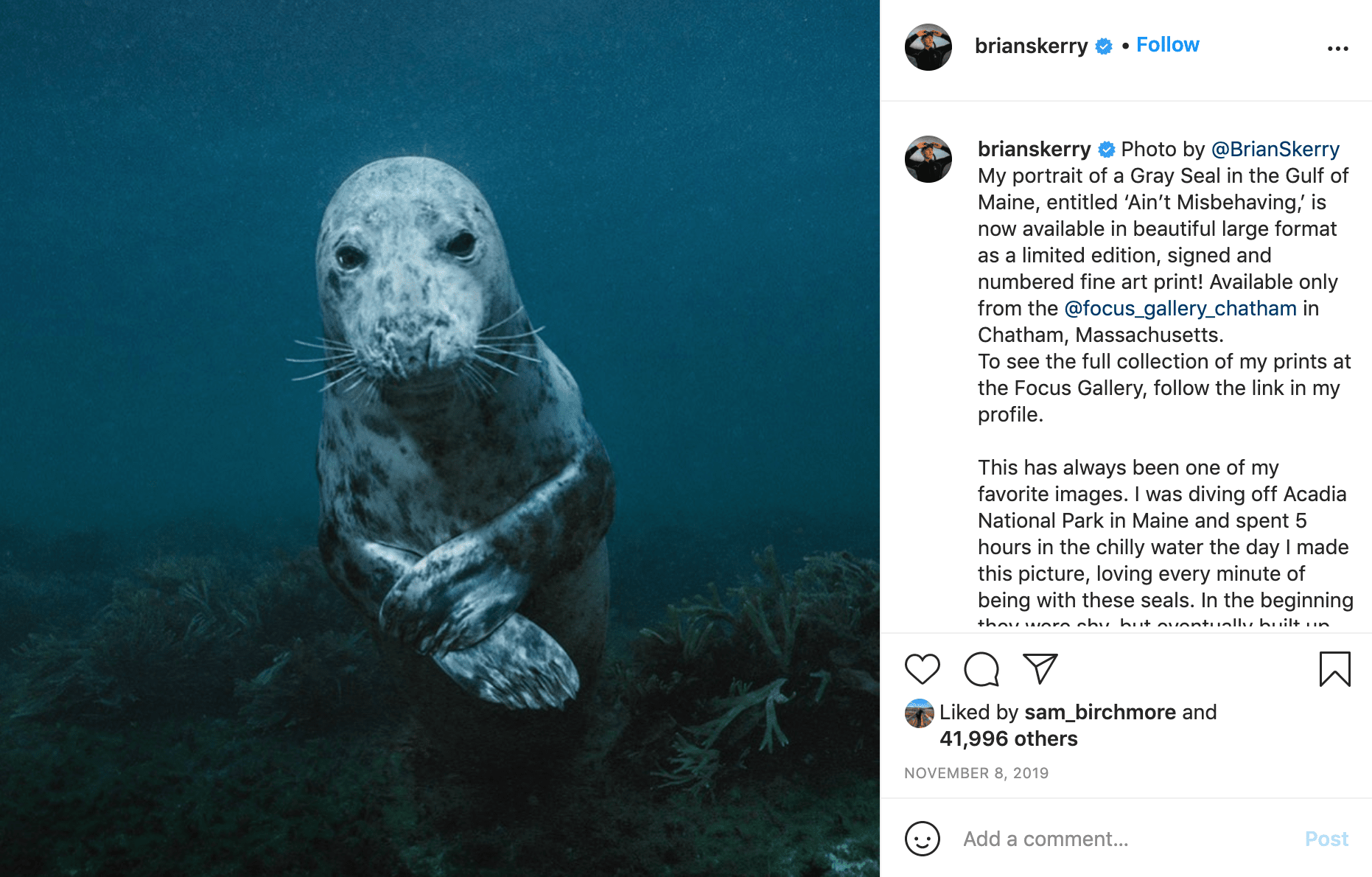 5. Nat Geo Photographer & Nikon Ambassador - Brian Skerry
Brian Skerry, @brianskerry, is another amazing photographer for anyone who loves the ocean. A contributing photographer to National Geographic, he regularly shoots underwater. Whether you want to learn about the story of seals or whales, there is nowhere better to go for knowledge and inspiration.
6. Bird Photographer - Gary Allen
Gary Allen's first introduction into the joys of wildlife photography was a Ruby Throated Hummingbird who visited the plants in his backyard.
He found that it was such a joyful moment for him, to be able to take its picture, and from that point on he was hooked. Since then, he's spent many days out with his camera studying and exploring, taking pictures of wildlife not only in his backyard but that which lives all around him. Follow Gary, @patsfan.104, for your daily dose of bird and nature photography.
Creating your first project?