People frequent art galleries to feel inspired by the pieces exhibited within them. Why not create the same effect in your own home? A gallery wall is a practical but stunning way to display your artistic taste.
However, gallery walls are much more than a grouping of photos. Gallery walls infuse colors and interest into an otherwise blank canvas and serve as a great alternative to traditional shelving. Before you pick up a hammer, read this step by step guide to learn how to make a gallery wall and make any home feel cozy, lived in, and loved.
‍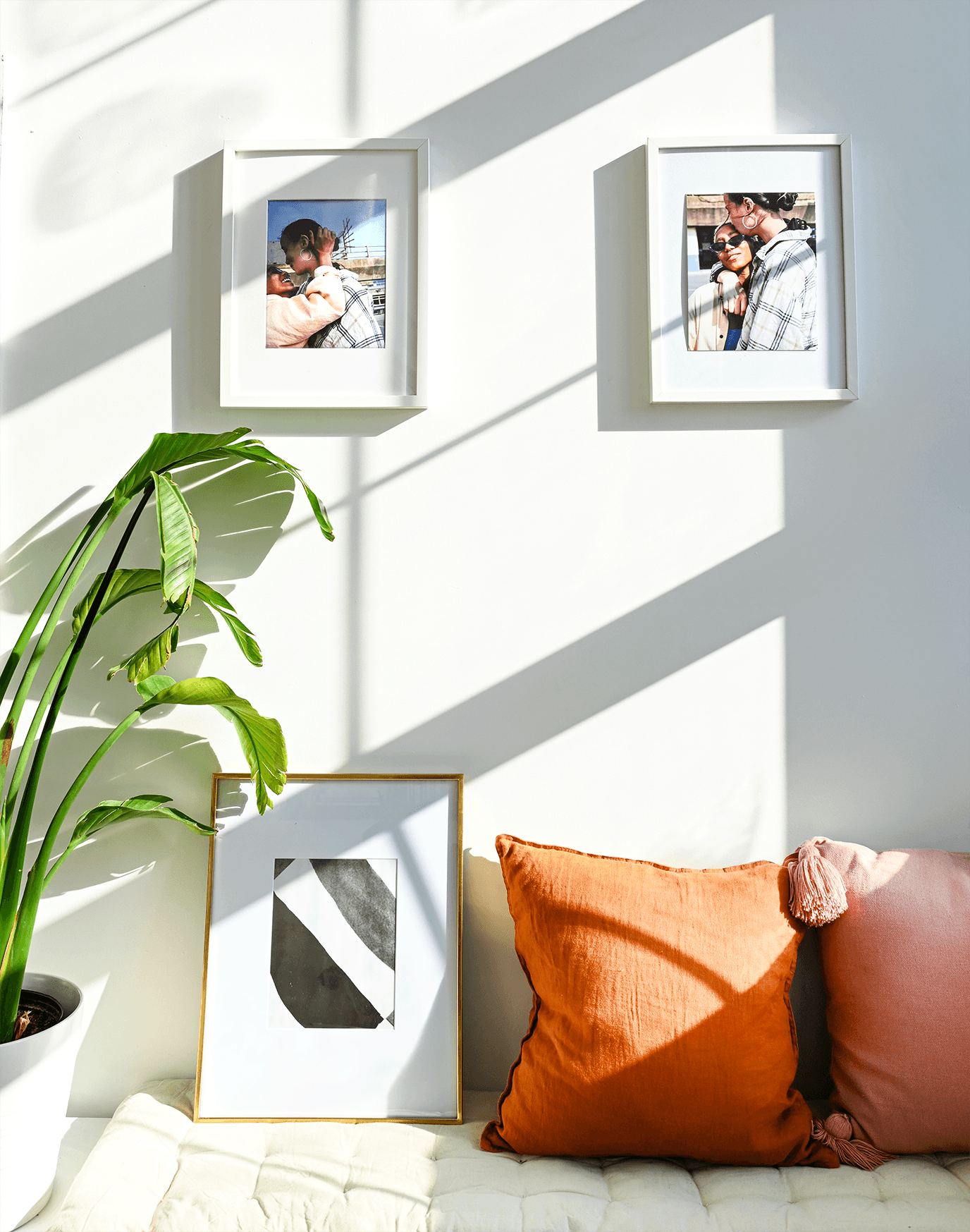 ‍
Find the Right Space
You don't need to have a huge wall or live in a big loft to create a gallery wall. Even a collection of 5 or 6 photographs carefully arranged will add real interest to any room and any wall.
Gallery walls look cozy around doors, above and around fireplaces, over windows, and even around cupboards in the kitchen. However, some of the best places to create impact with a gallery of your most cherished photos include the hallway, the kitchen, the living room, and even the bathroom.
‍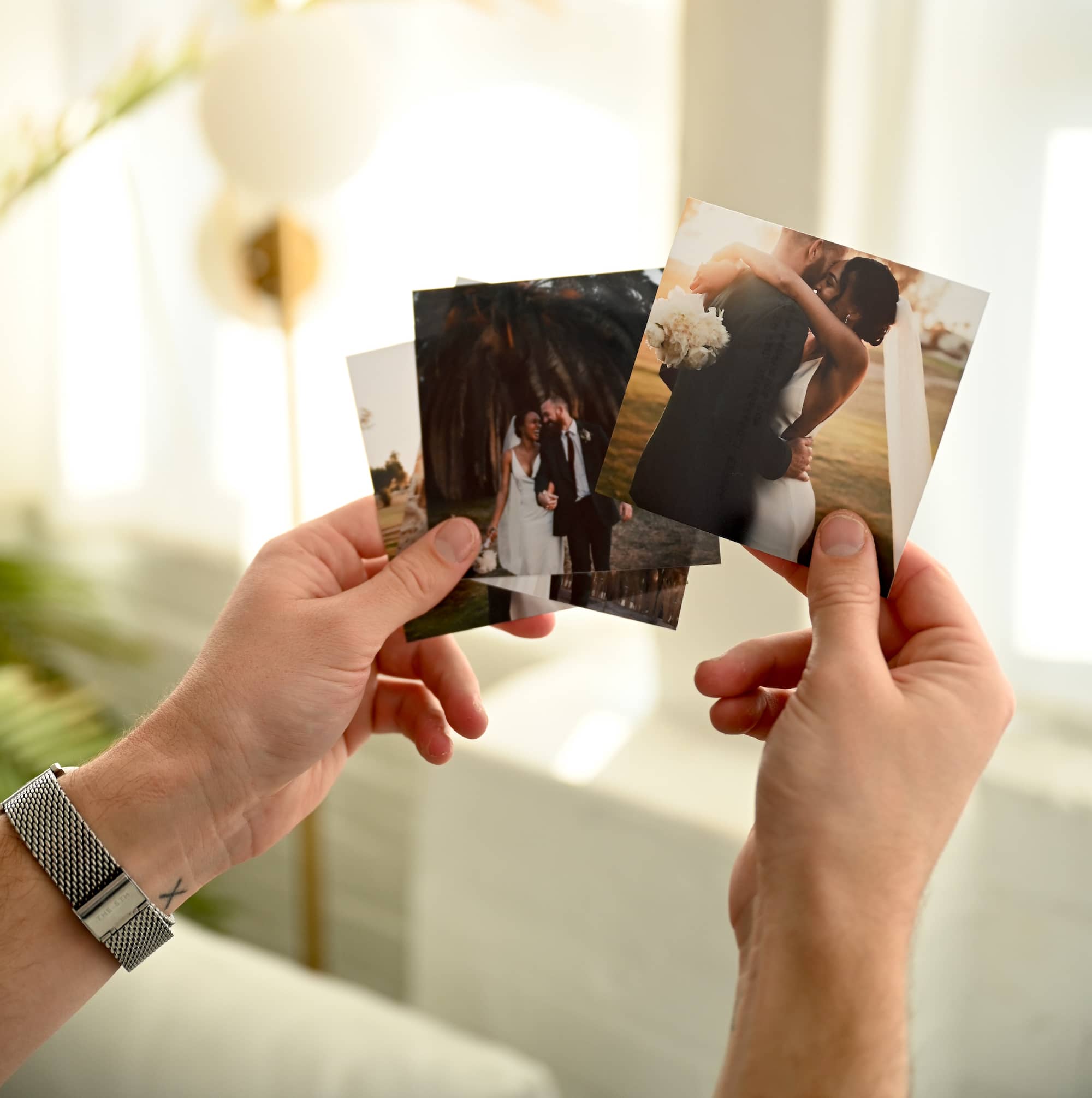 ‍
Choose Your Favorite Photos
Photos are a huge component of any gallery wall. This makes choosing your favorite prints a bit of a fun challenge. Think about the photos that make you smile the most, the photos that stir up the strongest memories and those that tell a story of a very special time.
Since you will be looking at these photos every day, make every piece in the collection count. One way to make the task easier and more personal are to ask all members of your household to choose one of their favorite photos to be included in the gallery. Keep in mind that printing a variety of photo print sizes will help tell the story you are trying to tell.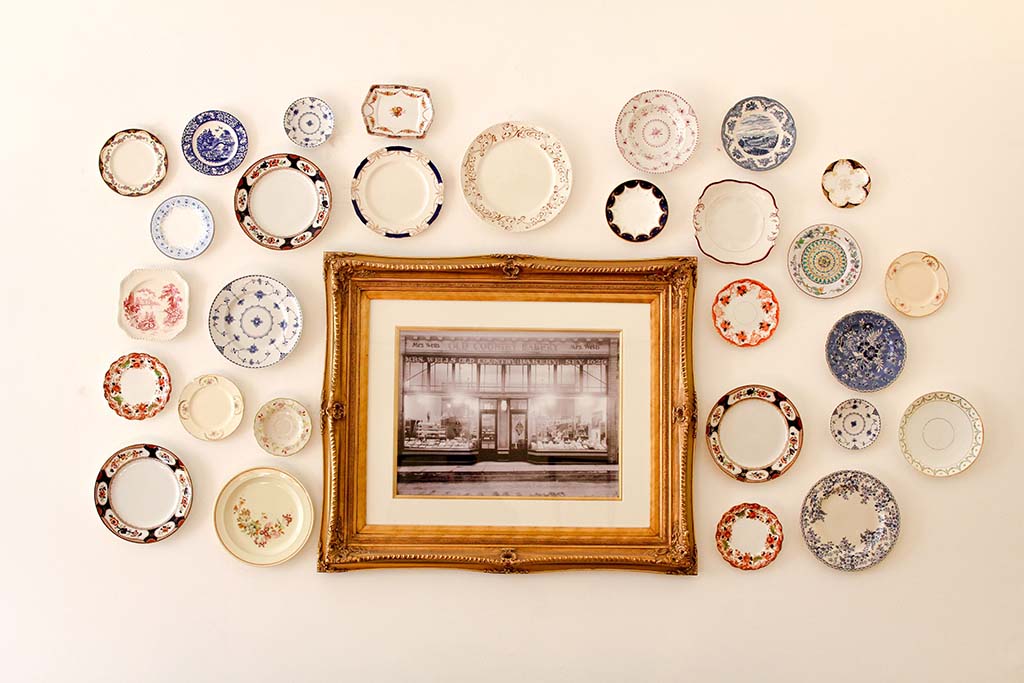 Don't Limit Your Ideas to Just Prints and Photos
There are many ways to make your gallery wall chic, eclectic, and unique. While beautifully printed photos should have pride of place on your gallery wall, you don't have to limit your ideas to photos alone.
Experiment with different display items such as drawings, postcards from your favorite vacations, jewelry or knick-knacks draped over photo frames, your grandmother's treasured wall plates, or even pieces from your favorite board game.
Experiment with Textures and Colors
Take your gallery wall to the next level by experimenting with different colors and textures. For example, black and white photos with a large shocking pink floral print in the center can look really striking.
Gallery walls are an easy way to celebrate family. In fun and busy households, print some of your most colorful and joyful family photos to create a happy wall of memories. Frame some of your children's artwork and handprints.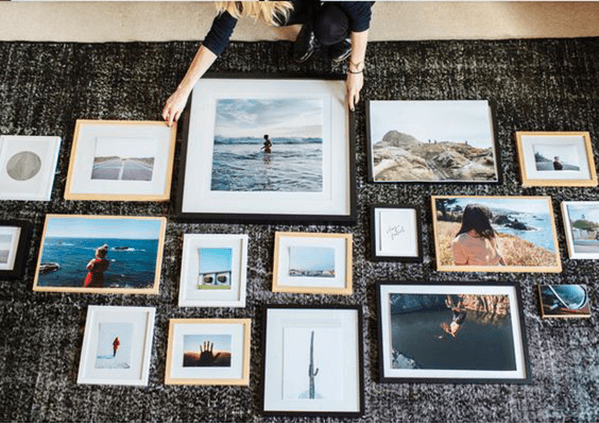 Plan Your Gallery. Hint: The Floor is Your Friend
Once you have chosen which prints and items you are going to use for your gallery wall, it's time to plan out the layout. The secret to planning out any gallery wall is to use the floor.
Simply measure the wall or space you plan to use for your gallery and mark the space out on the floor using painter's tape. Then, place your pieces within the tape to find a layout that you like. A good rule of thumb is to start in the middle with the largest piece and work out from here. Once you are happy with your design, take a photo of your creation so that you can easily recreate it on the wall.
Frames vs. Frameless Gallery Walls
A gallery of framed prints can look amazing, especially if you use a selection of different frame shapes, colors and sizes to mix things up a little. You don't have to spend a fortune on frames, either. Look around your local thrift stores or flea market to find old frames.
One of the best ways to enhance and upcycle plain wooden frames is by painting them different colors or adding cardboard mounts into the frame. But you don't have to frame all or indeed any of your prints. While frames will protect your photos from dust, they are not an essential display feature. Play around with different styles to see what works.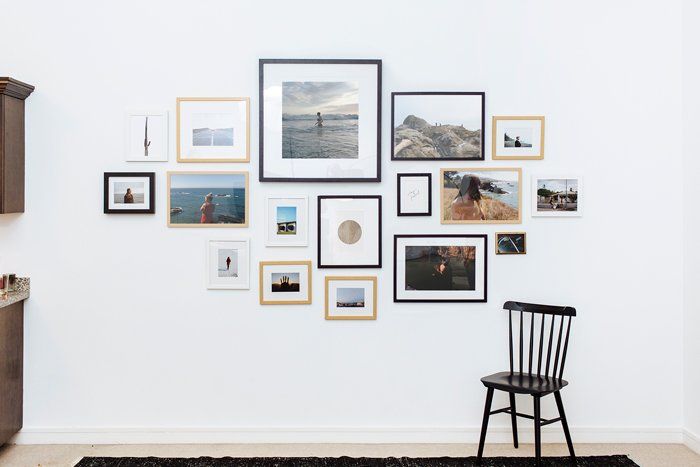 Find the Tape Measure
To create a really balanced and aesthetically pleasing gallery wall, aim to establish uniform spaces between your frames. A consistent space — two inches between each frame, for example — can look great. Creating uniform spaces is effective for creating a balanced display, especially when frames and images are of different shapes and sizes.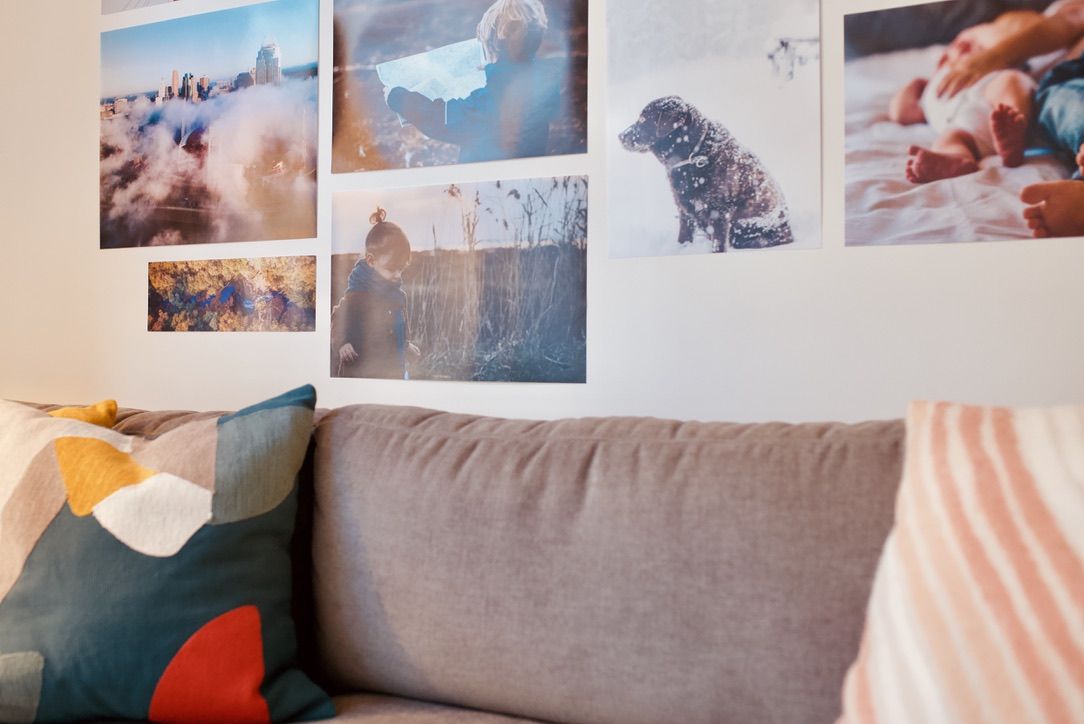 Wait, Don't Bring Out the Hammer Just Yet
If gallery walls have one downside, it is that they require a lot of holes in your wall. Hopefully, this won't be an issue as your gallery will go on creating a great feature in your home for many years to come.
However, you don't necessarily need to hammer a single nail or make a single hole. If your prints are relatively light in weight, you might be able to get away with sticking them to the wall using specially designed sticky strips. If you need to hang your pictures using a hammer, carefully mark out each hole and use d-rings instead of a wire.
Stand Back and Admire Your Handiwork
A gallery wall is one of the most personal and striking features you can create in your home. Not only will it create a focal point in any room, but it will also tell the world who you are and what things and people are important to you. Most importantly, it is a feature that is unique to your home, that you have poured hours of love and thought into and which can continue to grow through the years.
Mimeo Photos can help you to create beautiful prints for your gallery wall at the touch of a button. From printing your most treasured family photos in a wide range of sizes to creating a collage of multiple prints, our app puts you in complete control. It's the perfect solution for any custom project.
Creating your first project?