As summer nears its end, we're met with one more wag-worthy celebration: National Dog Day. This means you can look forward to your Instagram feed packed with even more four-legged friends. If you're a dog owner, try one of the creative project ideas below that recognizes the furry member of your family all year round.
Start By Searching Your Photos Library Properly
Who says old dogs can't learn new tricks? This is an easy way to find all of the images of your own Fido. If you're an Apple Photos or Google Photos user, simply tap the "Search" option and type "dog". All photos and videos of any dog will return as a result of your search.
Searching by keyword will ultimately save you a ton of time, especially if you have a large collection of photos.
Try out these dog photography tips if you find your library is lacking some more recent photos of your pup.
Get Playful with a Puppy Photobook
Dogs are central members of a household. They play many different parts: your morning walking partner, cuddle buddy, and even confidant. Gather around them during your next family dinner or rainy afternoon with a custom photo book. Consider some of the following shots to add to your photo book:
Your dog in action: a game of fetch, swimming, or even a light hike.
Your pup's portrait: a bubbly bath time pic, a throwback, or a portrait with multiple members of your human family.
Your BFF and their BFFs: a layout featuring multiple images of your dog and his dog park buddies.
Whatever photos you decide will be sure to spark conversation, bring up fond memories, and reinforce the gratitude you have for your pet.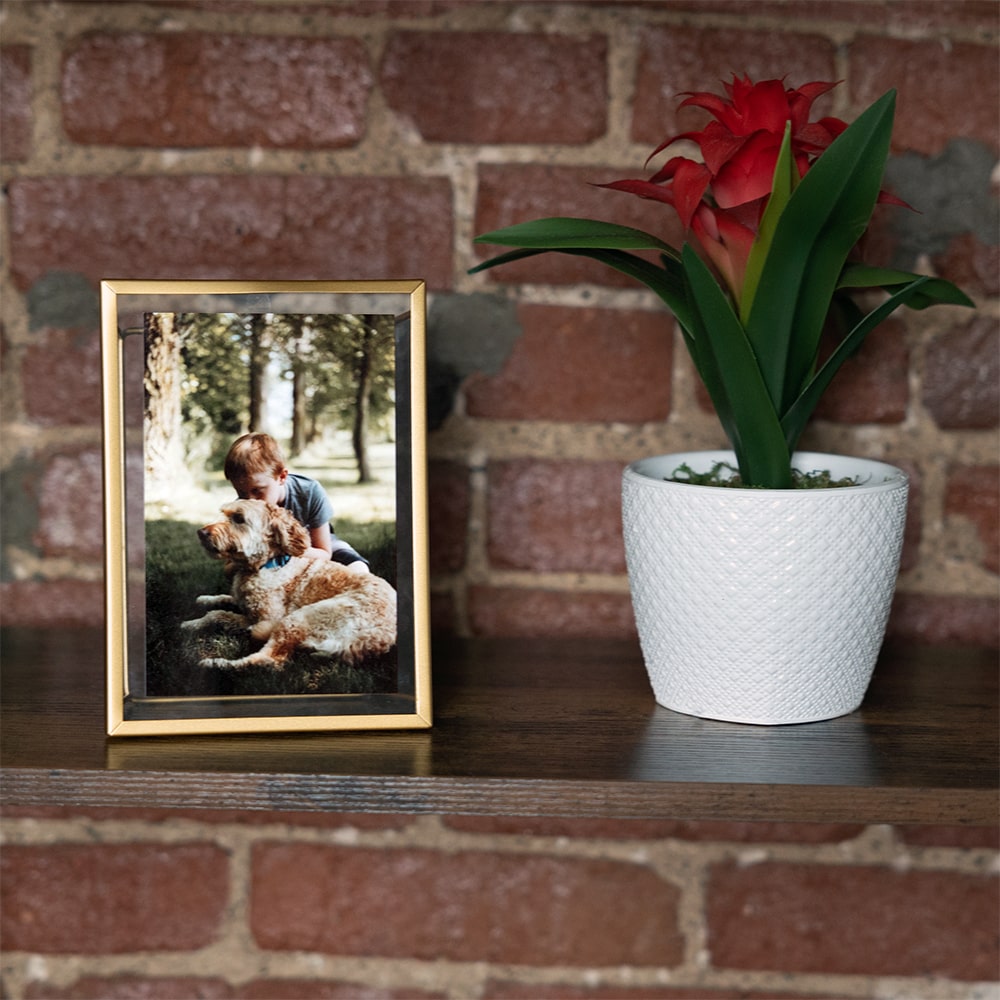 Paw Prints
Photo prints are a timeless tradition. Incorporate a few photos of your dog in your next round of curating a set of photo prints. Opt for a small square photo to stick on your car's dashboard or fridge. Use a similar edit or filter to multiple photos if you plan to place several photos together for a more cohesive feel.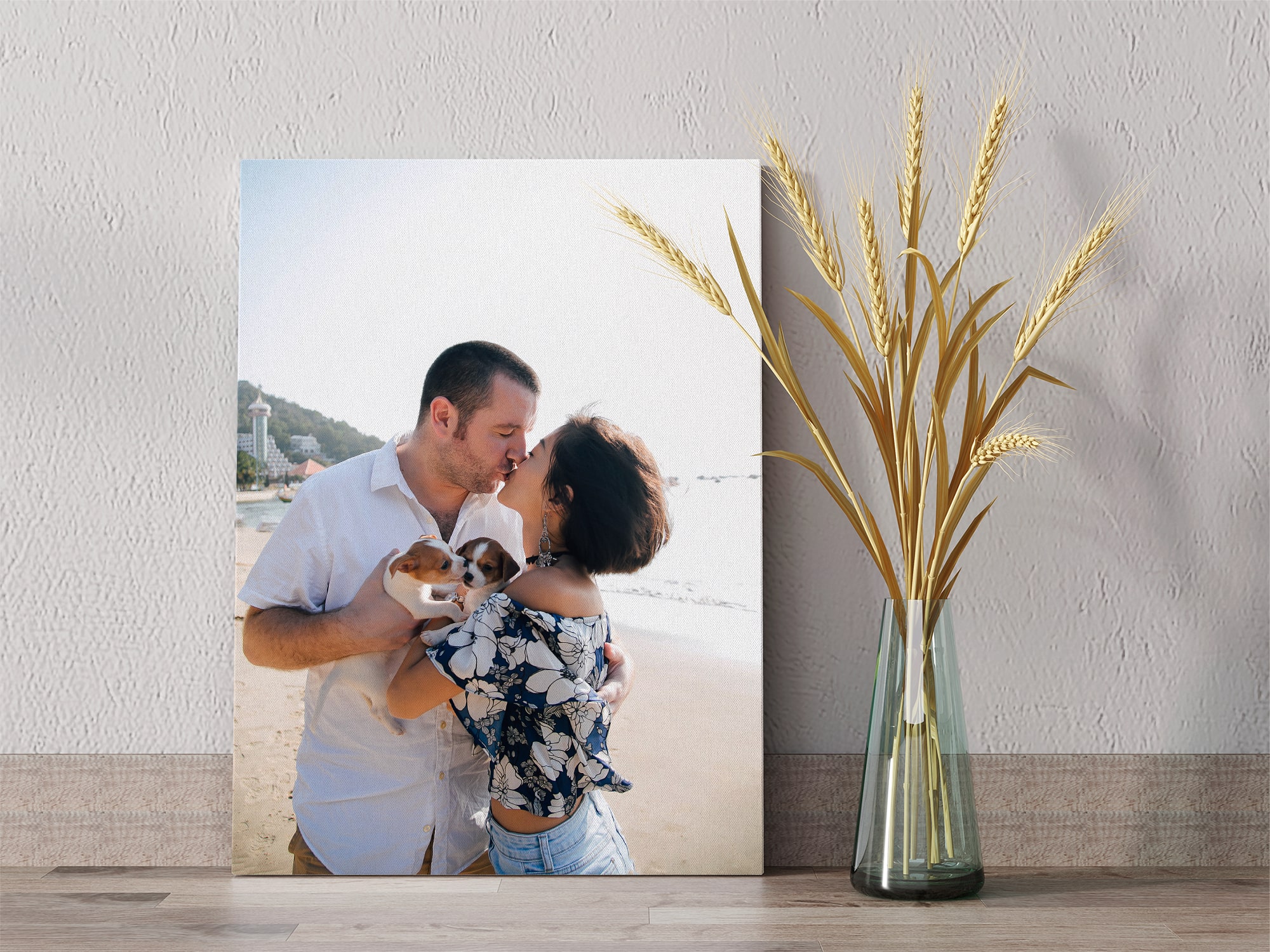 Dog Decor for Any Room
Canvas photo decor is a staple when it comes to family portraits. So, why not include your four-legged members? Select a 5 x 7" canvas easel display for your desk in your home office or as an end table accent.
Alternatively, choose a larger photo canvas for walls that need a little extra cheer.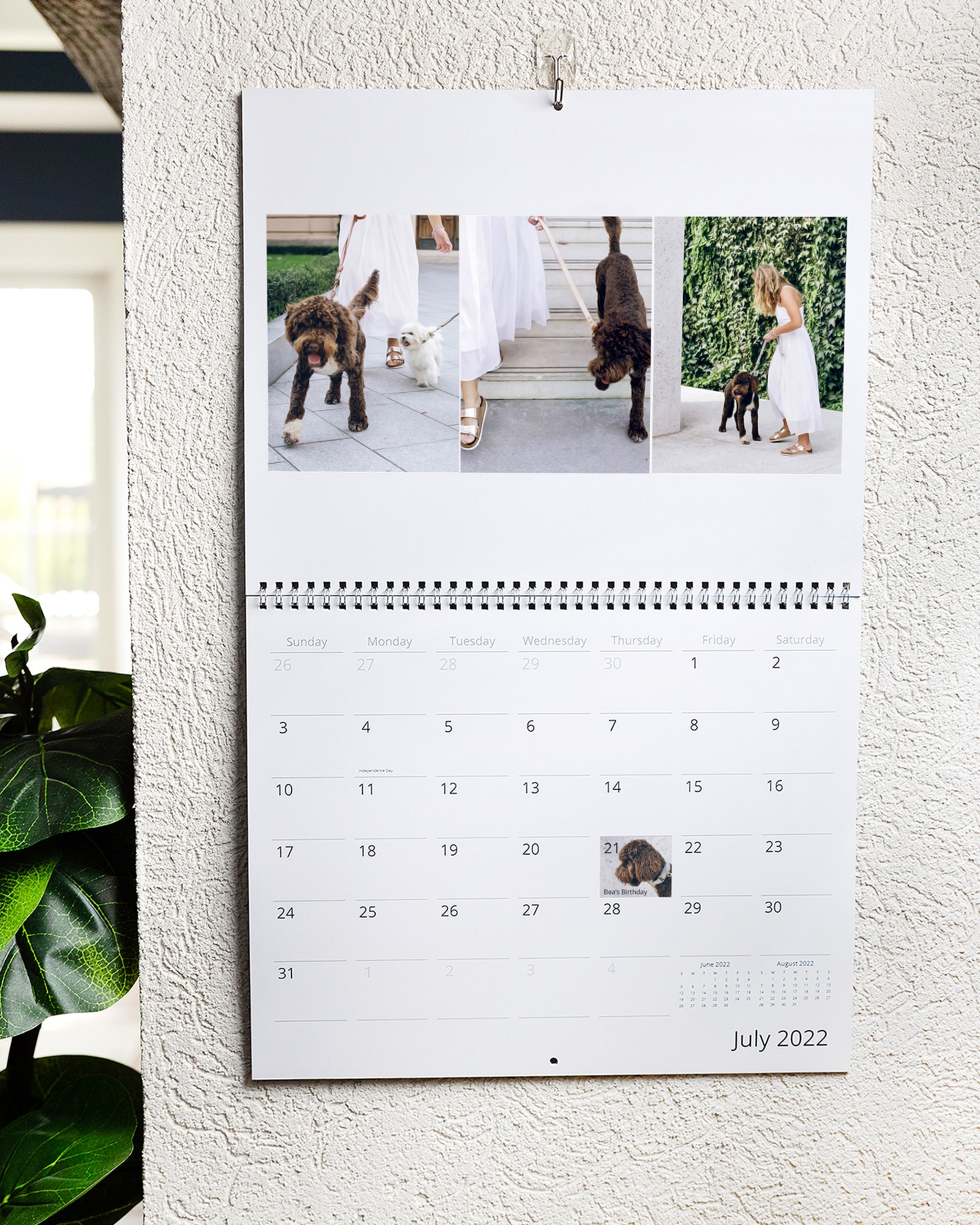 Make a Dog Calendar
The key to curating a photo calendar is setting the narrative of your year. There are a few ways to do this when it comes to a pet calendar. Ask yourself how you want to tell the story of your pet-owner companionship over time. Is it a month-to-month reflection of important experiences you shared together from the previous year? Or is it from a longer period of time with images that are quite literally more in tune with the seasons?
Whatever you set out to tell will directly influence your choice of images from month to month. Keep in mind that you can include multiple photos with layouts for each month. If you want to have multiple photos of your dog living his best life at the dog park at once glance just update the layout of the month.
Alternatively, you can feature your pup with a single, large image for the month. This is especially fun if your intention is to recognize a tradition or holiday. For example, your dog in a festive holiday sweater come the chilly month of December.
And, if all else fails just include moments that make you smile. One of the greatest parts of being a pet owner is that they love us for who we are. Research shows that dogs have a similar neurological to humans when they see friends. So that grinning and tail wagging when they see you isn't just about a canine instinct regarding reward and loyalty. Your pet is truly happy to see you. Add the photos that capture those perfect doggy smiles and puppy mishaps to bring you joy.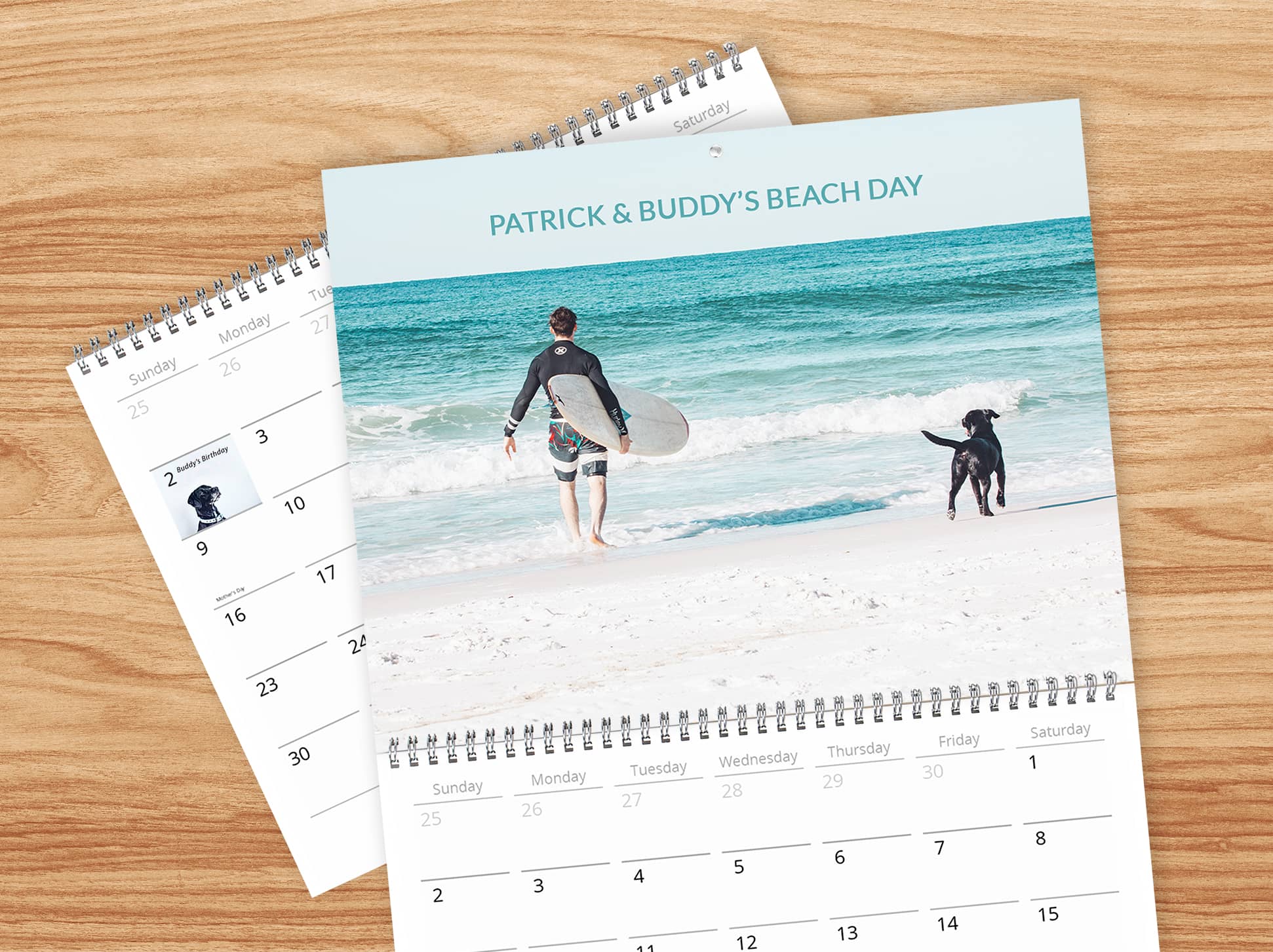 Customize Event Dates
With Mimeo Photos, you can customize a specific calendar date with a photo and text. These can be holidays or any other day. For example, highlighting National Dog Day in the month of August fits the context of a pet calendar. Some other ideas to include in your dog calendar are:
Birthdays or adoption dates
Annual vet check-ups
Grooming appointments
Upcoming family trips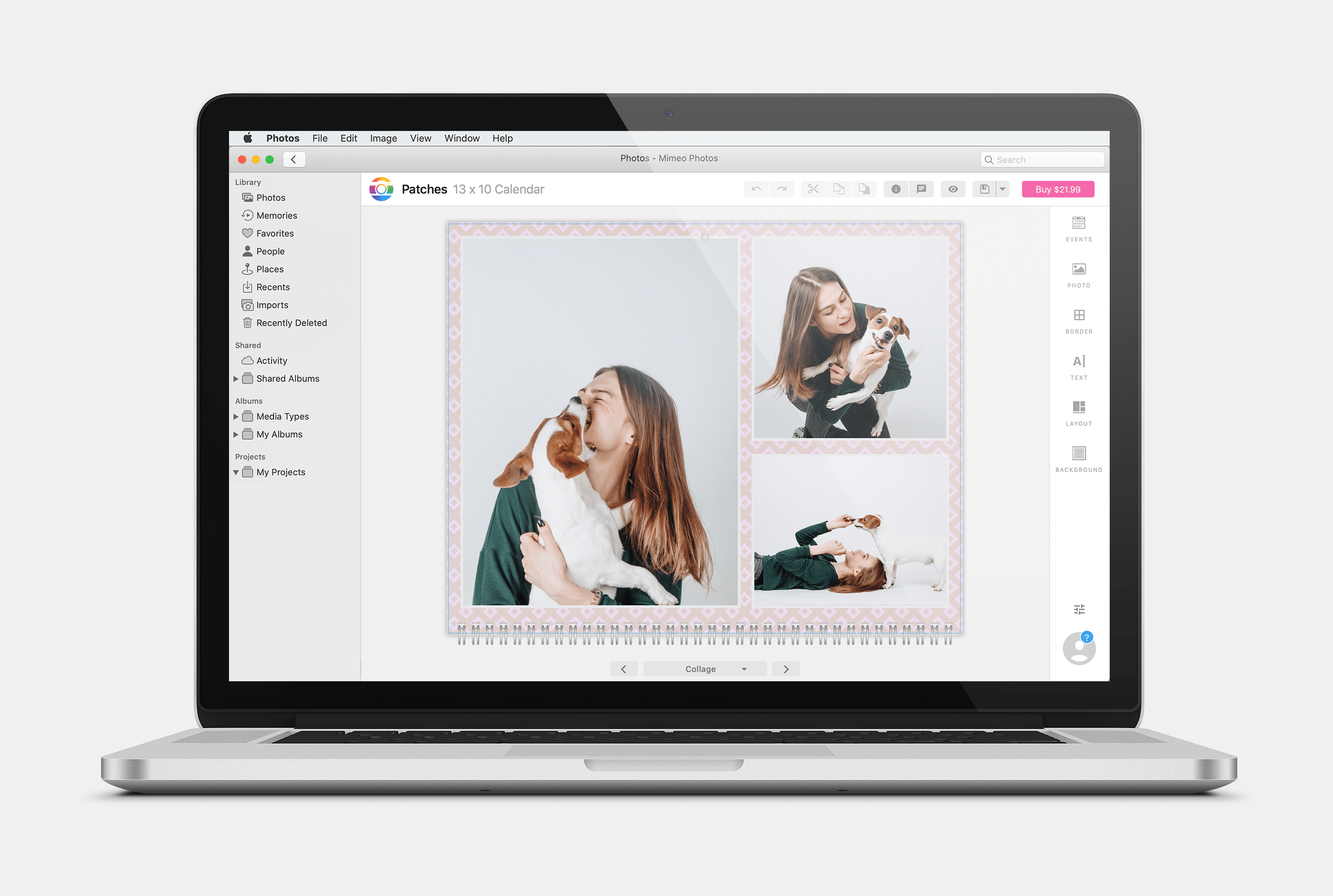 Add Those Special Final Touches
Photo calendars are truly a special type of project. They serve as positive reminders all year long as you look ahead. You'll want your pet calendar to be as close to perfection since it will be on display on a wall or door for a long period of time.
In addition to adding photos and text to dates, try some of these tips to elevate your wall calendar:
Add solid or two-tone backgrounds to complement the subject of the photo
Make custom captions to photos in your layouts like your dog's name, age, and location of where the photo is taken
Apply titles to the spreads of each month
Group images that share a similar tone together in layouts
Once you're happy with your dog or pet calendar project, we'll be happy to print it for you to enjoy every day.
Creating your first project?