Mimeo Photos recently released the newest update to their MacOS Photos extension, offering new features to help make your memories come to life in Photobooks, Cards, and Calendars. With the latest release, Mimeo Photos introduced a wide variety of exciting enhancements to its overall design, flexibility, and functionality:
29 new themes added to the existing library
New dark mode available in the tool panel
Language localization
International shipping
Reorganized toolbars for improved usability
Brand new streamlined user interface and stunning design
Improved spread view editing interface
New Mimeo Photos tool
Countless performance improvements and bug fixes
New Themes
Mimeo Photos added 29 new themes to its existing library of unique preset themes to choose from. Each theme offers something different to your photo project with various colors and layouts. Once you upload your photos, these "smart themes" process, create, and autofill your images with layouts that best fit your photos.
These themes are available to photobooks, cards, and calendars. Some notable photobook themes offered are Panoramic Pictures, Modern Lines, Travelogue, Journal, Contemporary, Portfolio, and Sweet Memories, with more to come in following updates!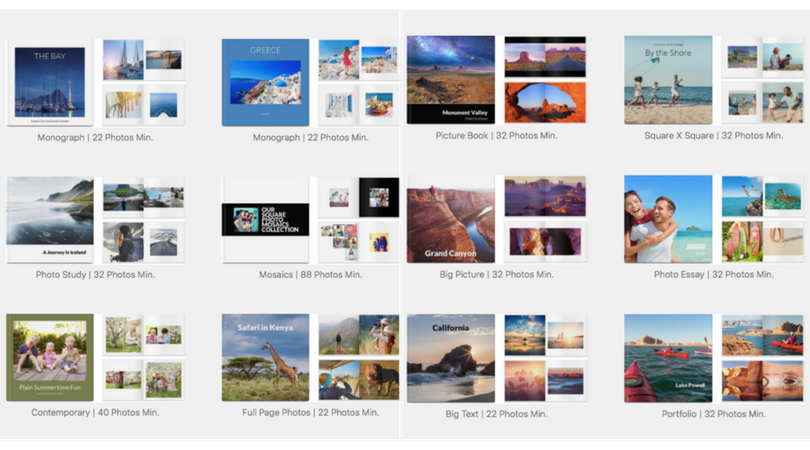 Dark Mode
Mimeo Photos is praised for its stunning design, including the brand new dark mode. Fully integrated within the Photos for macOS ecosystem, users now have the opportunity to switch between light and dark themes depending on their preference. This feature can be found in the Tool Panel by clicking the Mimeo Photos logo and selecting "Dark" theme under "Pro Options".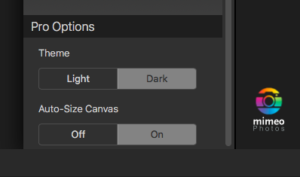 Language Localization
Mimeo Photos is now able to convert all text within the app automatically to support these 12 languages:
English
Danish
Dutch
Finnish
French
German
Italian
Japanese
Norwegian
Simplified Chinese
Spanish
Swedish
International Ordering Now Available
The latest update encourages users across the globe to place orders with Mimeo Photos, with shipping available to many global destinations.
Tool Panels
Mimeo Photos has reorganized their tool panels for easier viewing, improved usability, and simpler access to common controls and functionality. For photobooks, the "Organize" Toolbar along the bottom has been improved, allowing users to easily add, delete, or rearrange pages. The top bar offers options to change the product or theme, show helpful tips, preview your book, or go to checkout.
In addition, the new Mimeo Photos button on the main tool panel features News & Offers, as well as advanced options for light/dark mode and auto-sizing the canvas view.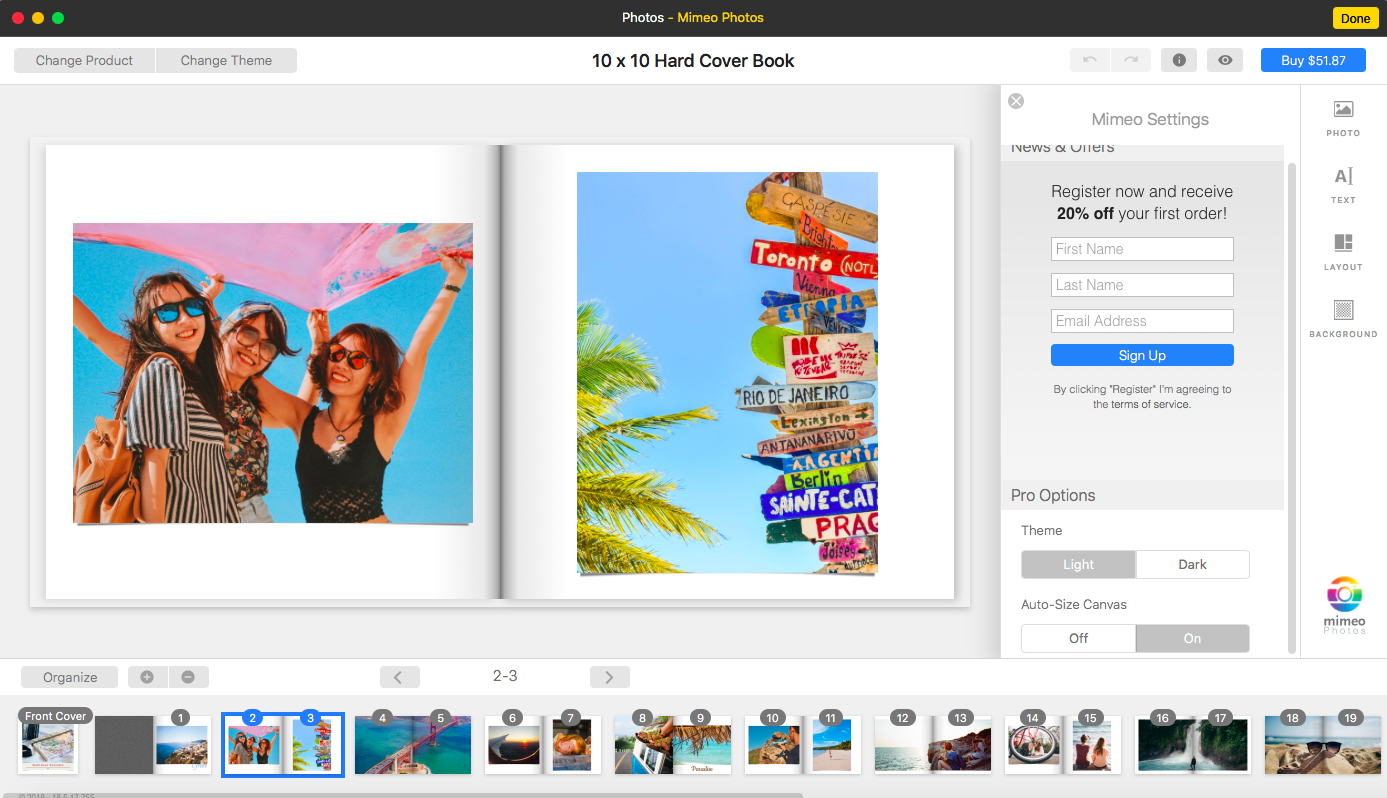 To get all of these new features, or to get started on your next project, visit the Mac App store to download/update Mimeo Photos!
Creating your first project?