Creating a scrapbook is a great way to preserve those extra special memories in life. Whether you're remembering the birth of a child or a wedding, collecting photos in order to tell a story is a wonderful experience.
The advantage of an online scrapbook is that you never have to worry about damaging or losing these cherished memories. But if you want to create something heartfelt and impactful, there are a few tips and design steps you need to know about.
Here are the dos and don't of creating a scrapbook that you will be especially proud of. For a full step by step guide to scrapbooking, check out how Hobby Help's free resource.
The Dos of Online Scrapbook Design
Create a Theme
A good online scrapbook has a very specific purpose. It covers a particular aspect or event of life. Once you know what that is, you can create an appropriate theme. For example, you could fill a Christmas scrapbook with festive illustrations and backgrounds.
Crop and Resize Photos Proportionally
It's often necessary to change the size or dimensions of an image when creating an online scrapbook. But it's easy to distort an image during the editing process.
Use a powerful, intuitive editing tool that makes the process easy. The best options allow you to resize photos with just a few clicks of a mouse.
Use Colors Sparingly
Familiarize yourself with the color palette in your chosen editing platform. Ideally, your scrapbook should feature no more than three primary colors. Any more than that can result in a confused look that takes away from what's really important -- your images.
Cut Images into Different Shapes
A scrapbook, by its very nature, is an organic, haphazard collection of memories. It's not a yearbook or a formal photo album.
Keep your book interesting and unique by changing the shape and aspect of your images. If you're more partial to simple landscape and portrait shots, try toying with different photo layouts to make a simple but fun collage.
Use High-Quality Photos
You could have a fantastic scrapbook design, but if your images are substandard, the final results will be disappointing. By all means, trawl through all of your photos for the images that tell the story you want to tell. Just don't choose blurred, discolored or distorted images -- they'll take away from the beauty of the project.
Improve Images with an Editing Tool
Not all bad photos are beyond redemption. A good editing platform can help you to sharpen and recolor the images that don't live up to your expectations.
If you're using Mimeo Photos, tap into Apple's editing tools while still in the photobook designer. You'll be able to quickly adjust a photo's light, color, and sharpness without leaving the project.
Add Text to Describe Images
A scrapbook is much more than a collection of photos -- it's a story told through the medium of photography. While your images will do the bulk of the storytelling, you'll still need to add a few words here and there.
For instance, you might want to add names, dates, or quotes that correspond with your photos.
Add as You Go
For the best results, update your scrapbook during the event -- as things happen. Wherever possible, start your online scrapbook at the beginning of the event.
If you're creating a scrapbook as a gift for new parents, start it from the moment they find out they're pregnant. Take photos regularly throughout the pregnancy -- right until the new arrival is back home.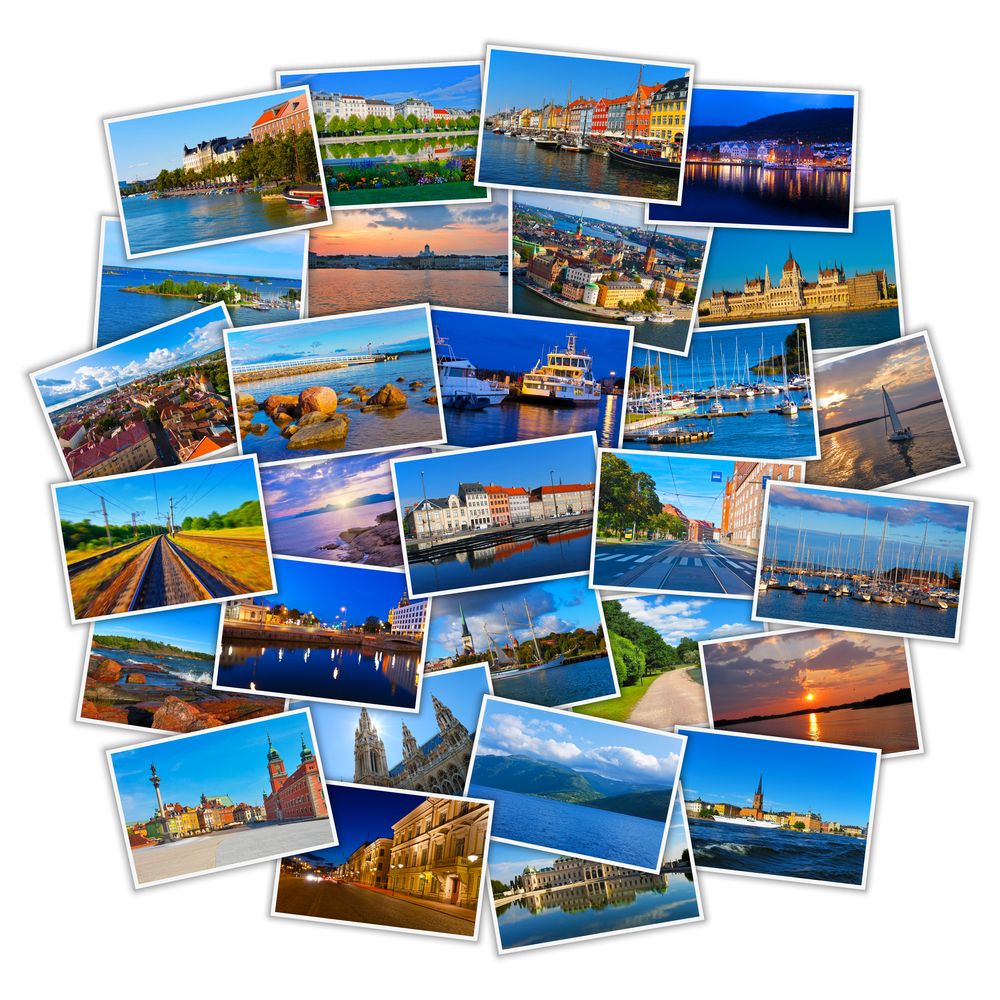 The Don'ts of Online Scrapbook Design
Don't Overfill Pages
The images should be the stars of the show in an online scrapbook. But if you stuff every page with too much content, nothing will stand out. Avoid the temptation to pack every square inch of available space with something. A little white space is often a good thing.
Don't Repeat Images
Try not to include several images that display almost the same exact thing. Choose the best photo you have of a particular time, and stick to that.
Try to fill your scrapbook with a wide variety of images that deliver nuances and context. Repeating yourself will make the entire project predictable -- and a little boring.
Don't Add Too Much Text
A scrapbook is predominantly a visual medium. While a little text is a great way to add context, too much can detract from the power of the images you use. Never include more than two sentences with a photo entry.
Don't Add Entries Randomly
You're telling a story with your scrapbook, so think of a logical timeline or flow. The most obvious way to order your photos and entries is in chronological order, but not always. Creating sub-categories might also work.
For example, when creating a high school graduation scrapbook, you can add sections for group photos, family photos, and the ceremony itself. You may also consider adding a section with a collection of photos from the graduate's early years at school.
Create Your Next Online Scrapbook
Creating an online scrapbook is a great way to preserve those extra special memories in life. Follow our tips to make a memorable online scrapbook that will last a lifetime.
Creating your first project?