A thank you card is a fantastic way to show your appreciation. It tells the recipient that they mean something very special to you.
If you really want to make your thank you resonate, create a personalized thank you card with a special meaning. After all, no greeting card company can ever deliver a heartfelt, meaningful message the way you can.
To help you get started, we've put together a few ideas to get your creative juices flowing. With a little imagination and the right message, the recipient will receive a thank you that they'll never forget.
1. Add Your Own Poem
The great thing about a poem is that it's exactly what you want it to be. There are no strict rules about what constitutes a poem, so you have some creative freedom to play with. As long as your verse expresses genuine emotions, it should hit the mark.
Start by thinking about how the recipient's action made you feel. What were the consequences of this particular act of kindness? Talk about feelings and emotions, rather than the act itself. Once you're happy that your poem strikes the right chord, present it in a way that's both eye-catching and attractive.
If your poem has an overriding theme, such as a thank you for a work-related task, reflect it in the design of your card. Play around with a few card layouts, color schemes, photos, and illustrations.
Perhaps you want to add the title of your poem on the front of the card. You could hide the main text inside the card as a wonderful surprise.
2. Choose the Most Powerful Photos
The best thank you cards express gratitude through powerful images. Ideally, you should be able to convey your message with just one or two carefully selected images. The true test of the perfect card is its ability to deliver the desired message without any text.
Show a friend the images you've selected. Ask them to describe the emotions each photo evokes. What message does the image convey? You'll know you made the right choices if words such as "gratitude," "thanks," "appreciation," and "recognition" are used.
3. Add a Few Meaningful Mementos
We often pick up seemingly ordinary or mundane items during some of the most special times with the people most important to us. For example, that item might be ticket stubs to a concert or show that you received as a gift. It might be a flower you picked on a long walk.
Whatever that special memento is for you, including it on or in your thank you card demonstrates thoughtfulness and gratitude. If you have several items, you can even make a collage as the front cover of your card. Tell a story with your mementos, and the message will resonate strongly.
4. Add Some Photos from Special Occasions
Nothing tells a story like a photo -- apart from several photos, of course. Whether a friend provided support during a stressful time in your life or a colleague helped you at work, using images to convey your gratitude always adds emotion.
You might want to choose one large photo for the cover. Or if you're telling a story, a series of photos in chronological order might be more appropriate. Use a photo editing tool to make the process as simple as possible.
Alternatively, create your thank you card digitally using images imported directly from Apple Photos. Mimeo Photos gives you everything you need to turn your photos into unique, personalized thank you cards. Design your card on your Mac, and get it sent to your home.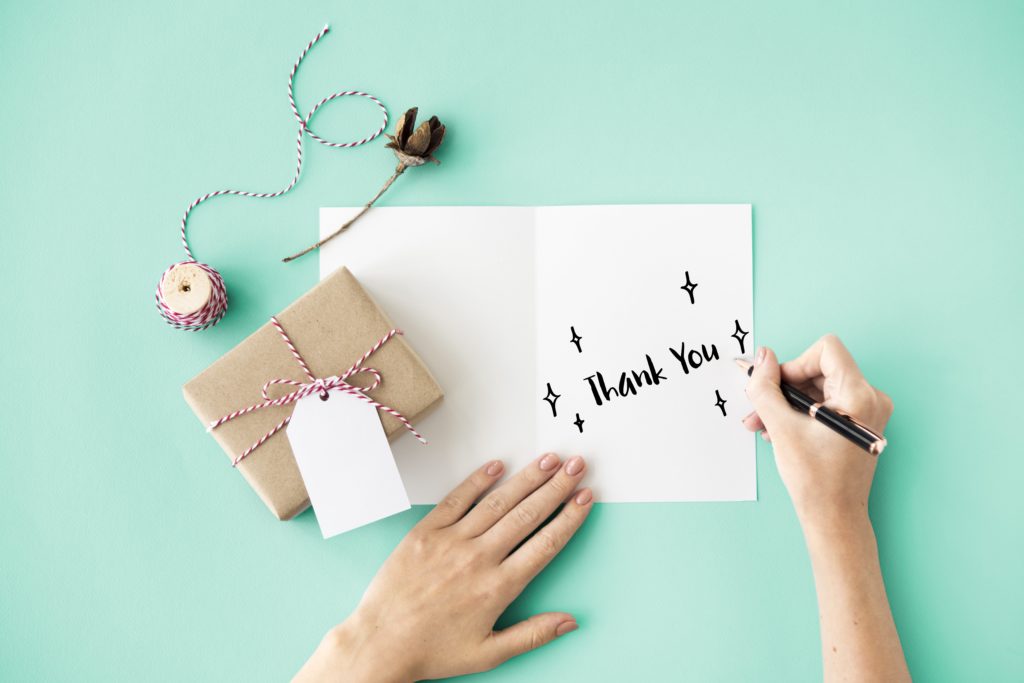 5. Stage a New Photo
If you don't have the images that convey your message of thanks, you can create one for the occasion. Think about funny, heartfelt, or unique ways to say thank you in a photo.
One idea involves holding up a thank you sign. Or you might want to strike a pose that suggests gratitude. Whatever you do in your photo, make it personal to the recipient. And make sure it's of the highest possible quality. You can always make improvements to the image with a photo editor if you're not entirely happy.
6. Make Your Card Three-Dimensional
If you buy a standard, mass-produced thank you card in a store, expect something that's generic and ordinary. But add a third dimension to your own card, and your message takes on a whole new meaning.
There are several ways to add depth and texture to your personalized thank you cards. For example, you could add fabric, glitter, or various arts and crafts items. Instead of drawing a balloon, you could stick a real one to your card. The possibilities are endless.
7. Create Your Own Thank You Show
Modern thank you cards aren't just for reading. There are now several ways to turn an ordinary card into something far more entertaining. For example, you could add some chimes to your card. When the recipient opens the card, a tune with special meaning plays.
For example, you can create your own glitter bomb that explodes when the card opens. You can even record your own voice message and program it to play when the recipient opens the card. Combine all of these ideas for a thank you message the recipient will never forget.
8. Create a Digital Version of Your Card
There are more ways than ever to say thank you to someone special in your life. One of the simplest ways is with a digital card. Deliver it via email, text, or private message -- at a time that suits you. While this may not be as special as a physical card to hold on to, it does offer various creative features that standard cards are unable to utilize.
To create a digital card, collate a few special images, and upload them to your chosen editor. Add a few illustrations, choose a color scheme, and add a message using the text editor. To add something unique, consider adding videos, animations, gifs, and graphics to make for a fun thank you surprise in the recipient's messages!
9. Create a Puzzle or a Quiz
If you want to have a little fun with your thank you card, create an air of mystery with it. Rather than sign it or add a message, get the recipient to guess your identity with a puzzle, a riddle or a short quiz. You could even use your card as the starting point for a treasure hunt.
One great idea involves using the photo of a mystery location. Add the image to the front of the card using design software, and tell the recipient that a special reward awaits them should they solve the mystery.
10. Make an Accordion Card
There are times when a simple thank you card isn't big enough to express your gratitude. Yes, you can add a message to the front in the form of illustrations and images. And you can craft a heartfelt message inside. But what do you do if that message deserves a bigger canvas?
By making an accordion card, you can double, triple, or even quadruple the available space for messages inside. This gives you the opportunity to tell a longer story. All you need is a long strip of card. Fold it into equal segments to create the accordion effect.
Stretch your card to seven segments, and you can send a heartfelt message for each day of the week. You can even add seven smaller cards to create something extra special.
Creating your first project?