There are many cloud storage services that exist today. When looking for a cost-effective and convenient solution to your storage needs, Apple's iCloud Drive service is one of the better choices for your Apple computers and devices. iCloud Drive is Apple's solution to document and file management across iPhone, iPad, and Mac.
If you have an iCloud account, you can use iCloud Drive. Here are three reasons why you should take advantage of this service:
1. Easily Sync Files from Multiple Devices
iCloud Drive syncs to multiple devices including your iPhone, iPad, and Mac. Since iCloud Drive syncs with all the gadgets you use, you'll have comfort in finding your files on every device. This makes organizing and editing your files and photos simple, and it removes the extra step of having to sync things manually, which will ultimately save you time and energy.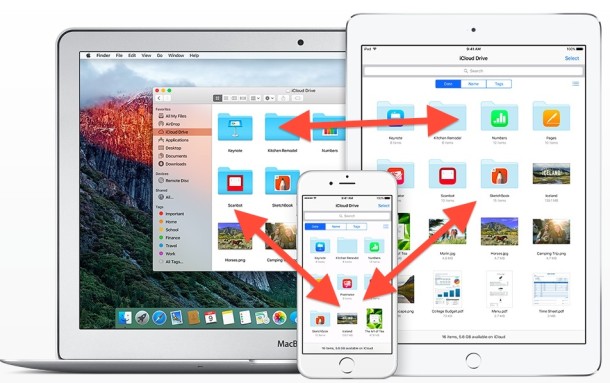 2. A More Affordable Option
iCloud offers a free option, but that lowest rung tier only offers 5GB of storage. If you have more than 5GB worth of photos, take advantage of more storage for $9.99 (USD) monthly. This awards you with plenty of cloud storage space -- 2TB to be exact. This plan also includes storage for multiple users -- so everyone in your family can use the storage space. This is plenty of room to store all the files and photos you all might have, paying less than $120 per year for everyone.
This compares greatly to other cloud storage options. For example, Dropbox's plus plan, which is also $9.99 (USD) per month, only allows for one user account. Therefore, in order to add users or family members, you would have to pay the same amount for each additional person. So, if you're looking for a more cost-effective choice, iCloud Drive is the best option.
3. Streamline Tech Life
If you use Apple devices regularly, including your iPhone, choosing an Apple storage solution like iCloud Drive can make workflows simpler, easier, and more intuitive. Since Apple products all work more smoothly with one another compared to non-Apple products, you can eliminate the extra steps required by other platforms.
If you're looking for a storage solution for your photos and files, consider whether iCloud Drive might be the best option for you. If you want a cost-effective platform that can sync with multiple devices and streamline your process, you may just find that iCloud Drive is the answer to your organizational prayers.
Creating your first project?