In the world of digital photo organization and personalized photo projects, Mimeo Photos stands out as a powerful tool for creating photobooks and photo gifts on macOS. With a range of professional photo editing tools, themes and templates, Mimeo Photos offers an array of features that empower users to unleash their creativity. Let's explore the top macOS features of Mimeo Photos to help you craft stunning custom photo projects.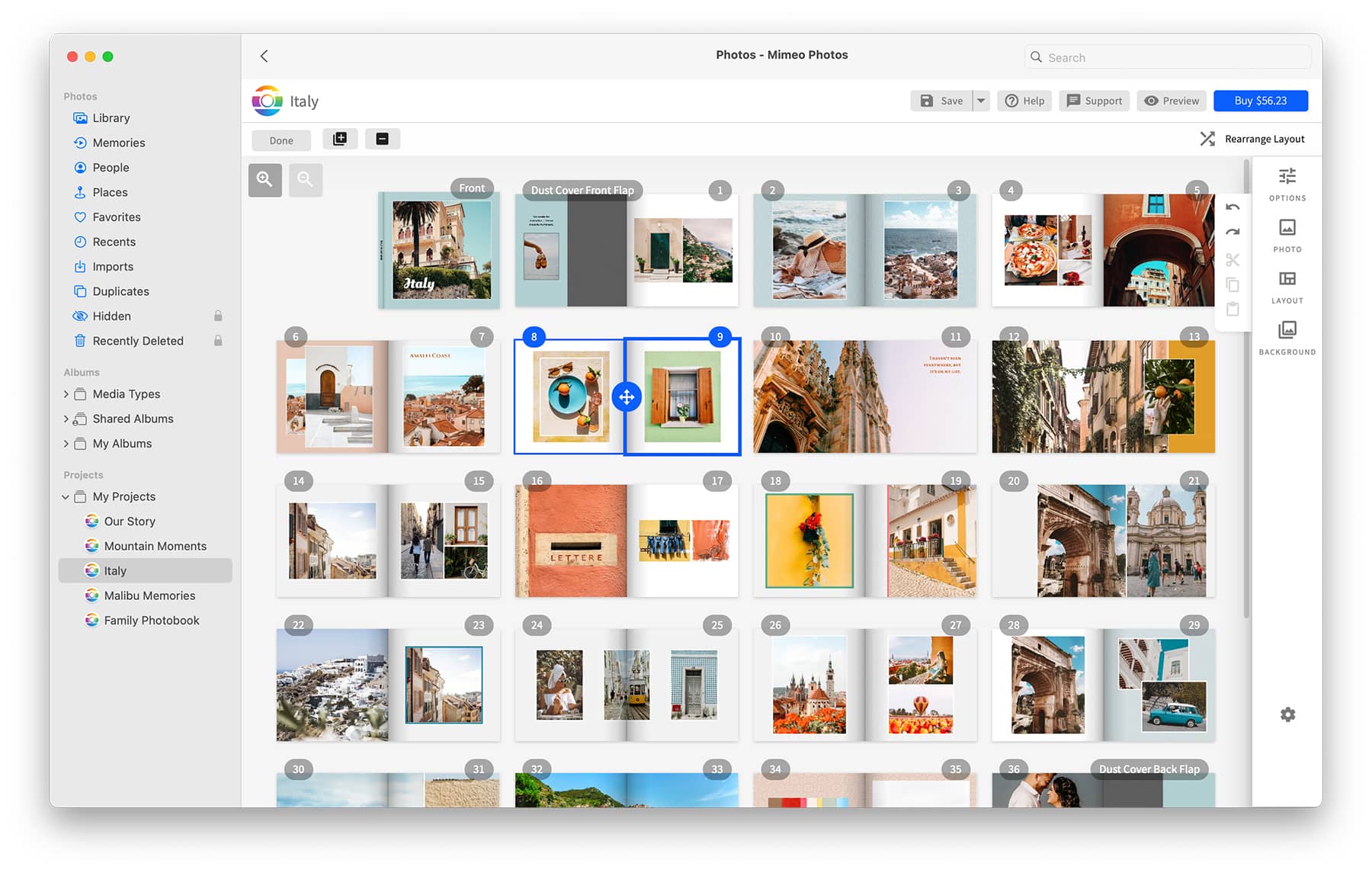 1. Project Organization: Take Control of Your Design
Mimeo Photos' Project Organization feature provides a comprehensive grid layout, allowing you to effortlessly arrange and edit individual pages for the perfect composition. Easily rearrange layouts and add photos from the photo tray sidebar, ensuring your photobook captures your vision exactly.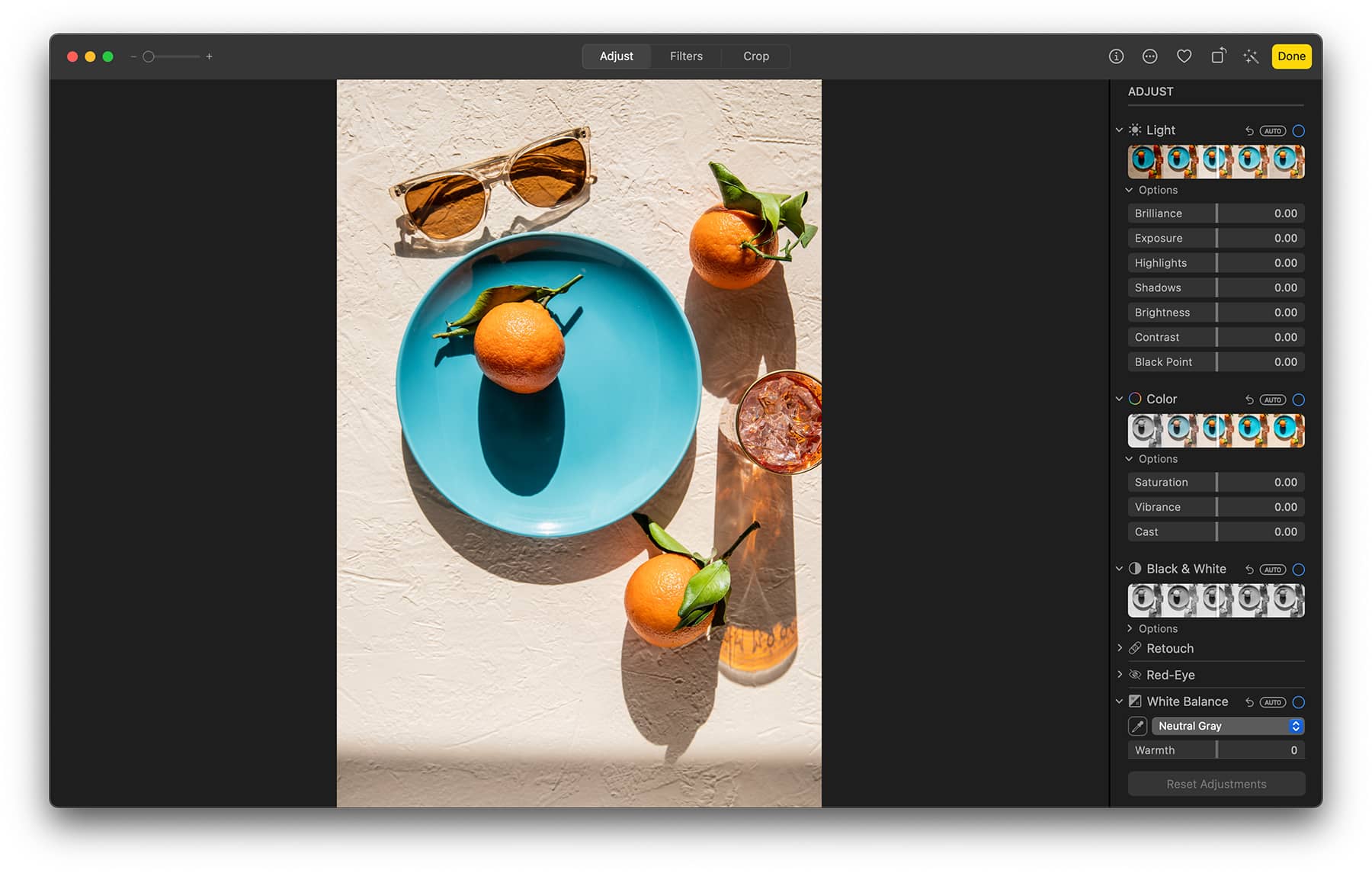 2. Round Trip Image Editing: Seamlessly Enhance Your Photos
With Round Trip Image Editing, you can make edits to photos within your project without the hassle of switching between Mimeo Photos and your photo editing software. Open the Apple Photo Editor, adjust colors, add filters, retouch red-eye, crop, rotate, and auto enhance your images, all while staying within Mimeo Photos.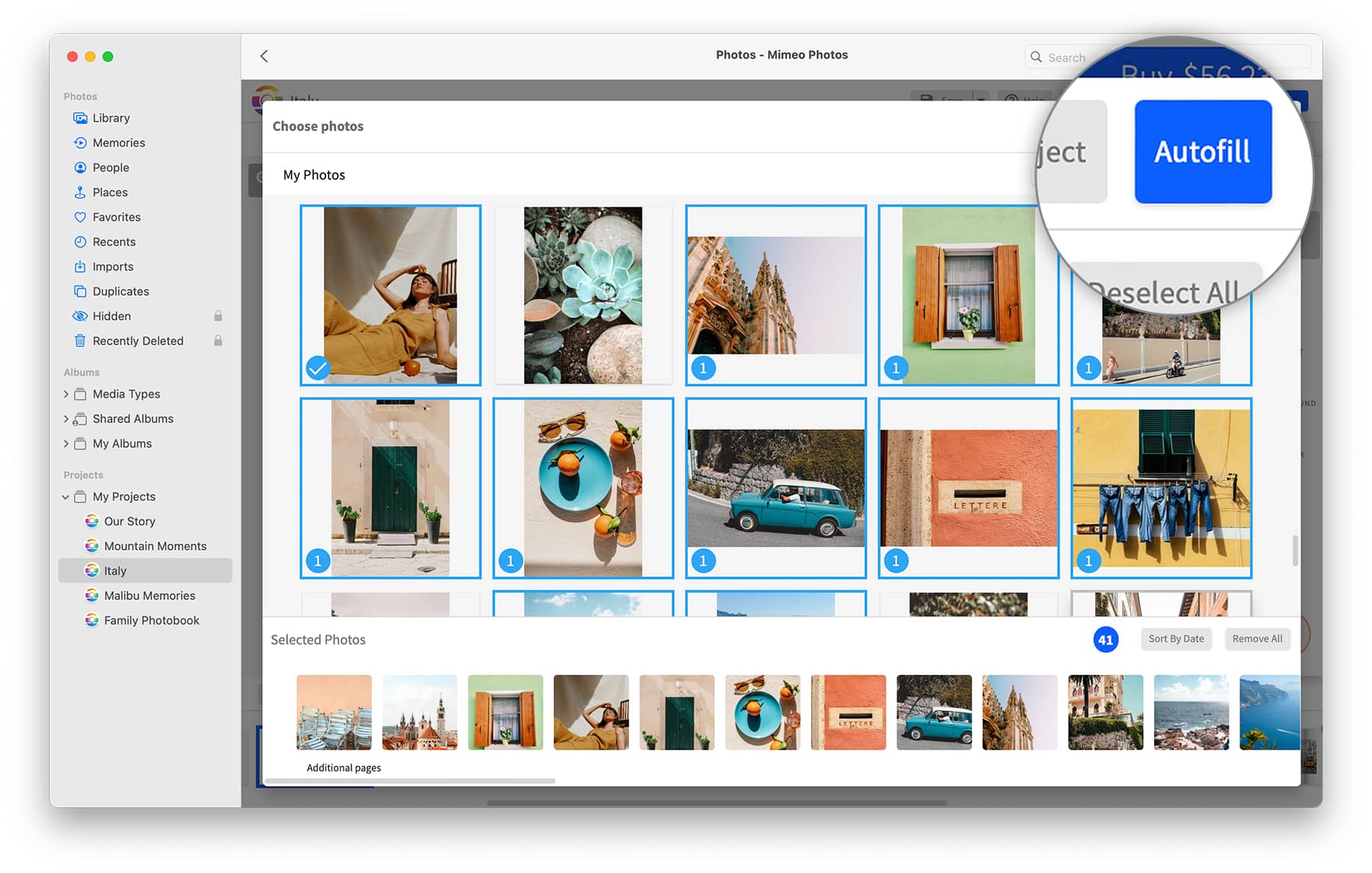 3. Autofill Feature: Streamline Your Creation Process
For photobooks, calendars, wall decor, and cards, Mimeo Photos' Autofill feature is a real time-saver. This feature automatically places your selected photos into your project, allowing you to quickly populate your design. Choose photos from the photo tray before or after designing, but remember to select a theme beforehand, as Autofill does not work on a blank project.
4. 50+ Designer Themes: Begin with Creative Ease
Kickstart your project by choosing from Mimeo Photos' extensive collection of more than 50 designer themes and templates. Whether you're creating photobooks, calendars, or cards, find a theme that matches your vision and customize it to your liking. Combine themes and design controls for a truly personalized touch.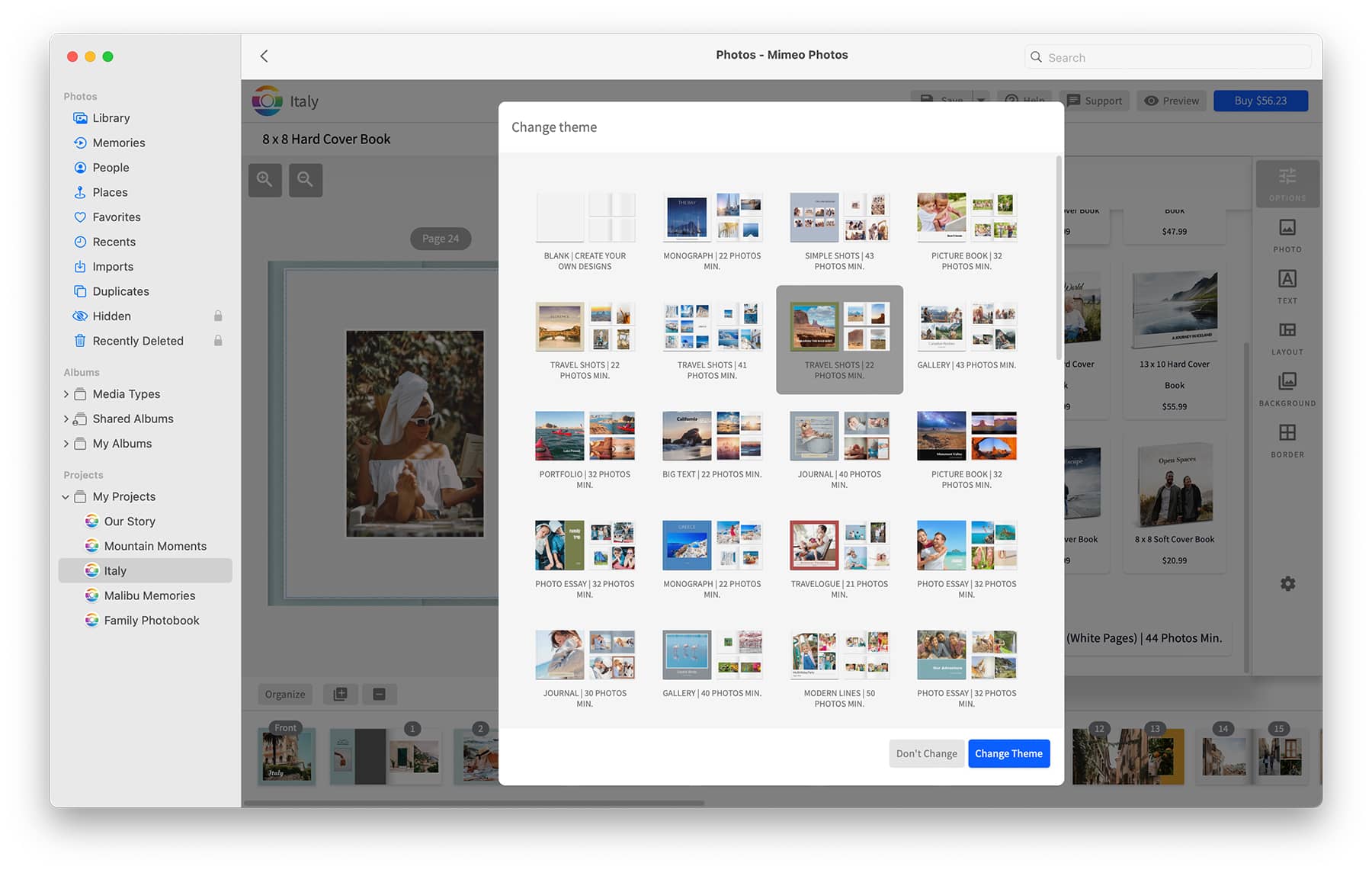 5. Advanced Design Controls: Unleash Your Creativity
With Mimeo Photos' advanced design controls, your creativity knows no bounds. Adjust photo alignment, experiment with color palettes, patterns, fonts, backgrounds, and borders. These features offer maximum creative freedom to bring your personalized photo products to life.
6. Integration With Apple Photos: Seamless Selection and Incorporation
Enjoy the seamless integration of Mimeo Photos with Apple Photos. This feature enables you to easily select photos from your library and incorporate them directly into your project. Access your entire photo collection effortlessly to enhance your custom photobook design.
7. Customizable Layouts: Craft Your Project Your Way
Personalize your final product with Mimeo Photos' customizable layouts. Add, remove, or resize photo boxes, text boxes, and other design elements. Tailor your photobook design to match your vision and create a truly one-of-a-kind memory book.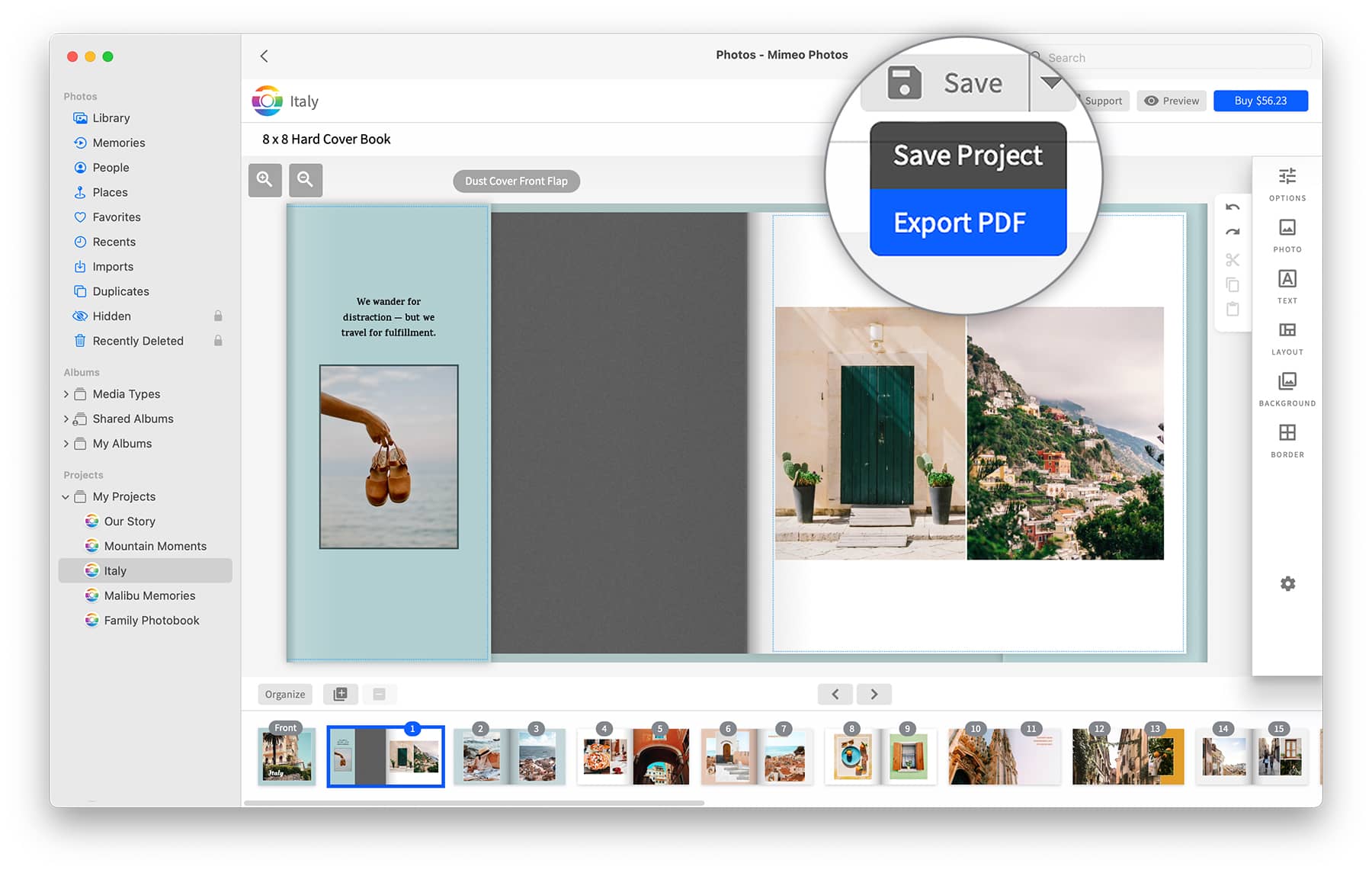 8. PDF Export for Photo Projects: Review and Share Offline
Before printing or sharing your work, use the PDF Export feature to review your photo project offline or provide a preview to others. Download a PDF version of your project with ease, allowing for convenient proofing and sharing. Simply click the "Save" button at the top of the screen, access the drop-down menu, select "export PDF," enter your email, and receive a link to download your PDF.
Start Designing Your Next Project in macOS
Mimeo Photos' top features on macOS empower users to create beautiful, custom photobook and photo gift designs with ease. With project organization, round trip image editing, autofill, designer themes, advanced design controls, integration with Apple Photos, customizable layouts, and PDF export, Mimeo Photos offers a comprehensive suite of tools for digital photo organization and personalized photo projects. Discover the joy of a custom design with Mimeo Photos on macOS.

Creating your first project?