Jun 30th 2020
The best way to fill a space you love is with memories that mean something. Photos of past travels, big milestones, celebrations, and even just your candid every day make any house feel more like home. Before you fill your bare walls with photo art or framed prints, take time to plan your display.
To make things even easier on you, see what wall decor ideas below are ideal for your space.
‍
1. Build Your Own Art Gallery at Home
Like most of us, you likely have hundreds of (if not thousands) of digital photos stored on your phone or computer. A great way to celebrate those moments is with a gallery wall that you can see every day. Read our in-depth guide here for a start to finish tutorial on how to hang your own gallery wall.
Gallery walls elevate any space in an artful way using a beautifully curated print collection as its core. In creating your own, you'll get the chance to both infuse warmth and accentuate your own personal style. Add in your own one-of-a-kind touches with accent pieces like:
Multiple textile types including fabrics or canvas prints
Imagery that ranges from stark black-and-white to shots that are vibrant and colorful
Non-photo objects like flags, letters, or medals
‍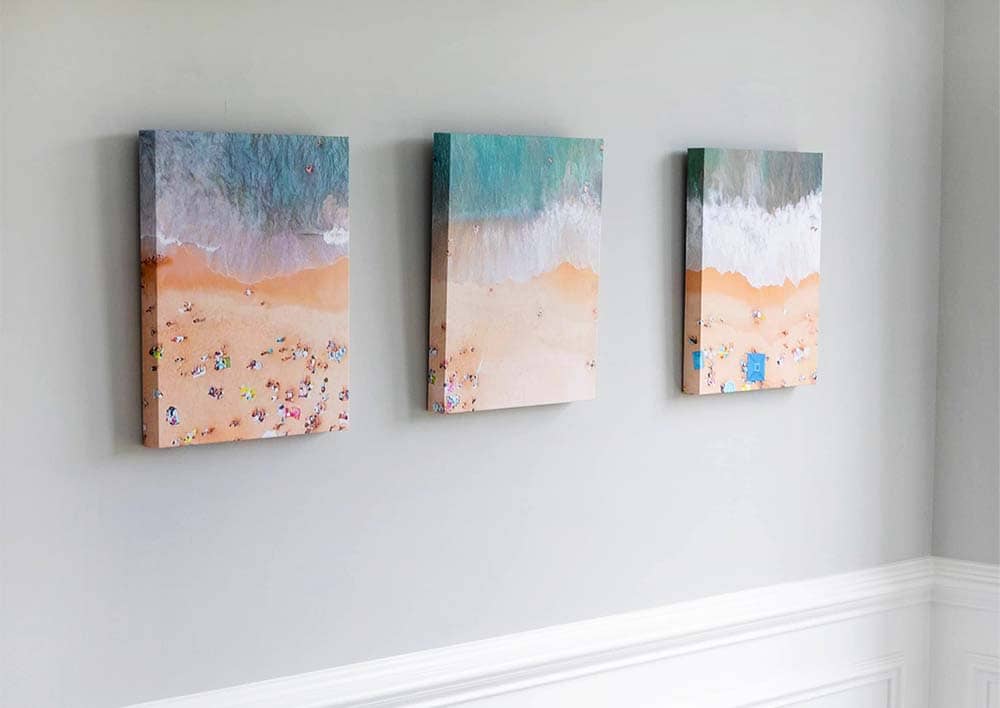 ‍
2. Make Photo Grid of Your Prints
The key to this type of wall display is achieving balance. To get started with a photo grid or mosaic, make sure you have:
A ruler or measuring tape
A soft graphite pencil
Gentle adhesive like washi or double-sided foam tape
Floor or table space to blueprint your photo placements
Start by laying out the images on a flat space in the bounds of the shape that you want them. Measure the padding between each print to create consistency. We recommend using square photo prints set all at the same size that share a similar tone.
When you've mocked up the grid that you like, carefully mark each photo placement on the wall itself using a soft pencil. Begin adding each photo print starting at the center of your grid and expanding outwards using your tape. Measure the space between each print to ensure the white space is uniform throughout.
3. Use Large Format Photo Prints
Large formats prints amplify your subject matter. Large format photos typically stand on their own, but there are some playful ways to display them by grouping multiple prints together. A couple out-of-the-box ideas include:
Make Dialogue: Your images can "talk" to one another by inverting similar portraits to face one another.
Clip Your Image: Create a continuum of captured landscapes, cityscapes, and horizons by clipping the image to print as two or three frames. Then display each print with a gap in between.
‍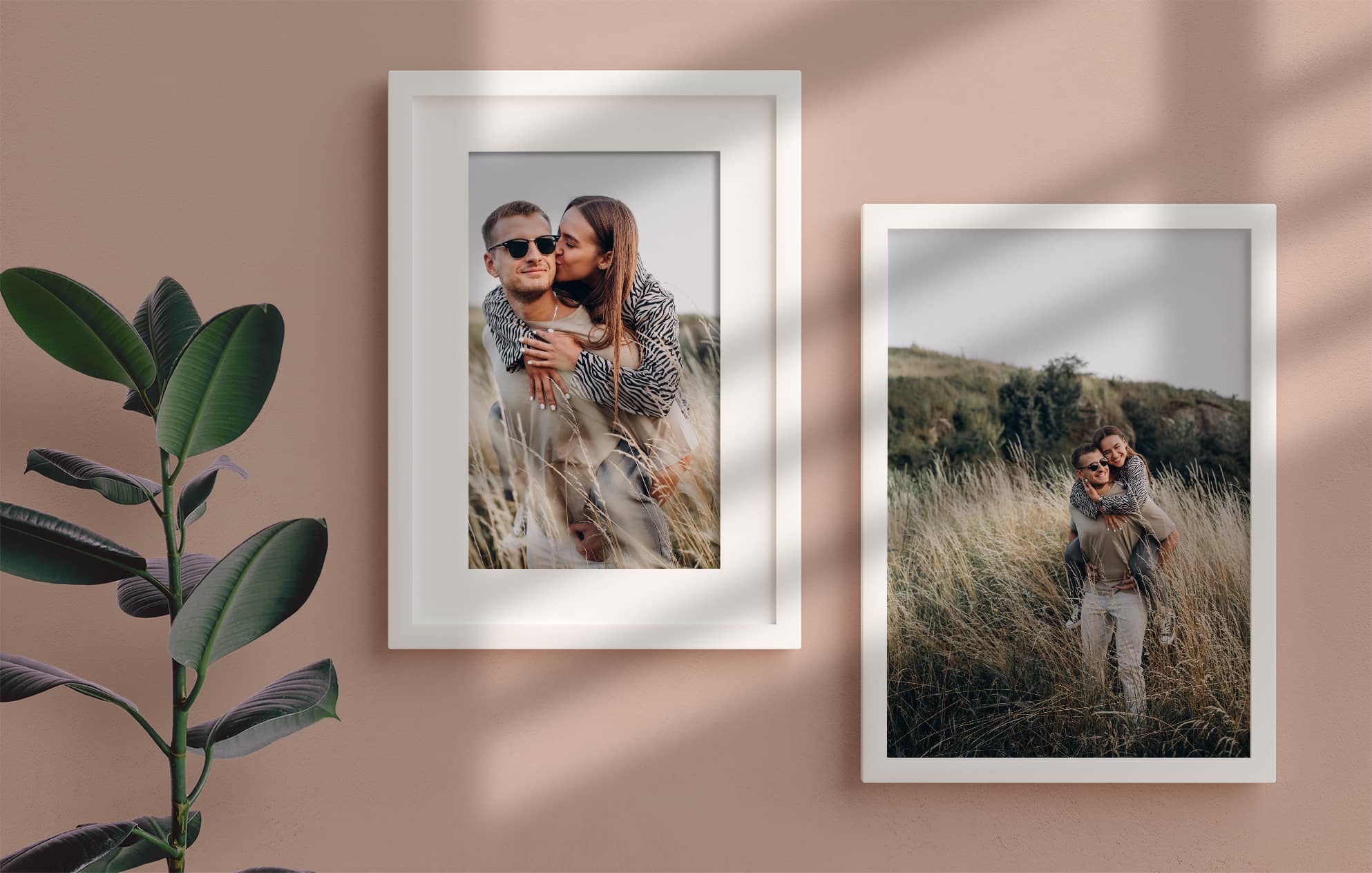 4. Metal Wall Decor for a Wanderlust-Wall
What better way to feed your wanderlust than with scenery that aren't bound by frames? Metal photo panels are especially ideal for this with their true-to-life, reflective finishing. This wall decor project is simple to achieve but really elevates any room.
Just ensure that your snapshots fully cover the photo panel for a completely borderless effect. We love this wall decor type for its lightweight versatility. Print out your most authentic interactions with locals or the most vibrant sunset from a past trip. Mix and match by pairing larger portrait metal photo decor with slimmer stacked landscapes.
‍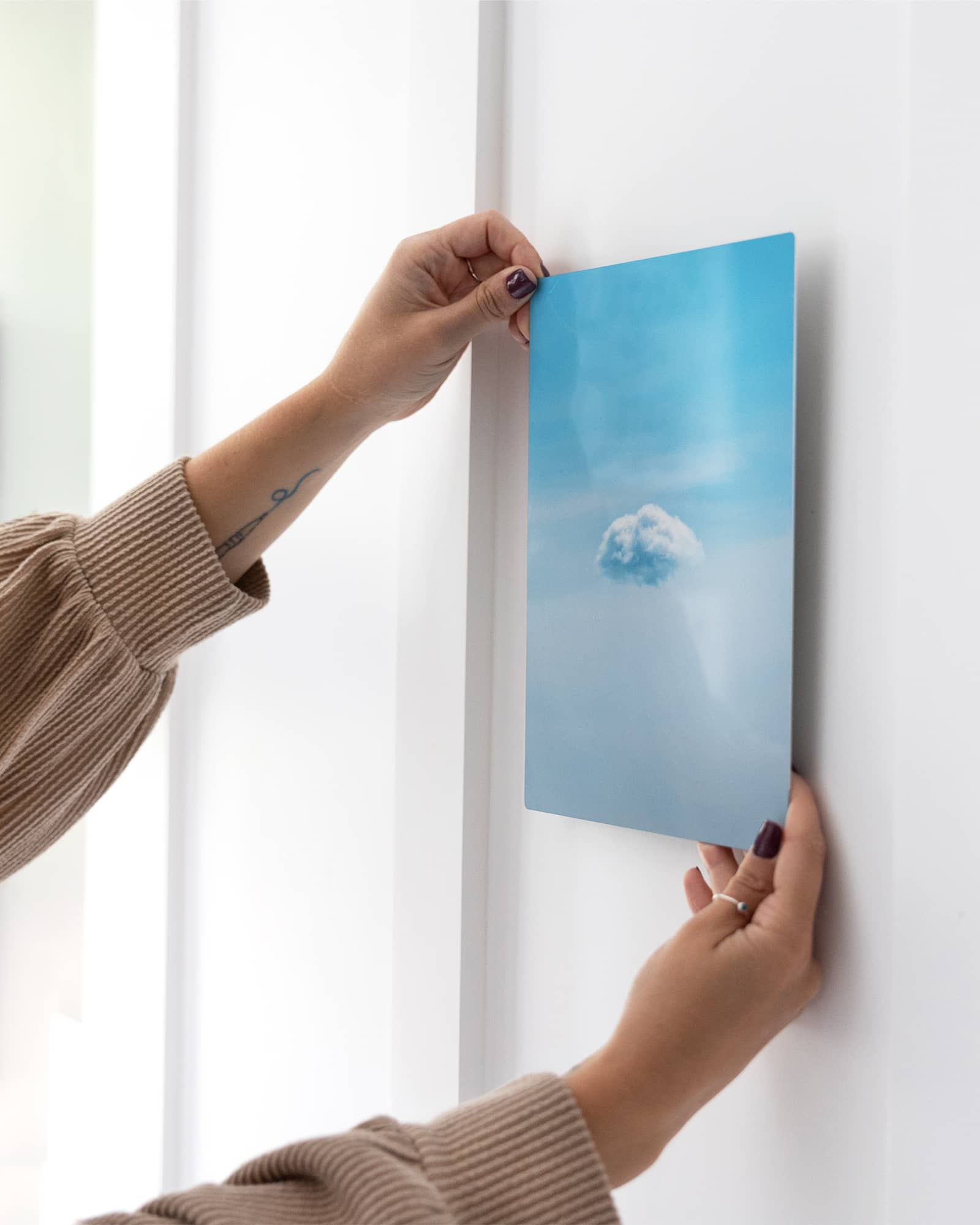 ‍
5. Add Sophistication to your Space with Acrylic Wall Art
Acrylic wall art adds depth to your imagery unlike any other wall decor option. Its polished acrylic layer draws out every detail of your photo.We recommend choosing images that celebrate deeply-colored or bright undertones. When pairing multiple pieces of acrylic wall art together try to use similar photography styles and balanced color palettes.
Keep eye level in mind when hanging acrylic wall art since it has a captivating three-dimensional quality to their display. About 8 inches above your couch or bed frame is a good rule of thumb. This way, you can still enjoy your photos when others are seated or resting.
6. A #Shelfie for Selfies
Instead of displaying your photos all on walls, use a stylish shelf. Set up a shelf in your living room for selfie photos alongside other nostalgic items. When decluttering other rooms in your home, think of which objects could be saved for these shelves. Interesting little mirrors, ceramic figurines, or special items might also find a nook here.
These types of displays are also great for showing off your children's photo art and designs. Even self portraits made by your children add fun inserts of personality.
‍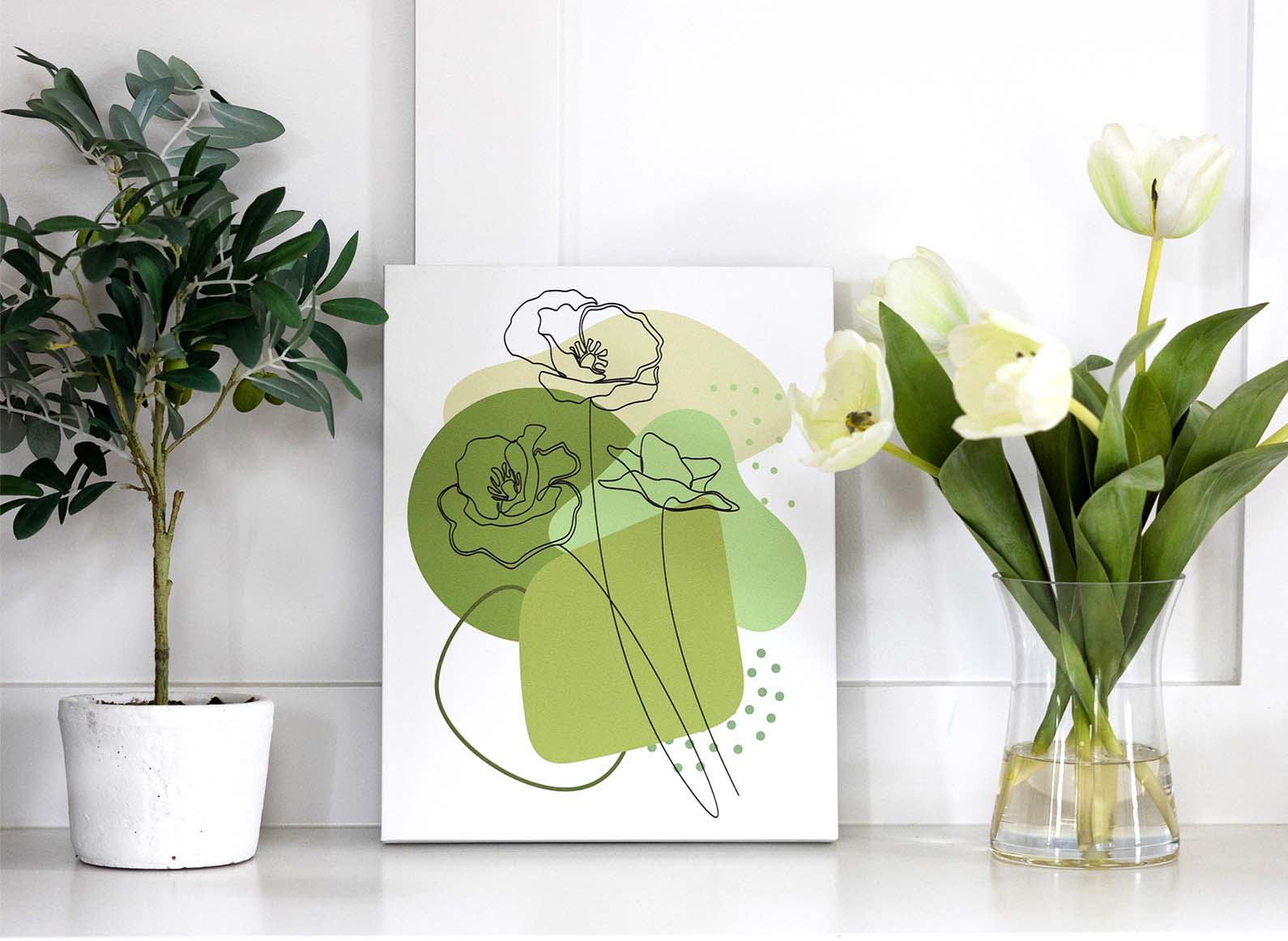 7. Classic Canvas Wall Decor
Canvas photo prints can give your space a warm feel in a room that needs texture and life. Family and wedding photos are a go-to for canvas wall art, but original artwork gives this traditional option a new twist. Try to match the art to the color of your furniture for an even, balanced feel.
Gallery wrapped canvas has a seamless profile with the wall. This type of photo display is ideal for high-trafficked areas of your home like staircases, breakfast nooks, and hallways.
8. Family Staircase Display
Make sure you know where you want the pictures to hang on your staircase wall, as getting this right can be tricky. Ensure that each picture hangs just above the outer railing, so that the full photo is visible from a distance.
One fun idea is to let your photos tell a story as the visitor to your home climbs the staircase. Perhaps they are photos of your children, who age as you climb higher. Or, maybe you select pictures of your relatives — different generations along each step.
‍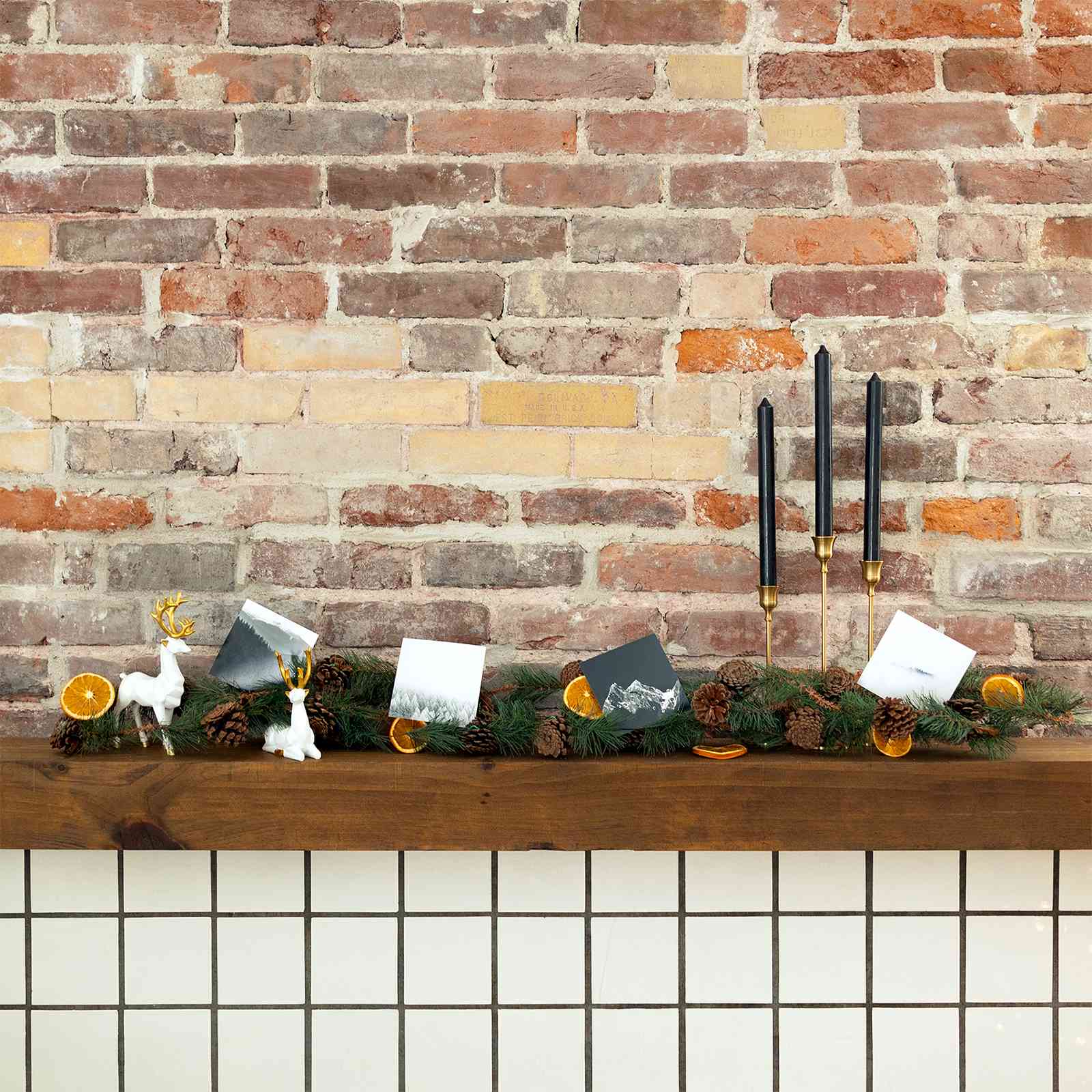 ‍
9. Mantelpiece Memories
A living room mantelpiece is the perfect place for wall art. It is already an area to gather and relax, so select the photos that are special to you, and that you want to share with others.
Many folks reserve the fireplace mantel for their vintage pieces, so if you want warm neutral tones here, select photos in sepia, black and white, or with earthy-colored frames.
Share your most favorite moments by exploring all of the wall decor options for your space today.
Creating your first project?