Wedding photos are much more than just your everyday snapshot. They are a treasured peek into a day of celebration and become moments you'll cherish in the years ahead. Your wedding guests are just as excited to delightfully relish in the joy of your day through images – whether it's with photos on your save the date, photo displays placed throughout the reception, or an image that emphasizes gratitude in the weeks that follow.
If you're looking for ways to incorporate photos into wedding festivities, use some of the ideas below to create unique and memorable keepsakes.
Personalized Save-the-Date Cards
Other than engagement announcements, save-the-date cards function as the first introduction to this next step in your life. What better way to personalize it than with a photo? Select one of your favorite genuine snapshots taken during the proposal itself. Alternatively, select a shot from the reel of engagement photos if you had a professional shoot.
Keep the following tips in mind when designing your save-the-date card:
Convey tone through photos: The image you choose sets the tone for your big day. Select a photo for the front of your card that lends itself to the setting. Black tie? Choose a more formal portrait. More casual? Opt for a cute candid.
Event details dictate layout: The number of details and information you include on the announcement will impact your layout. Landscape photo cards work better for lots of written details and large chunks of text. Portrait cards work great for text with larger margins and vertical shots.
Get inspiration from pre-designed themes: You're likely planning a lot for your wedding. Don't complicate it with one more task. Source a pre-designed theme, and then alter it to suit you and your partner. Start with one of our very own "Love" themes in our apps that are guaranteed to make your photos shine.
Keep the final finish in mind: Do you gravitate towards glossy? Or can't resist rubbing a matte between the tips of your fingers? Both options are great for cards and come down to preference. However, if you're looking for something a little more elegant, we recommend choosing a premium-grade matte card for your save-the-date.
Expert advice: Our crisp, 4 x 6" matte photo cards are perfect for a full bleed photo on one side with text in a gorgeous font. It's guaranteed to have your guests counting down the days leading up to your nuptials.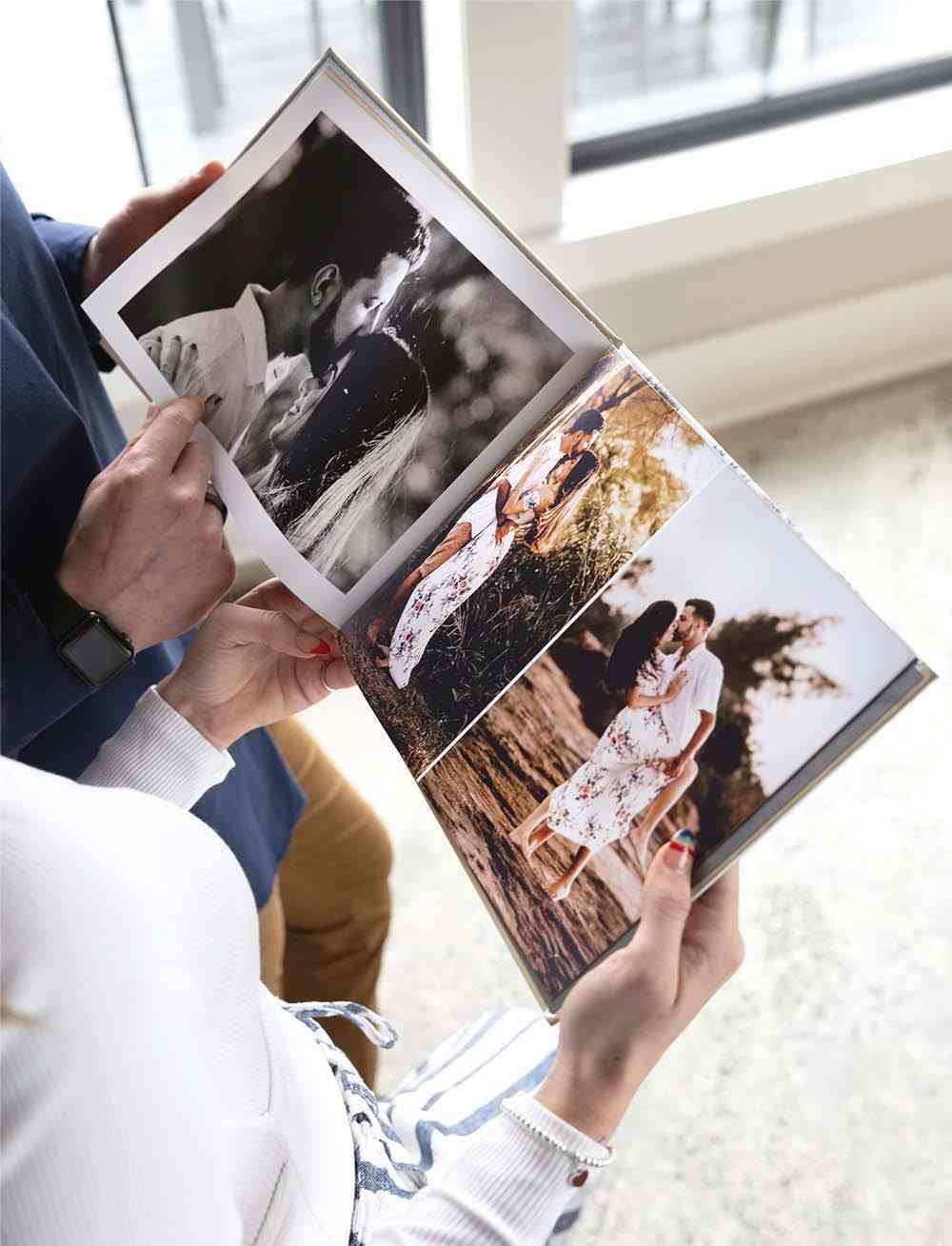 Design a Photo Guest Book
Bridal showers tend to be an important experience leading up to the wedding. Typically, they're a time for guests to gather and shower the bride with gifts, fun games, and advice. In short, it's an event equally engaging and joyous but one that doesn't have to end as the last guests trickle out.
If you're planning a bridal shower, consider crafting a photo guest book. Not only will this book share special moments from the happy couple's relationship, but it engages attendees. Prompt them to sign the book's pages with sweet well wishes or sage marital advice.
For this project, keep in mind the following tips:
Use the first few pages as placeholders for guest signatures and sentiments.
Make sure there is enough negative space on the page with either a single photo layout, a simple collage of slim photos, or entirely blank ones.
Use a permanent, felt tip marker to make signing easy with little smudging.
Break the ice by having members of the bridal party sign dedicated pages for other guests to follow their lead.
Expert advice: Landscape hardcover photobooks make the ideal book for signatures. They offer more space for handwriting and their spreads naturally remain open easily.
Photo Cards as Table Numbers
A wonderful way to add to the theme of a wedding is with the tables themselves. Replace your traditional "Table No. 4" with a flat photo card.
Place a photo on one side of the card that contributes to the overarching theme with the number on the other side. Alternatively, print a large scripted number on each side for more of a traditional look.
Some of our most-loved photo themes include:
Places traveled together
Towns, beaches, or local fare for destination weddings
Favorite foods, drinks, movies, or books
Expert advice: Collect these at the end of the night for you to reflect back on for your anniversary. Or, have a few of your favorites framed for your home.
Add Prints to Place Settings
Make your guests' place setting all that more personal with a photo print featuring them. Select a moment of the two of you that emphasizes how happy you are to have them as part of your life. This can range from a throwback from childhood to your most recent adventure out together.
This activity takes some extra planning ahead of time and is more suitable for smaller-sized weddings, as a surprise for the bridal party, or for immediate family members in attendance.
Expert advice: Opt for one of our square photo prints or for a classic frameable photo print size. That way your friends and family can more readily display this new keepsake at home or in-office.
Use a Metal Print Instead of a Guestbook
Place the portrait you both love best at the forefront of your wedding reception. Print a metal photo of the two of you and place it closer to the venue's entrance on an easel or tabletop stand. A silver, gold, or white fine tip Sharpie works best for guests to write with. The marker's color adds a touch of elegance and makes the signatures pop. Choose the marker color dependent on the hue of the photo or the majority background.
Later you'll have a lovely keepsake to display on a wall at home.
Expert advice: You'll likely want to use a larger size metal photo print, 16 x 20" and up, in portrait orientation. This will give enough space for guests to sign without cramming signatures too closely.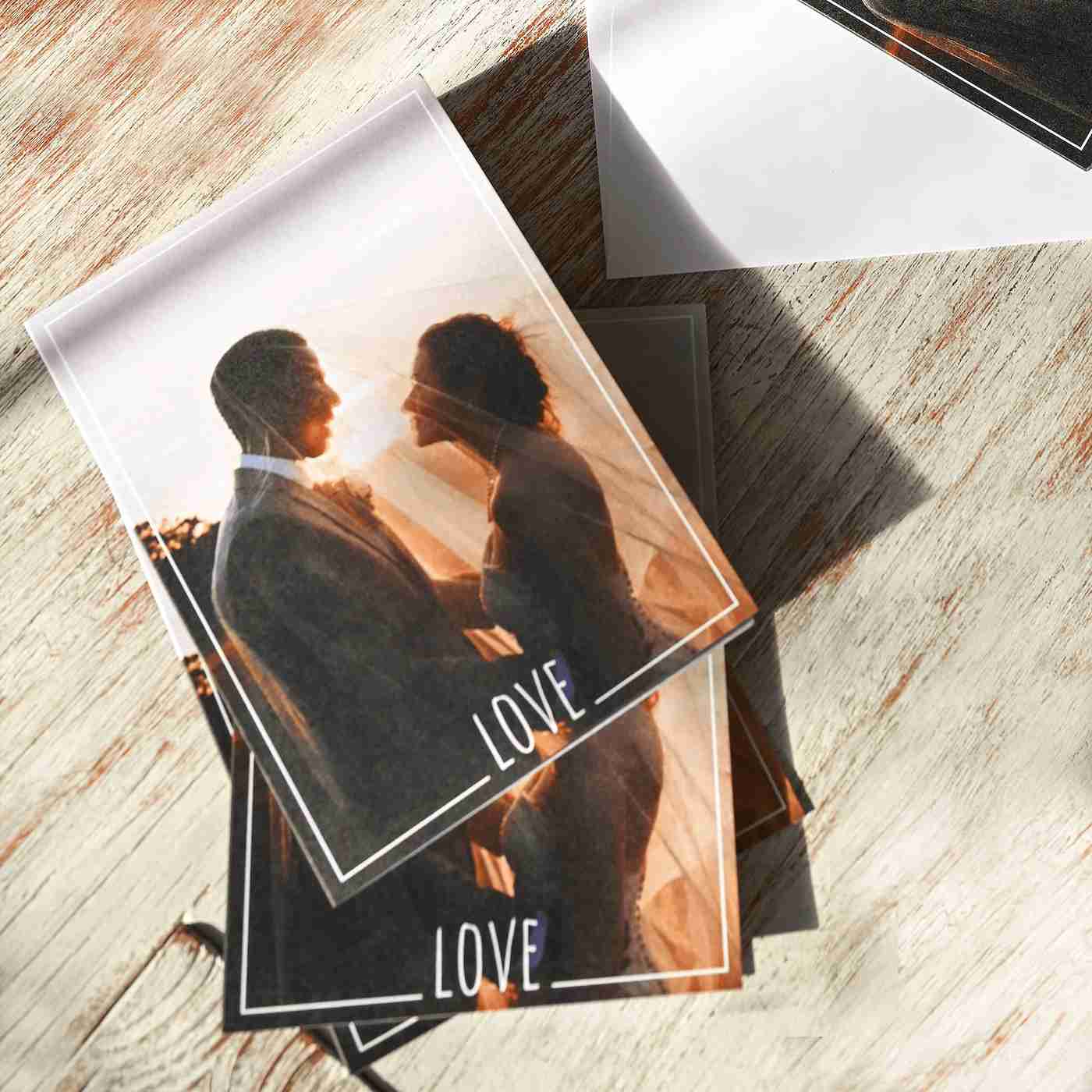 Use Ceremony & Reception Photos as Thank You Cards
Photos taken on the day of the wedding make for beautiful thank you cards. Take your pick of some iconic moments from the ceremony, the professional session before the reception, or even a shot of the dance floor in full swing. Place the photo on the front of the card and include phrases like "with gratitude", "thank you", or "in thanks" along with it.
Leave plenty of blank space within the card's interior for you to handwrite a note that expresses appreciation and gratitude.
Expert advice: Folded cards are an excellent fit for thank yous. With a full interior, you'll have plenty of space to write something extra special. (And a little extra space to sneak in a few additional photos.)
Compile the Perfect Wedding Album
The most traditional use for wedding photos is, of course, displayed in an album. Place it on your coffee table for visitors to page through, and revisit it with the guests in attendance for your big day. A lot goes into creating the perfect wedding photo album, so use our guide for making an unforgettable one. It will be sure to have the perfect balance of elegance, class, and personality.
Creating your first project?