May 3rd 2019
Photo books are a popular choice of gift for a wide range of occasions. These books are custom printed and contain a curated and well-laid out collection of photos.
You may want to give a photo book to a loved one as a way to remember a certain event, or you may send one to a relative or friend far away as a means of making their friends or family feel closer. These make excellent keepsakes for your own home to share and reflect with family and friends.
Like an album, a photo book gives you a tangible record of an event. Curate the best images and memories from a special event, like a wedding or a party. Relive the fun times again and again by flipping through the book's pages.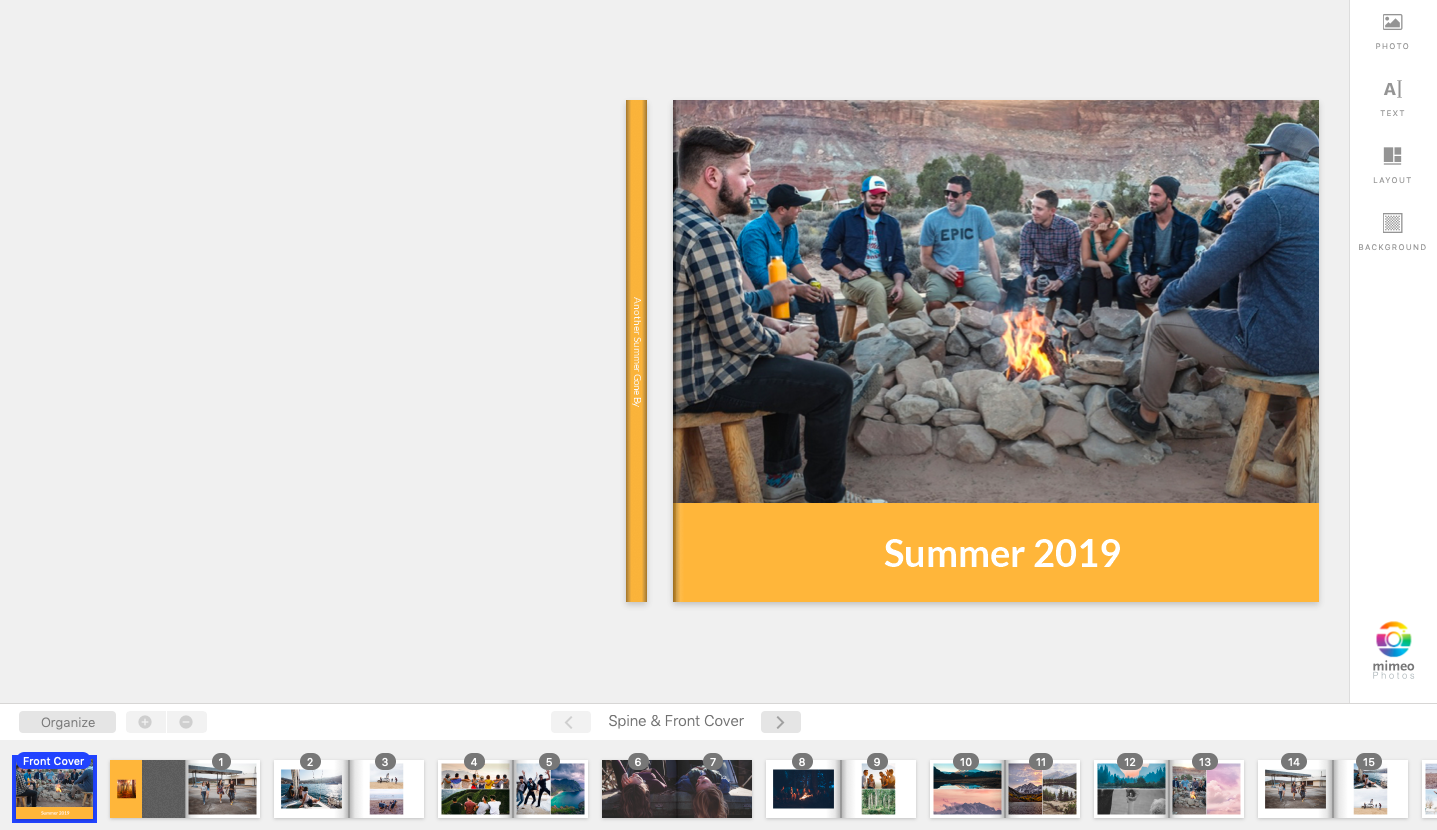 Why Give Photo Books as Gifts?
There are many reasons that you may want to design and give a photo book to a loved one. Studies show that people prefer personalized experiences over non-personalized ones.
In fact, 80 percent of people are more like to buy something personalized rather than generic. This means a personalized photo project is something that a recipient might have even spent the money to purchase themselves.
A personalized book shows that you took the time and effort to select the photos and the page layouts. Careful attention helps further demonstrate your love and care.
Photo books are conversation pieces. Sure, they make wonderful coffee table centerpieces but they also invite others into experiences from the past. With custom layouts and themes you'll be able to replace the disorganized traditional photo album.
Better yet, you can eliminate the back and forth of swiping through your phone's camera roll. There's nothing like being able to physically hold a collection of photos in your hands and see them up close -- page by page.
Finally, photos make people happy. If you want to give a gift that is sure to boost someone's mood, making them a book of pictures is a pretty safe choice.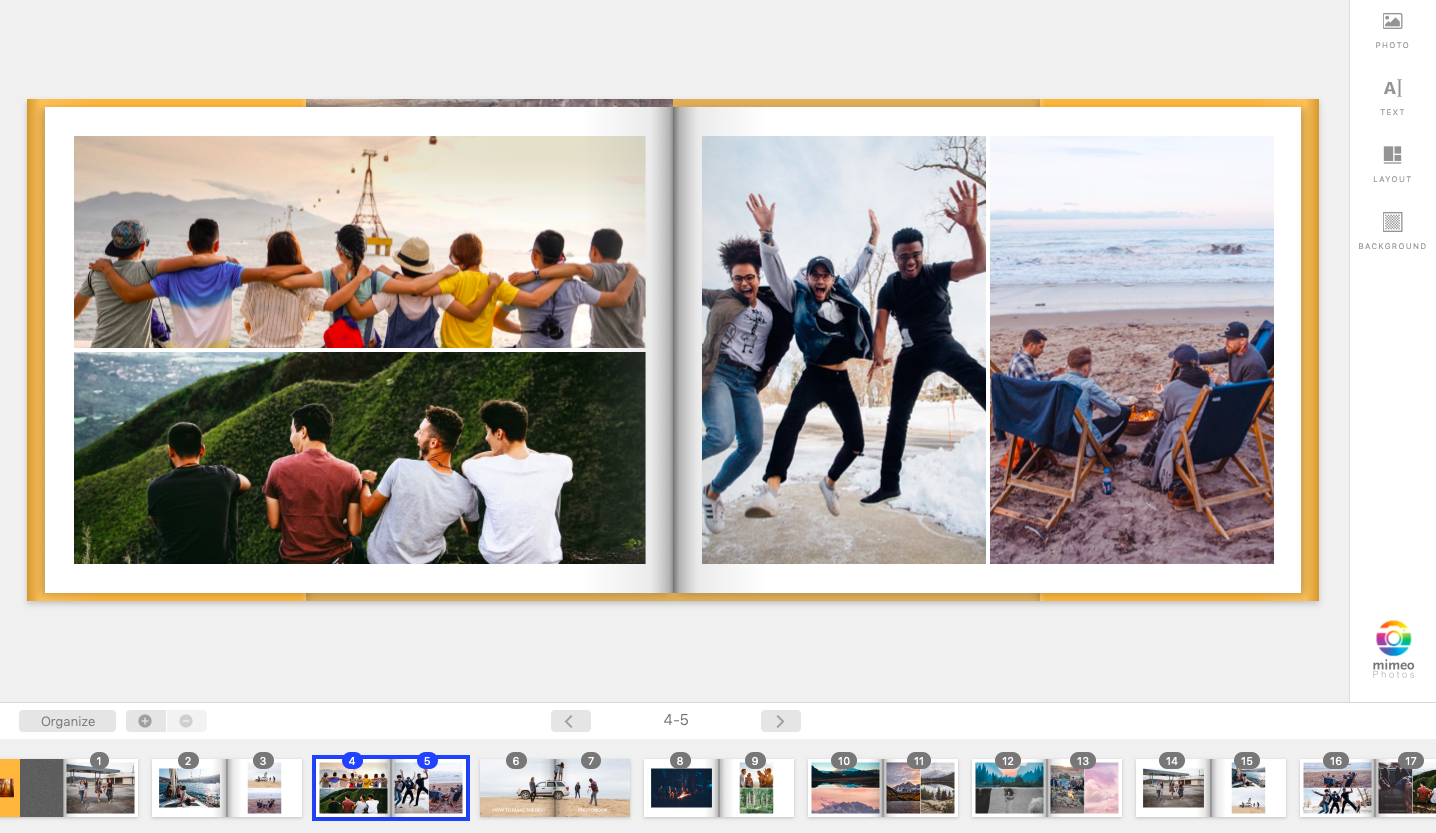 How to Make the Best Photo Books
If you want to make a photobook to give as a gift or to commemorate one of your own special occasions, there are some design tips you should keep in mind.
1. Consider the Recipient
The first thing to think about when designing a photo book is who will own it. Is it for yourself or are you giving it as a gift? Think about who the photo book is for and what is most important to them.
Once you hone in on the values and priorities of the person who will have the book, you can start to narrow down photos to choose for it and designs that will work.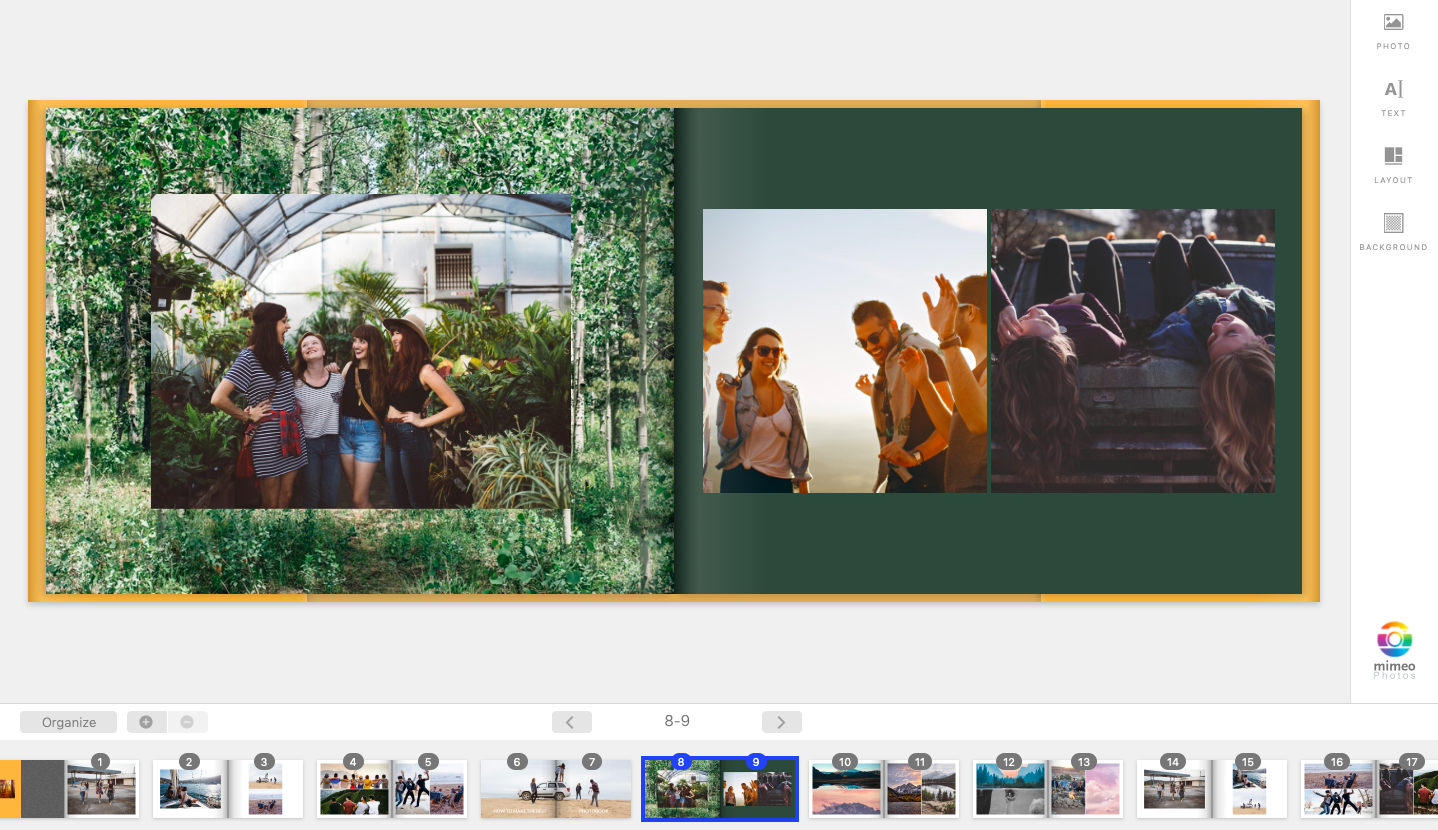 2. Select Your Best Shots
One of the reasons that photo books are helpful is because they tell a unique story with a beginning, middle, and end. The most powerful photo books are carefully curated to only include the best photos. Additionally, shots that don't contribute to the story or mood should be weeded out.
Spend some time going through photos you want to include, then pull out only the best ones. Make sure you consider quality when choosing. Have an array of people, places, and things in your collection? If these subjects contribute to your photo story include them in the book.
Keep in mind that you can create pages with multiple photos and use full spreads or pages for your favorite shots. White space, overlaying, and cool tones will help enhance your photo book's mood.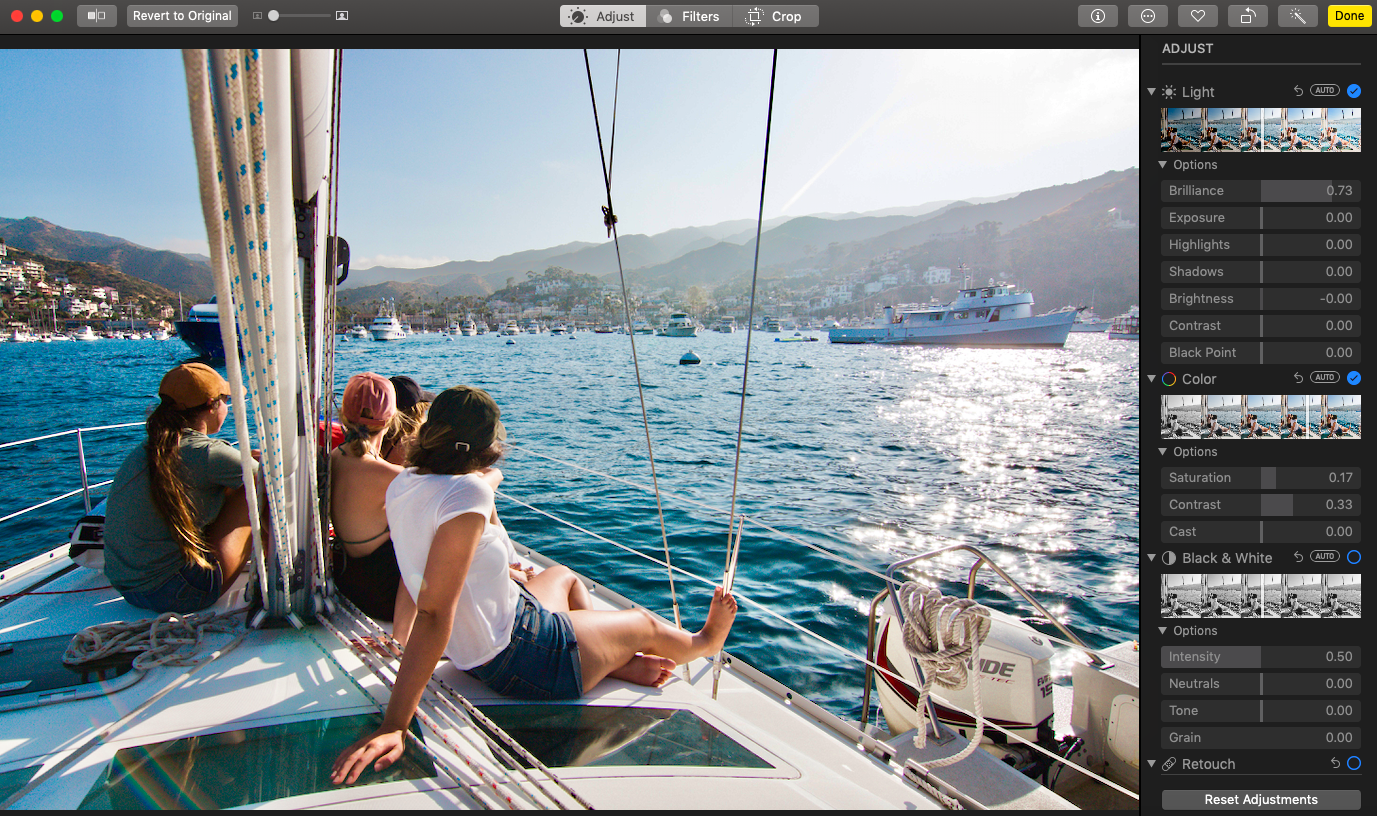 3. Edit Photos
Do you have digital copies of the photos? Edit them so that they look good.
Pull up the brightness on dark ones, sharpen ones that are a little blurry, and give them some extra colorful pop. If you can digitally edit the photos they will look better when they are printed in the final version of the photo book.
Within Mimeo Photos, you can access Apple's photo editing tools without exiting your project. This means you can adjust photos and apply filters seamlessly.
4. Start Your Design by Considering What Order Makes Sense
Start designing your photo book by thinking about order. Are you showcasing an event you want to display chronologically? Are you featuring a group of people and you want to include them oldest to youngest?
Think of a logical flow for the photo book, then begin your design there. An order will give you a framework for where to start and end and what comes in between.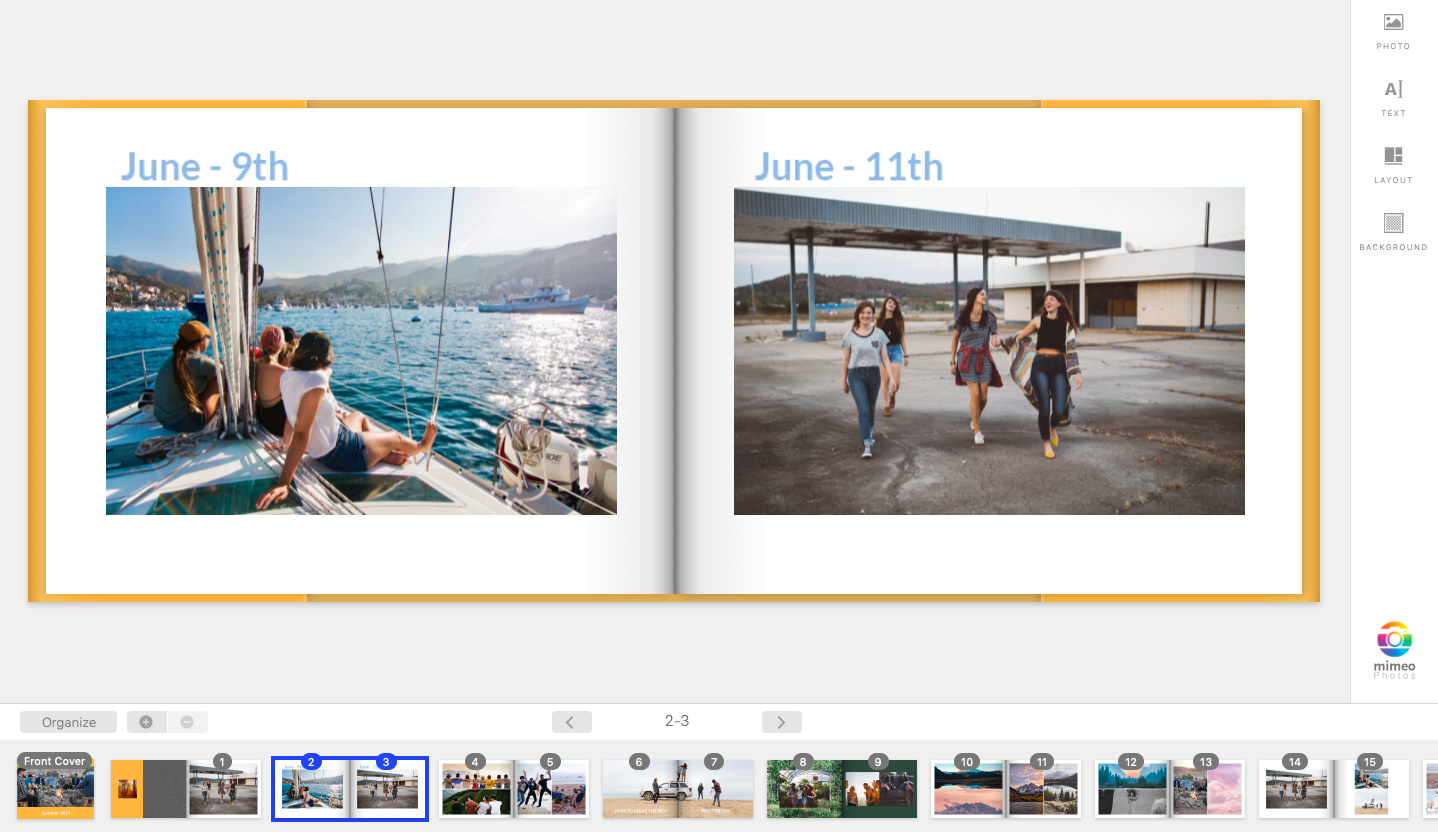 5. Use Color and Text, But Wisely
Photo books should really feature the images you include. But, you want the book to look aesthetically pleasing as well. Mimeo Photos pre-designed themes are a sure-footed first step to make sure your pages and spreads are visually appealing. The themes can be adjusted to your vision or choose the blank theme to start from scratch.
After selecting a theme, think about other subtle design elements you want to add in, like color and text. You can consider making the background of a page a certain color to enhance the colors in the photo or match the theme of an event.
Alternatively, you may want to add text photos to pages or captions. Just make sure any design elements you add don't pull focus away from the photos. Use white or blank space wisely in your photo book to highlight elements in your photos without needing to add design elements or text at all.
People's eyes are naturally pulled to a photo when placed in a white frame or blank space. This tactic helps to hone in on important visual elements in it.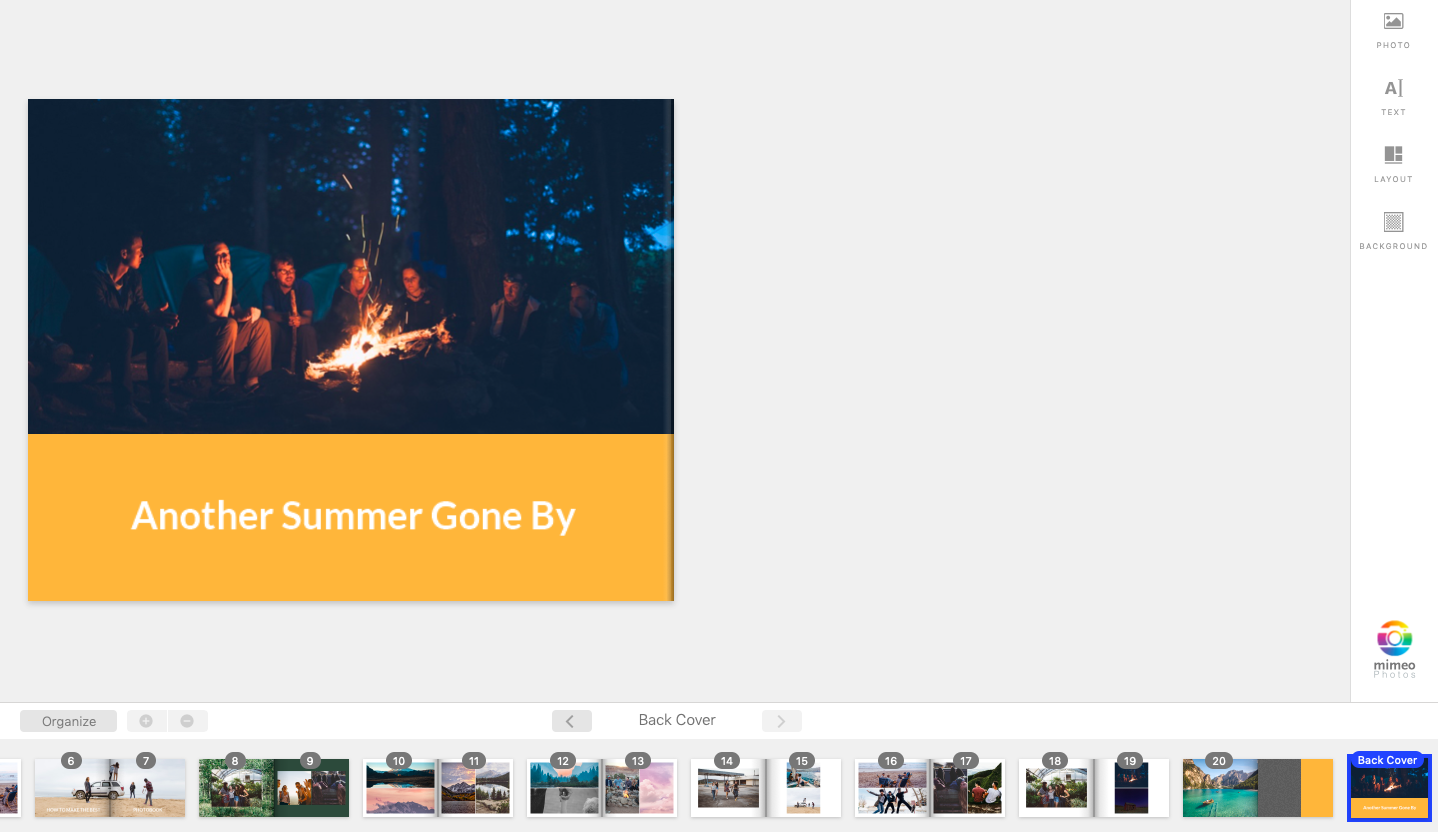 6. Review the Book to Make Sure You're Not Missing Anything
Before you send your book to print, do a thorough review to make sure all the important moments and people are included. If you forgot anything or anyone important, make sure you go back and add them in.
It makes sense to put the book down for a day and then go back to it with fresh eyes before you order it for printing. Going back after you are rested and have taken a break will give you a better chance to catch any errors or omissions you may have accidentally made. Once your book is printed you can't add any special photos you may have glossed over, it is tangible and concrete.
At the end of the day, photographs are one of the best ways to capture memories in a tangible fashion. If you want to remember a special event or help someone celebrate certain people or occasions in their life, make them a photo book.
A photo book can be browsed again and again to revisit happy feelings, and it can also be shared with more people to create stronger bonds and more meaningful memories.

Creating your first project?